Overview
According to research on cloud migration services, the market was valued at $88.46 billion in 2019. It is expected to reach $515.83 billion by 2027. Due to the global pandemic, a huge number of organizations are trying to become more agile, cost-efficient, and innovative. In order to survive in the highly competitive environment companies are realizing the importance of cloud migration.
We know that cloud migration helps a company to improve performance and efficiency in the most effective manner. It is also important to understand that migration to cloud technology requires cloud migration consulting which further includes proper planning about cost, the right partners, and many more. Further, we will look into the details of cloud computing, how cloud migration works, its benefits, and many more.
Cloud technology implementation can have a huge impact on your organization. If you do it in the right way then you will be able to reap all the necessary benefits within no time. We believe that all types of companies require assistance in order to successfully complete this process. In order to save your company from any uncertainty we suggest you hire a credible cloud migration services company.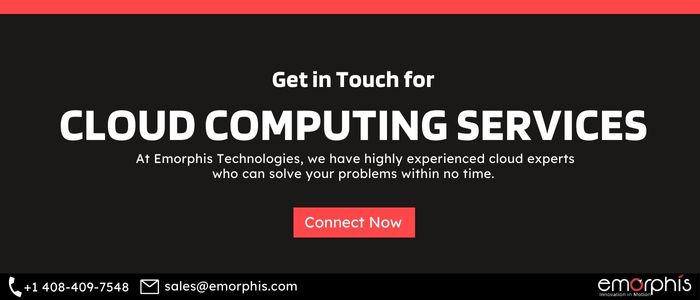 Benefits of cloud migration
Cloud migration services can make your organization more agile, and flexible so that you can fulfill the changing demands of consumers. For a very long-time companies have been migrating their data and services to the cloud to enhance their performance. If you are still confused about cloud migration consulting or what you get from cloud migration services then let's have a look at these benefits:
1. Reduction in costs
According to a survey, 82% of companies said that they have reduced costs by utilizing cloud technology. This shows that a huge number of organizations are becoming interested in cloud migration consulting and cloud migration services. One should understand that if you switch to cloud technology then it means you have to pay for what you use. Companies do not have to maintain costly data centers. With the help of data migration, you can eliminate the cost of labor and maintenance costs as you have your personal on-premise data centers.
2. Flexibility and scalability
One of the major issues faced by IT companies is that a solution that is valid in the current year may become outdated within a few years. This or many more issues can be solved through cloud migration services. With the help of cloud migration services and cloud migration consulting, companies can transform their structures and workloads to become relevant in the future. Furthermore, cloud platform access can enhance companies' performance by running workloads closer to where their users are.
3. Enhanced security
If a cloud migration is done in the right manner, then it can enhance security in the most effective manner. A cloud computing service provider manages your security concerns and secures your infrastructure. In addition, many cloud platforms have in-built security features which help to protect the company's resources. Cloud computing service vendors put major emphasis on security and continuously update their systems. Also, the cloud allows only authorized users to access the data.
4. Simplified IT Management
Modern cloud management interfaces offer a wide range of features that enable companies to monitor, configure and adapt each aspect of their environment. With the help of cloud migration, you can manage different processes in a hassle-free manner.
5. Ability to innovate faster
Covid19 has proved that companies that do not innovate cannot survive in the changing business environment. The data highlighted that 75 percent of clouds stated that you get maximum value from innovation. If an organization wants to focus on innovation and digital transformation then cloud migration can be a suitable option.
After understanding the benefits of cloud migration, you must understand that there are different migration approaches. Before thinking about cloud migration, you must focus on deployment models like public cloud, private cloud, hybrid cloud, or multi-cloud. Another major thing is to identify which service category you want like SaaS, PaaS, or Iaas. We know that choosing the right service category or deployment model may be difficult for a company. Hence, we suggest you hire a credible cloud migration service.
Types of cloud migration
There are different approaches to migration. Every organization does not follow each step so you can think of these steps as a road map. This will help you understand which direction you might go. Let's have a look at some of the key cloud migration types:
a. Re-host or lift and shift
This method is commonly known as the lift and shift model. This method does not require any changes in servers or applications. You just lift the application from the current hosting environment to the public cloud infrastructure without making any changes. We can say that this method is suitable for companies who are thinking about cloud migration.
b. Re-platform
This can be the updated version of the lift and shift model. In this method, you focus on some modern updates such as automation. One important thing is that this method requires programming knowledge as well as input. In simple words, a few components of the application are replaced or retooled so that you can reap all the benefits of cloud services.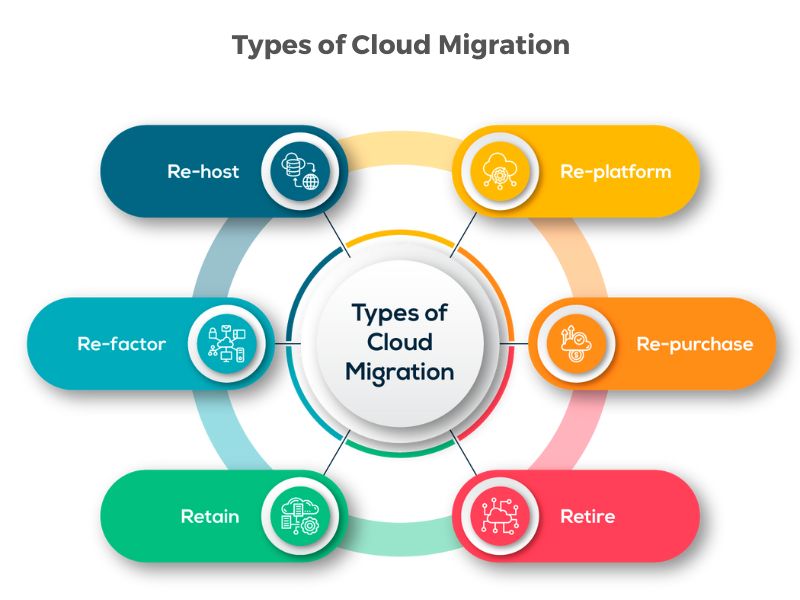 c. Re-factor
In this method, you rearchitect an application from scratch in order to make it cloud-native. A method for creating, utilizing, and upgrading apps that is based on well-known cloud computing techniques and technologies is known as cloud-native application development. It is crucial to understand that this process needs time and expertise. You should also ensure that your people have the right skills to make this process successful. One of the main benefits of this method is that it helps to reduce the cost in the long run.
Other strategies for cloud migration are the following
d. Re-purchase
In this method, you replace your existing solution with a SaaS-based solution. However, this method depends on the requirements and options for migrating data.
e. Retain
This is commonly known as the hybrid model. In this method, a few components of the IT infrastructure are retained due to security concerns.
f. Retire
In this phase, you identify the assets that are no longer useful for the company. With the help of this method, a company can focus on services that offer maximum value. Like other methods, this also requires the assistance of technical teams to attain the right outcomes.
After analyzing all the above points, you must be wondering which type of approach can be best for your company. However, we also specified that the cloud migration process requires expertise. In order to gain all the necessary information about cloud migration you should connect with a credible cloud migration service provider.
A brief on the cloud migration process
It is important to note that the process of cloud migration varies according to the resources and types of migration. Hence, you should focus on proper planning to make the cloud migration process successful.
Let's look at an overview of the cloud migration process.
Create strategy and business cases
Organizations must know what exactly they want to achieve with cloud migration. Hence, build a strategy for migration of the data sets. Also, on the basis of objectives, you can create a suitable migration strategy. Furthermore, proper planning and listing business cases will help you to plan in advance. So that you can identify risks or other things that are crucial for the migration process. As per our experience, we suggest you take a consultation with an expert.
What, where, and when to move
Companies prefer cloud migration to control costs, increase flexibility, security, and many more. In addition, you should identify the current architecture to understand what applications and data should be migrated to the cloud. Furthermore, risk assessments, dependency mapping and many more can be used to make necessary decisions regarding cloud migration. After proper planning, you should focus on this step to minimize risks and make the cloud migration process more successful.
Cloud migration
In this step, the center of attention is modernizing existing and developing cloud applications for transforming architecture. In this process, the complete shift or modernization is in focus with migrating to a new technology model. Also, Automated management and migration tools help you to perform the migration in the right manner. These tools will help to make the process more efficient and quicker.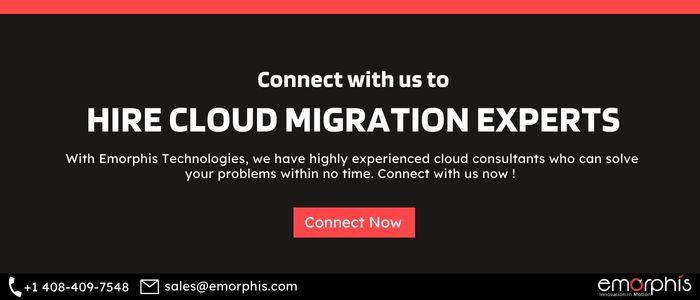 Conclusion
After considering all the above information we can say that cloud migration can offer a huge number of benefits to an organization. One of the most crucial things is to decide which type of migration you should use and how to perform the migration process. You must have also understood that migration depends on your company's needs. Hence you should plan or consult in advance before making any move. At Emorphis Technologies, we have a team of cloud computing consultants who can help you achieve the maximum benefits of cloud migration. If you hire a credible cloud migration service company then you can save cost as well as time. Our experts will help in creating an effective cloud migration strategy.
Also, read further A Comprehensive Guide to Cloud-Native: Things you Need to Know.