Overview
Salesforce CPQ is an advanced sales tool by Salesforce which aims to create highly accurate quotes in the most effective manner. The platform mainly focuses on increasing the productivity of the sales team, increasing sales, closing sales, and many more. As per the data, 66% of consumers said that they can switch to other brands if they are not given personalized service. This shows that only a pricing quote is not enough to close a deal you have to use a configured price quote (CPQ) software to close the deals most effectively. Salesforce CPQ implementation can provide a huge number of benefits. To know more about how to implement Salesforce CPQ? you must know that various things like skilled resources, set-up, project strategy, and many more are important for successful implementation.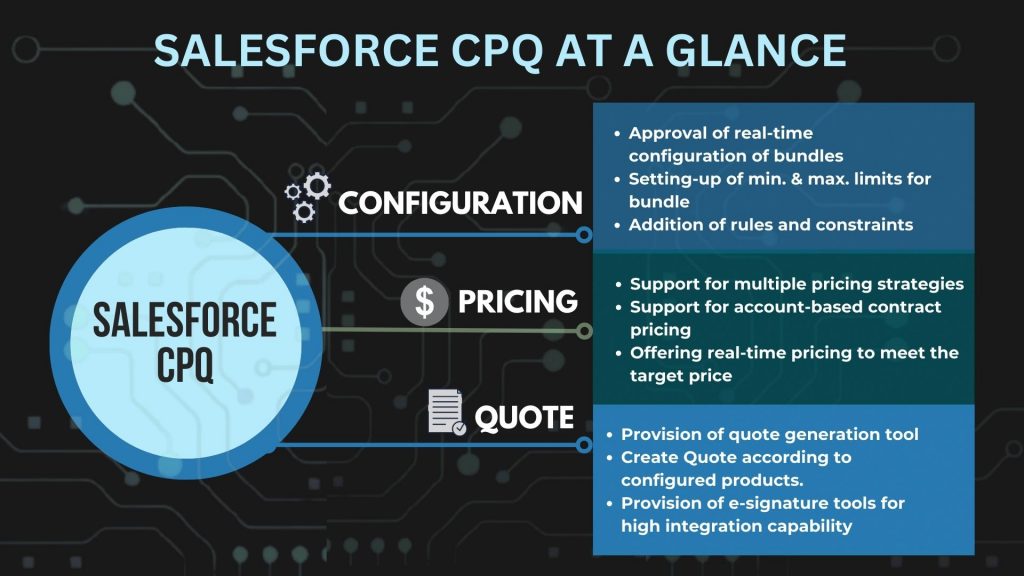 In the current scenario, every company wants to achieve desired results most effectively. To do so they must have access to an advanced tool that can make a particular process quick and efficient.
It has been identified that organizations that use CPQ have witnessed a 28% reduction in the length of their sales cycle. As per the report, the market share of Salesforce CPQ is 17.07%. Furthermore, the main competitors of Salesforce CPQ are Oracle CP, Cosential, and Prospero.
Let us dive in to check the complete step-by-step process.
Salesforce CPQ Implementation Process
If you are thinking about adopting Salesforce CPQ in your organization then it is important to go through some of the crucial details. In addition, the companies which are going to use it for the first time may find it challenging. Hence, we suggest you connect with a Salesforce CPQ implementation service. By using the service, you will not face any issues and can manage all the necessary operations most effectively.
Let's have a look at some of the important steps that can help you to implement Salesforce CPQ and reap all the necessary benefits:
1. Understand project needs and set goal
It is important to identify what are the ultimate sales goals. This will help you understand whether to implement Salesforce CPQ for delivering the right results. Hence you should select the right goals to attain desired results. Also, you can connect with a Salesforce consulting company to set goals and understand other technical details.
The right Salesforce CPQ implementation partner will allow you to resolve the problems faced by your sales team. By using this application, you can get access to all the data and close deals more quickly and efficiently.
2. Select the right implementation methodology
In order to make the process hassle-free you have to choose the right methodology. As per our knowledge pure agile is not a suitable methodology to implement Salesforce CPQ. In addition, the hybrid model of the waterfall and agile methodology would be highly suitable for the implementation process. You may use the waterfall methodology in the design phase of the implementation process. It is crucial to identify the right methodology to make the implementation process successful. If you hire the best salesforce consultants to implement Salesforce CPQ then you do not have to worry about these things.
3. Project Commitment
It is necessary to pay full attention to the project to find out any errors or make necessary changes. If there are insufficient resources, skillsets, and time then the project may fail. Furthermore, continuous communication between the development agency and the client is crucial to know about the expectation or other requirements. Constant communication will help consultants understand the main requirements and work accordingly. The data also highlighted that clear communication and transparency are the keys to a successful project. In this step, you can mitigate any possible risk and improve the outcome in the most effective manner.
Get in touch to enquire more about our Top Salesforce Consulting Services
4. Prioritize CPQ features
In this phase, you have to choose the right features that are highly essential for your company. The most critical features must be selected that can fulfill business demands. You should also know that the Salesforce CPQ offers a wide range of features that can create confusion. Hence you must plan what features can help your sales team. You can always add more features in the future and make the tool more advance and effective.
5. Plan for your data
In this step, you have to identify what type of data is required for the CPQ implementation process. It is also crucial to make sure that you use high-quality and accurate data. Also, check whether the data is up-to-date to avoid unnecessary loss in sales. To get the full benefits of the Salesforce CPQ implementation you must assign this role to someone who will make sure that data is up to date and managed in the right way.
6. Make sure the implementation process is right
Wrong configurations and installation leads may affect the overall process of Salesforce CPQ implementation. In this step, you have to understand how the Salesforce CPQ implementation process impact other tools and platforms. You must also make a contingency plan in advance to deal with any uncertain issue that may affect the implementation process.
7. Review CPQ features
Salesforce CPQ offers a wide range of features to streamline the sales process. In addition, you must identify what features are the most important for the company. Hence, you should implement the most important features first and then implement the other features to enhance the capability of the platform. Here are the main criteria to review CPQ features:
Ease of use: The CPQ must be user-friendly so that users or administrators can use it without any issues. In addition, the platform's interface should be easy to understand which in turn improves the user experience most effectively.
Integration: Another important thing is the platform's ability to integrate with other software like CRM, accounting software, and many more. The effective integration will eliminate the need to reenter the data multiple times and enable a smooth flow of data between the platforms.
Flexibility: the platform should allow customization so that users can fulfill their business needs. CPQ should be flexible enough to allow you to change or remove the pricing.
Support: The vendors should give continuous support so that users can reap all the necessary benefits of the platform. This will help the users to get rid of any issues or make the most out of Salesforce CPQ.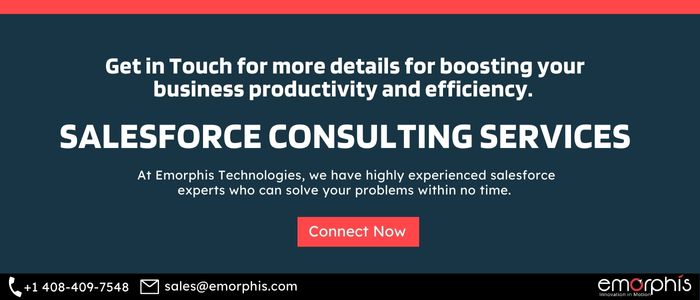 8. Deployment sequence
CPQ deployment must focus on features that are required by users regularly. In order to eliminate any issue paid deployment tools can be used. In addition, it is also important to create a dataset and make sure that environment is suitable to carry out the deployment process in the most effective manner. Also, make sure to conduct post-deployment activities to find any errors or make necessary changes.
9. User Adoption
Users will not use the systems if it is complex or there is no guidance. Hence it is necessary to make sure that you provide excellent support and training material. Furthermore, it is also important to highlight the benefits so that more and more users utilize the system.
10. Track the progress
This is the last phase in which you must evaluate whether the CPQ is working according to the company's goals or not. In addition, you can conduct a user satisfaction survey to offer high-quality services. By continuously monitoring the performance of CPQ you will be able to understand its impact on the business. The progress can be reviewed by analyzing Salesforce CPQ's impact on different parameters such as sales performance, process improvement, and many more.
Now you may have understood that the Implementation of Salesforce CPQ requires certain expertise. The benefits provided by Salesforce CPQ make it a highly important tool for every organization. Hence, we advise you to connect with an experienced Salesforce consulting company to get all the necessary benefits. A credible Salesforce consulting company will provide necessary services including implementation, integration, customization, and many more.
Now let's check the implementation costs.
What is the cost to implement Salesforce CPQ from an implementation partner?
The cost to implement Salesforce CPQ (Configure, Price, Quote) from an implementation partner can vary greatly depending on a number of factors, such as the complexity of your business processes, the size of your organization, the level of customization required, and the specific features and functionality needed.
It is important to note that pricing for Salesforce CPQ implementation is typically determined on a project-by-project basis, and can involve a number of different cost components, including:
Implementation fees: These are the fees charged by the implementation partner for their services, such as project management, business analysis, configuration, customization, and testing.
Licensing fees: These are the fees charged by Salesforce for access to the CPQ software and related products, such as Sales Cloud or Service Cloud.
Integration fees: These are the fees charged by the implementation partner for integrating CPQ with other systems or applications, such as ERP or marketing automation software.
Training and support fees: These are the fees charged by the implementation partner for training and ongoing support services.
Given the number of variables involved, it's difficult to state a specific cost estimate without indulging in a complete scope of work. Reach out to a Salesforce implementation partner directly to discuss your specific needs and receive a customized quote.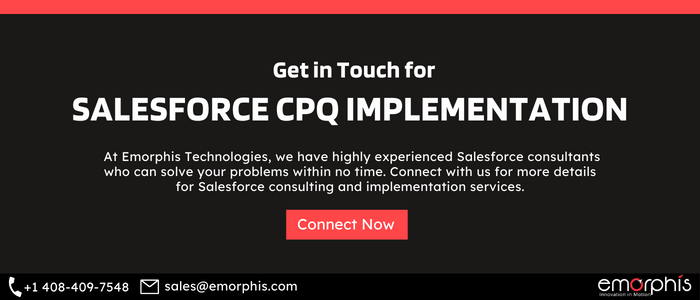 Why choose Emorphis as your Salesforce CPQ implementation partner?
As you have noticed in this blog Salesforce CPQ has the ability to offer a huge number of benefits to a company. We advise you to hire a Salesforce CPQ implementation expert as the Salesforce CPQ implementation is a complex and lengthy process. To save yourself from any issues you can take the help of Salesforce CPQ implementation company.
Salesforce configure price quote (CPQ) has become a necessary product for every company. By using Salesforce CPQ, you can quickly deal with the pricing-related issues of your customers. The right implementation partner will make sure that you get all the necessary benefits of the Salesforce CPQ. With a Salesforce implementation partner, you can implement Salesforce CPQ in your company in the most effective manner.
Emorphis Technologies is one of the top Salesforce CPQ implementation companies. By using our Salesforce consulting services, you can streamline your sales process and increase efficiency. We also offer guidance at each step so that your team will understand how to use this tool in the right way.
Our highly experienced Salesforce consultants and industry experts reduce the time as well as complexities involved in CPQ implementation. After the right CPQ implementation, you will witness various benefits like increased sales, more leads, price optimization, and many more. Overall, Salesforce CPQ can increase business revenue and manage the sales process in the most effective manner.