Choosing the right IOT Application Development Vendor is half the battle won. In the year 2018, some of the finest IoT applications have been introduced. For instance, IoT projects in Smart City – Traffic Management, Connected Industry – Building, Car etc.
Irrespective of the fact whether you are an experienced or a new player entering the IoT realm, it is quintessential for companies and entrepreneurs to find the right external vendor partner for the right project at the right time. The right balance between comprehensive knowledge and industry experience sets the tone for choosing the right application development company.
Few aspects to pay heed to while selecting your preferred IOT vendor, are listed below –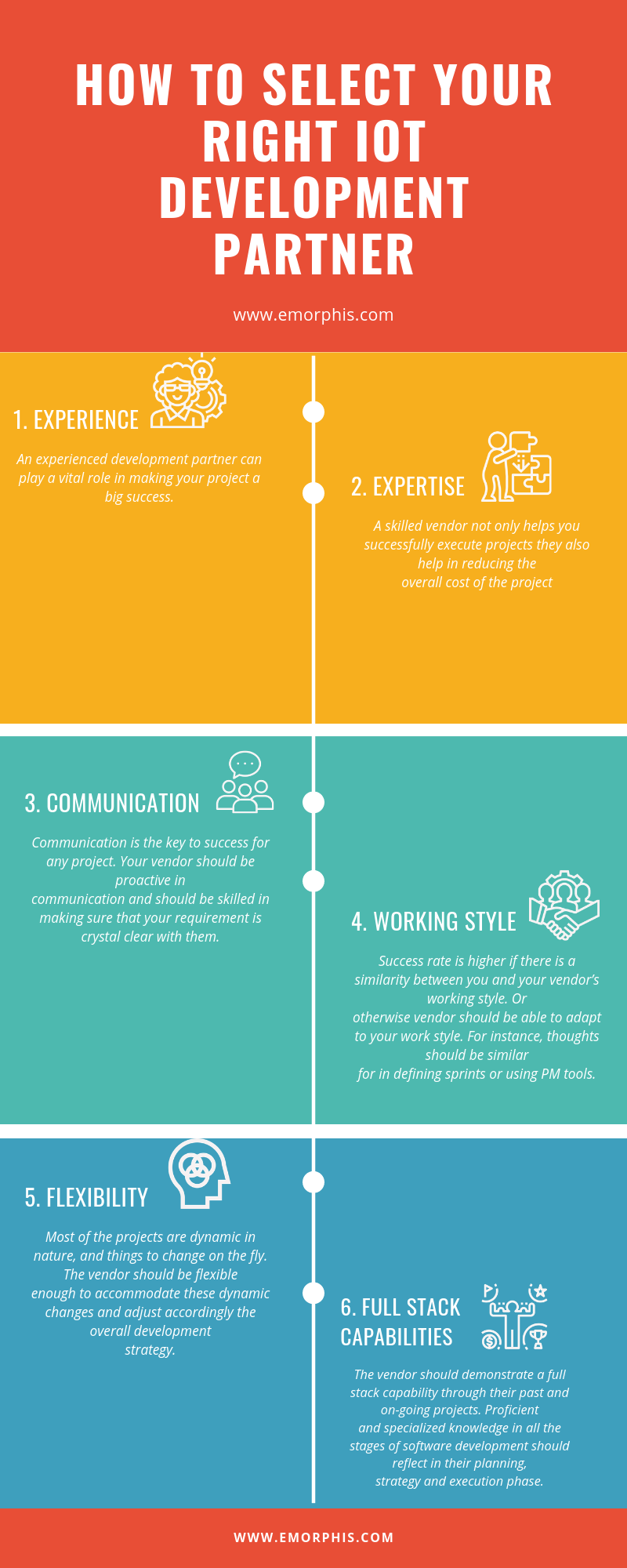 1) Skills, experience and expertise:
IoT as an ecosystem is vast and different in many ways as it integrates hardware, software and network technologies. It is often seen that a group of good programmers is inadequate, what is required from the company is the right mindset and proven track record of launching IoT solutions. They need to have the perfect established technical hacks to get the job done. Firms with expertise in both software development and hardware solutions have a specific edge and will be able to deliver the complete IoT solution faster than their competitors offering either of the services.
2) Communication Styles:
Breaking down projects and allocating them into individual assignments, sprints & tasks, along with providing weekly time sheet showcasing the time spent on each activity of the project is a good indicator of the organization's accountability and credibility. Organizations expect to have such reassurances at regular time intervals from their IoT partner.
While other clients may prefer to take a hands-off approach until the project is completed. After signing the project deal, they are content to let the developers execute single handedly on their own until task delivery is close to completion.
Vendors that schedules meetings at regular intervals with clients is a good sign and postulates a determination to please the client. Taking a more dedicated and involved communication approach is usually preferred as it lets the checks and balances to be in place to meet the client's requirement. Important parameters such as – project scope, financial budgets and timelines can vary while the product is being built, and the client should be briefed about these provisions and requirements well in advance.
3) Related Working Patterns:
In addition to related or similar communication styles, one should also look for IoT partners that work in a similar fashion (working pattern) like you. For Instance – Defining the length of a sprint during the software development process, does the team follows the process of continuous delivery through quick and rapid sprints? Or do they pursue a long release cycle?
The term "continuous delivery" means that the product is necessarily always in the process, the development, and the production simultaneously; any changes or modifications are instantly committed to a development cluster, tested, and rolled out to production as soon as possible. Continuous delivery is a popular practice among many development organizations and guaranteed benefits includes a high-quality software.
However, on the other hand there are few clients who to still choose to have a more traditional development process, where features are developed in sprints that are certain weeks long and then added to the production cycle all at once.
4) Flexibility:
Both the development vendor partner and the client should be open and flexible to possible changes throughout the process life cycle. Clients need to understand the product features and bucket them properly under the two categories 'needs' and 'wants'.
The "planning fallacy" is an eminent notion in software development – people pretend to be confident about the effort and time required for a future activity or project, leading them to lowball their assessments. Being aware of what exactly one will require in the next six months ahead of time is practically impossible for the complicated IoT project involving software and hardware.
Professionals of the agile methodology often attribute to the "last answerable moment" to make a choice. By establishing off the decision-making method until the last second, one could gather more data and material about what the correct decision could be.
For instance, having accurately advance demands for the software tools and databases that will be used during the process of completing the project is sometimes a bad practice. Rather it usually makes sense to keep track of features and high-level goals, and then discuss the when it makes sense to do so during the activity or project.
5) Full-Stack Capabilities:
More of an IoT quick fix or solution is software, and the bulk of these software will be web software. While looking for an IoT vendor partner, one needs to prioritize organizations and firms which are secure and strong in web security and development. Hardware engineering organizations are mostly not qualified to build a secure and scalable infrastructure for your IoT data, which is required for a full-stack result or solution.
Full-stack organizations and companies can establish an 'all-in-one' solution that manages the hardware, mobile interface and web interface within the single project. If you are not sure whether it requires a full-stack product or not, then opting for a vendor offering these development capabilities and improvements is a much safer bet.
Bottom line:
While selecting and arriving at a decision, make sure to scan through vendors past projects and success stories, this will help you build confidence with your vendor of choice. To summarize the parameters look for a vendor partner with the right skills, experience and expertise. Look for similarities between you and the vendor on grounds of communication styles and work patterns. Make sure your vendor is flexibly and demonstrates full stack capabilities.