Introduction
At present, Salesforce has become an inseparable platform that has given a strong foundation to nonprofits organizations (NPO) to expand their footprint across the globe.
Today, more than 40,000 NPOs and other fundraising entities are using Salesforce AppExchange apps to boost their operations and fundraising campaigns. Accordingly, slightly more than 75% of NPOs favor Salesforce as it:
It makes their job easy
It helps in raising more funds
Improves employee performance
Strengthen engagement with customers
Nevertheless, one question might come to the mind of Salesforce
'Is Salesforce good for NPO?'
Yes, certain ways show that the Salesforce CRM solution is the right way in assisting NPO to remain at the top. Salesforce for non-profits benefits companies in achieving their target efficiently:
Salesforce solution keeps nonprofits more organized by creating customized workplaces for every individual involved
It dramatically increases the operational efficiency of the workforce
Reporting is highly accurate and precise by Salesforce
The Salesforce community is large, so fundraising for NPOs is possible and easily manageable
It comes with the 'Power of US Program' that helps nonprofits to get access to affordable products
So, no one can match the immense powers Salesforce provides to NPOs. Salesforce for non profit offers many exciting applications to drive business. Moving on; some of them are listed below that helps you to drive your business successfully. Let's understand several Salesforce AppExchange apps that are a must for every NPO to achieve notable success. Let's see:
10 Salesforce AppExchange Apps that every NPO Must Watch Out For
Do you know what most of the NPO always search for? Precisely, they look for ways that give the most and spent less! So, Salesforce AppExchange always offers some out-of-box solutions with relatively fewer resources.
What's more, the rousing aspect of AppExchange is that the apps available here are meant exclusively for Salesforce users. Accordingly, they arrive for the customers after passing the strict security reviews of the Salesforce team.
Here are some of the popular AppExchange apps that fit perfectly into the criteria of the NPOs based on the variety of non-profit solutions. Hence, we will explain them in detail:
Fundraising Campaign Management
NPSP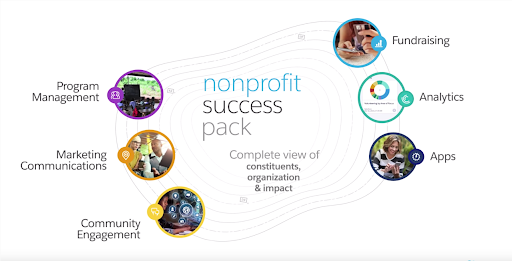 What is a Non-Profit Success Pack?
In case, you already utilize Salesforce, chances are great that you have an access to the Non-Profit Success Pack (NPSP). What is so special about it? The specific part of that organization uses NPSP to start its journey towards implementing CRM well.
As a matter of fact, it comes with core functionality and pre-set configurations that transforms a normal Salesforce CRM into a powerful nonprofit platform. So, the NPSP is highly helpful in assisting nonprofits in adjusting to Salesforce and realizing the CRM's capabilities.
Top Features
In the first place, NPSP comes with numerous exclusive aspects that every NPO must utilize to make full use of CRM software. Hence, there are some of the top-level features that define NPSP:
At First, it offers a shared view of constituents for nonprofits teams. that comprise marketing, leadership, and programs.
Then, it comes with fundraising and performance dashboards.
Also, helps in tracking donations and grants management.
To point out, its successful engagement with program participants.
And lastly, it creates and tracks campaigns for a fundraising program.
Starting Price
To the delight of the consumers, NPSP is available to them free of cost.
How NPSP is used by NPO?
It is a free set of managed packages developed by Salesforce org, especially for NPOs. It has two crucial components; contact and leads track that helps nonprofits to:
Manage donation payments, contacts, households, and organizational accounts
Effective tracking relationship between donations (new and recurring) and contacts effectively
Donor Search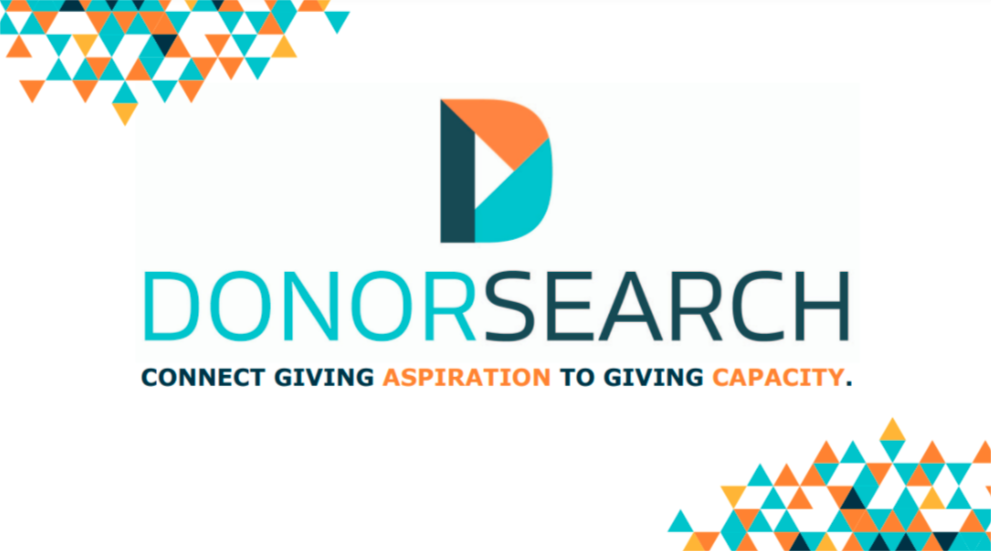 What is Donor Search?
Nonprofits use the databases (containing wealth and philanthropic related data) of Donor Search. Why? It's because they boost campaigns, especially marketing campaigns to permit the enterprise to learn more about their admirers.
So, it collects information from numerous databases (a total of 25) to achieve one goal: offering more accurate and actionable data to help NPO for better fundraising results.
Top Features
While Donor Search has its own database, it is the Salesforce database that offers unique capabilities to make most of the prospect research tools within the CRM. Notably, it has features:
One-click profile generation to access detailed supporter profiles
Custom workflows to review every donor entering CRM automatically
Data imports to use crucial data in custom reports
Presence of wealth screening tools to quickly access accounting and holdings
Starting Price
At first, the given AppExchange platform is available to the customers at the US $209 per company per month.
How Donor Search is used by NPO?
For nonprofits, it is vital to manage fundraiser campaigns successfully. For it to happen, there is a Donor Search app. It helps in raising awareness and getting better engagement with donors by:
Targeting the right audience at right time to enhance the efficiency of NPO
Organizing online matching gift program to take full advantage of corporate philanthropy
Analyse collected data to devise new strategies to target specific segments and achieve positive results
Few Crucial Facts about Donor Search
In 2021, Donor Search become a leader in offering non-profit premium AI and ML solutions
In Feb 2022, it becomes the first app to deliver AI/ML solutions to all nonprofits irrespective of size
Inventory Management
Inventory Manager for Nonprofits
What is an Inventory Manager for Nonprofits?
It is a user-friendly AppExchange app that permits proper management of donated inventory items that too with negligible interaction with users. Furthermore, it runs easily on the iPad so users can utilize it from anywhere.
Top Features
For the given AppExchange app, several features will deliver benefits to any organization that utilizes it:
Inventory Manager has lightning web components that can add, remove and even view items easily
It comes with a donation items section that is organized as per the location of data storage
It has a real-time inventory tracking system to check stock and inventory movements of the company
Starting Price
Initially, it is available free of cost for nonprofits.
How Inventory Manager is used by NPO?
Now, it is a blessing in disguise for nonprofits as they can keep a vigil on their inventory and assets easily. Moreover, tracking even expensive items received as grants can be stored as inventory for future use by nonprofits.
Likewise, Inventory Manager is also becoming a good alternative for Excel spreadsheets. Managing spreadsheets becomes unbearable for nonprofits after uploading a larger amount of data. Here, the Inventory Manager makes the whole process of storing and managing data smooth and helps nonprofits to locate their assets and inventory spread across multiple locations easily.
Grant Management
Outbound Funds Module
What is Outbound Funds Module?
Basically, it is a tool that helps various nonprofits and foundations that disburse grants to effectively track their financial commitments, funding requests, and outgoing funds.
In addition, the given tool is effective in managing philanthropic work so that NPOs can focus more on availing a helping hand to people and communities.
Top Features
Managing grant applications is not an easy task. Nevertheless, the given AppExchange tool comes with several top-notch features that will assist in the effective management of grants and disbursement.
Funding program management helps in connecting programs and grants together to keep moving philanthropic mission
Disbursement tracking helps in determining the time-line of the number of payments through easily manageable disbursement scheduling
Relationship tracking helps in the effective management of the relationship between different stakeholders and funding programs in a single system
Starting Price
At present, the given AppExchange app is free to use.
How Outbound Funds Module is used by NPO?
For nonprofits, the outbound funds module has proved to be a boon. Why? Its because they offer scalable and flexible solutions that help in the effective management of outgoing funds. Besides, nonprofits can get official support and documentation with new feature offerings to manage grants.
Event Management
Volunteers for Salesforce
What are Volunteers for Salesforce?
Volunteers for Salesforce (V4S) is a tool that helps any organization to effectively manage volunteering events and programs protectively. It is common for the given tool to handle many volunteering and event management such as:
Effective tracking no. of hours given by volunteers against those working for a specific event
Proper management of volunteer jobs needed by an organization
In addition, V4S comes along with the trial version of NPSP that is available to the nonprofits free of cost.
Top Features
Certain special features come with V4S, and business people will love them immensely:
The presence of a contract record track helps in the effective management of donations, activities, and relationships all in a single space
A volunteer wizard helps in creating volunteer campaigns to create 'jobs' and 'shifts' to manage marketing culture appropriately
Offer a standard set of email templates for promoting easy communication with volunteers and better coordination between management
Volunteer engagement functionality that allows direct integration of V4S with the website of an enterprise
Starting Price
Presently, the given AppExchange app is free to utilize by NPOs.
How Volunteers for Salesforce is used by NPO?
For NPOs, managing volunteers takes a considerable portion of manpower. However, they are of tremendous importance to NPOs as they are the ones who convert an event into a successful one. Here, V4S plays a prominent role. How? Through the following aspects:
Boost retention by giving recognition to the top volunteers
Optimize the whole recruiting procedure
Use of leveraging analytics to enhance volunteer program
Click & Pledge Event Management
What is Click & Pledge Event Management?
The best part of the given AppExchange tool is that it helps in integrating Salesforce with the existing payment system to offer full functionality for the event management. So, it offers easy and customizable solutions ranging from the creation of events and even receiving payments.
With the given app, any organization (even NPOs) can easily host and manage an unlimited number of events. Moreover, it accepts all major payments (including EFT payments). Likewise, it also comprises a virtual cash register that offers automatic recurring donations easily.
Top Features
Several unique features come with the given AppExchange solutions, such as:
Regular app releases help in fixing bugs and getting reviews constantly
Offers an unlimited number of event site pages for the same given event
Even URL also comprises discount coupons and tracker codes
Comes with added flexibility with automation registration emails
Starting Price
Just like many others, the given AppExchange apps come free of cost.
How Click & Pledge Event Management is used by NPO?
There are several reasons that NPOs are fond of the given AppExchange platform. Firstly, it is based on a payment-as-a-service system that offers a comprehensive API to manage payment by preventing fraudulent attacks. Secondly, it offers an affordable fundraising solution that helps in maintaining an engaging website to provide elite performance.
Marketing & Communications
Cirrus Insight
What is Cirrus Insight?
Cirrus Insight is a Salesforce CRM platform that successfully integrates 3rd party services (Gmail, MS Office 365) with Salesforce itself. Now, how can it be beneficial for NPO?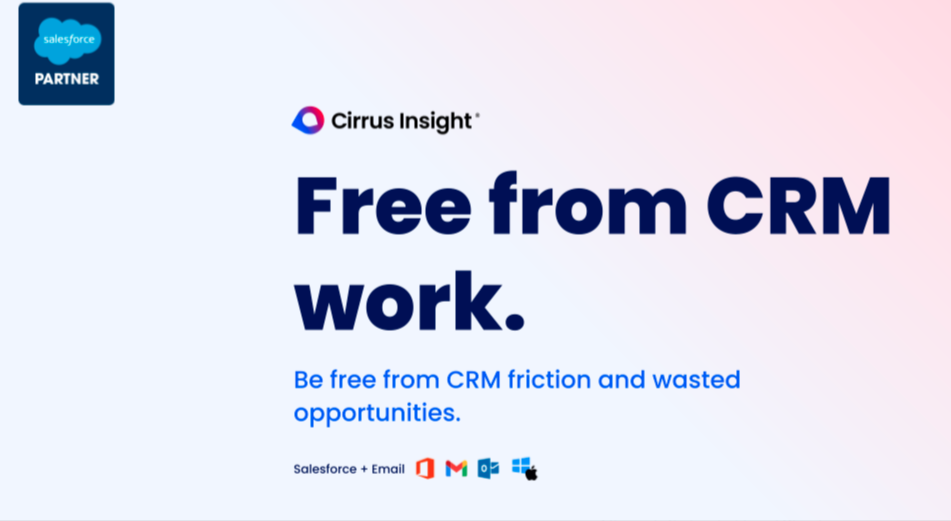 As you see, it is a handy application that inserts an email inbox onto the Salesforce app. In this way, the customers can put their NPO tool standing next to their CRM data. Likewise, whether you use Google Workspace, Gmail, or MS Outlook, the Salesforce data is still visible.
Top Features
In fact, the given AppExchange platform allows a better sync of data between two crucial NPO apps; CRM and email. Therefore, it comes with some exclusive features.
Furthermore, it is also built for Salesforce1 mobile, optimized for Lightning experience, and is compatible with all Salesforce editions.
Further, there are some other features also that define Cirrus Insight:
Automating scheduling with personalized booking pages
Tracking unlimited emails and attachments
Set follow-up reminders permit merging of Salesforce templates in Outlook or Gmail
Allows viewers to check who opens the mail, the link they click, visit the web pages for effective follow-up
Creating and updating contacts, links, and custom records on custom Salesforce objects from the inbox
Starting Price
The starting price of the given AppExchange app is the US $27 per user per month (with special discounts for NPOs).
How Cirrus Insight is used by NPO?
For any NPOs, Cirrus Insight is an essential app. How? The exciting part about the given AppExchange app is that it integrates Salesforce with Gmail smoothly. In this way, NPOs can monitor their official mail inbox and sync it right to the lead in Salesforce. Thus, not only can they grow their customer base, but could also attract new ones into their fold.
Few Crucial Facts About Cirrus Insight
The merger of Cirrus Insight with ZynBit in 2020 has made coming of Outlook and Gmail together
The launching of Sync+ in Nov 2021 allows organizations to have full control over data flow between Salesforce and email
Gift Management
360 Match Pro

What is 360 Match Pro?
Fundamentally, it is a fund-raising software that helps NPO to offer security to their matching gifts. Also, it saves time for the consumers by giving documents and information about the matching gifts (that fulfill legal requirements) to them to complete the match.
In addition, it also performs scanning of donation forms, email domains, and confirmation screens. therefore, it will help consumers to determine whether they are eligible to submit matching gift requests or not. Likewise, it combines automation to facilitate the cordial relationship between NPO and clients.
Top Features
From the scratch, 360 Match Pro comes with several features that will help in saving ample time. On the other hand, they will also create an environment to ante-up opportunities for identifying new matching gifts. These are:
It captures matching data directly from the existing donation forms
After presenting donors with guidelines, it offers a match request form which people need to submit online
Sync data to CRM
Starting Price
Initially, it commence the price for the users at US $500 per company per year.
How 360 Match Pro is used by NPO?
For large nonprofits, managing the donation gift of more than $25,000 is a difficult one. Nevertheless, 360 Match Pro manages the revenue of nonprofits. Besides, it offers automation tools that identify match-eligible donors to gain useful insights.
In addition, it integrates directly with the fundraising software of nonprofits to capture information about employees and eventually offers them follow-up automatically to manage matching gifts from donors effectively.
Few Crucial Facts about 360 Match Pro
About 65% of 360 Match Pro clients use automated functionality to drive incremental revenue
51% of users of fundraising apps such as 360 Match Pro cite its flexibility and ease of use
Payment Management
Payment 2 Us
What is Payment 2 Us?
In simple terms, the Payment 2 Us is the best Salesforce payment and donation AppExchange tool. In addition, there is no need to purchase any other AppExchange apps.
Likewise, it meets all the payment needs simply and securely. Moreover, it permits companies to collect payments as per the customer's needs either online, after completion of service, and through subscription or membership.
Top Features
It has secure online payment forms, has configurable options, and consists of suburbs and postcodes for offering a better quality apps
Generate PDF email and annual statements to identify and manage donors
Comes with Shopify integration to create more opportunities
Automatic opt-in line online payment forms
Offers refunds for original transactions
Starting Price
The starting price of the Payment 2 Us app is US $200 per company per year, but discounts are available for nonprofits.
How Payment 2 Us is used by NPO?
It is the perfect companion for nonprofits because it elevates their fundraising programs to the next step through:
Offering clean data for fundraising campaigns
Providing secure procession for regular donations
It comes with an integrated workplace to connect Salesforce with 3rd party imports
Leverage data quality tools to enhance marketing initiatives to minimize incorrect delivery addresses
FinDock: Payment on Salesforce
What is FinDock?
Actually, it is a real-time payment application meant exclusively for Salesforce. Moreover, it successfully manages payment procession and its reconciliation for one-time service. Likewise, it manages all payments of any organization by connecting it with their preferred payment service providers, all through Salesforce.
Top Features
Important to realize, that several essential features define the working of FinDock. Some of them are as follows:
To point out, import bank files to reconcile with the CRM data.
Also, allows manual matching wherever the payment requirement has been met.
Specifically, customize matching rules to align with the requirements of the customers.
Permits automatically reconcile payments.
Starting Price
It is available for US $350 per company per month. However, it is available at discounts for nonprofits.
How FinDock is used by NPO?
The customers of every nonprofit expect to offer a donation in the most convenient form. Moreover, it embeds with Salesforce and NPSP that permits nonprofits to allow multiple payment preferences to the donors to pay that is well managed through their CRM.
In addition, it also comes with a Gift Aid Management solution to the nonprofits that are fully Salesforce-based to offer them real-time insights. So, there is no need for manual uploads and there is always availability of a comprehensive audit trail for the nonprofits.
Last Thought
As we have stated earlier, the arrival of Salesforce is ushering in a new golden period in the business world. Even more, nonprofits have taken immense pleasure to utilize it to remain to stand out from others.
With so many Salesforce apps available worldwide, it will be easier for you to configure your CRM with the functionality of these apps to meet your nonprofit requirements.
Emorphis Technologies is one of the reputed Salesforce consulting services, salesforce development services provider, and a Salesforce AppExchange partner that offers customized Salesforce solutions to our customers and helps integrate salesforce apps for nonprofits. Besides, you can take help from any of our Salesforce AppExchange developers to select the right solution.
Therefore, if you like our services, feel free to contact us and let us know which Salesforce AppExchange apps integration will help NPOs to provide the best results for their business.
Look at the Guide to Understanding Efficient Role of Salesforce Consultant