Introduction
Salesforce is the most acceptable CRM solution that offers a varied range of products and services to businesses that will help them to make their operation look more successful. Several Salesforce products make the work of business easy.
With their help, enterprises can remove technology bottlenecks in their business, and even meet their distinctive necessities fruitfully. As Salesforce products are powered by cloud technology, it becomes relatively cool to decrease setup costs and maintenance.
Emorphis Technologies is a certified Salesforce consulting company that understands the power of Salesforce products. Moreover, we recognize the crucial role that each Salesforce product plays in transforming your business environment to offer end-to-end solutions.  
A Quick Recap on Salesforce Revenue
Currently, more than 1.5 million businesses run on the Salesforce ecosystem. Moreover, there is a generation of more than $21.5 billion revenue annually from Salesforce that is clearly explained below the given chart: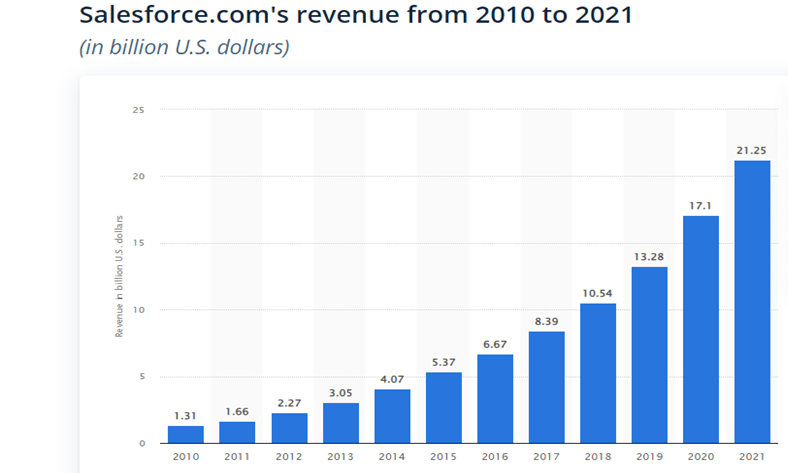 The given fact clearly indicates that Salesforce is dominating the service sector and almost every business whether it is a startup or established enterprise, all want to include Salesforce solution and improve their business fortune.
Let's dive much deeper to have a vivid discussion about the significant capabilities of each Salesforce product.
So, there are numerous Salesforce products that if one explores, can get the services to boost their business fortune manifold.
Salesforce Products To Boost Business Fortune
A. Salesforce Sales Cloud
It is a flagship product of Salesforce that came into existence in 1999. Moreover, it also occupies lion's share in all the present CRMs. It lays major emphasis on quickening the sales cycle of any Salesforce-powered organization by offering high-tech tools to manage opportunities and leads to accomplishing sales objectives with efficacy.
Notable Features: product management, contact management, quoting and forecasting, opportunity & lead management, territory & partner management.
Add-on Products: Sales cloud Einstein, Salesforce maps, CPQ & billing, Salesforce anywhere, Lightning dialer.
Price Range: For our users, we offer Salesforce sales cloud at the price range of $75-$300 /user/month.
In addition, Sales cloud comes with notable benefits for the Salesforce customers such as:
Helps in the personalization of sales procedures which means it assists the organization to create a flexible setup to meet the unique needs of both clients and their teams.
It keeps on evolving by adding new technologies in the model and meeting the customer's demand quickly.
Offers accurate forecasting with no data loss.
It boosts productivity to provide clear-cut answers.
Further drives steady growth, such as companies retaining 50% of the employees.
B. Salesforce Service Cloud
It's the B-team of the customer support team of any business enterprise. With its help, customers can contact the company through live chat, email support, or customer agent to get their issue resolved as quickly as possible. Consequently, it offers support to every customer present anywhere and at any time.
Notable Features: Lightning service console, Salesforce live agent, Field service management, live message, Telephony integration, Account & contact management
Add-on Products: Field service, Service cloud Einstein, digital engagement, Customer lifecycle analytics, Service cloud voice, Salesforce surveys response pack
Price Range: For our users, we offer Salesforce service cloud at $25/user/month (for all-in-one sales app), $75/user/month (for professional), $150/user/month (for enterprise), and $300/user/month for those users requiring unlimited CRM power.
What's more, the Service cloud has numerous advantages that every enterprise must vouch for it. They are:
Particularly it offers world-class service to streamline the working process of an organization.
Especially stores customer's data in a single application making it easier for enterprises to maintain it effectively.
It offers support to its customers through channels such as LiveMessaging.
Learn more about Salesforce Service Cloud Guide for Excellent Customer Service.
C. Salesforce Marketing Cloud
It is a digital marketing platform that keeps you in connection with your loyal, as well as new customers. It also comes with a range of features that assist them to market their services using social media platforms and email for their customers. Further, it is split into some new products that we need to understand individually:
1. Pardot
In summary, it is the most after-sought product of the marketing cloud and is known for offering B2B marketing solutions.
2. Journey Builder
It is the most suited option for the B2C marketing space as it enables in building a powerful marketing journey to offer a personalized experience to their clients.
3. Email Studio
In general, it is a tool that gives capabilities to enterprises to create email content that they wish to send to their potential customers.
4. Customer 360 Audience
Previously known as Salesforce DMP, it provides a unique platform where your entire customer's data is unified into a single unit.
Notable Features: Drag and drop segmentation, pre-and post-campaign analytic tools, social media engagement, and advertising.
Add-on Products: Salesforce engage, engagement history dashboards, B2B marketing analytics plus.
Price Range: We charge for Salesforce marketing cloud in three steps:

Basic Plan: $400/month
Pro Plan: $1,250/month
Corporate Plan: $3,750/month
Furthermore, here are some benefits that we will uncover concerning the marketing cloud:
Altogether it interconnects customer's data with marketing processes and optimizes them for better
Overall it leverages 3600 views to engage with their audience by connecting the dots efficiently
Particularly creates targeted CTAs for every customer based on their profile, behavior, and interests
Also, it permits users to connect with customers from any channel as per their terms
D. Salesforce Community Cloud
Now also known as Experience cloud, it is a novel cloud platform that assists an enterprise in creating platforms for customers and employees to have a good interaction with business. It works on a low code platform so that you can create a business platform with drag and drop functionality. With it, the creation of websites, portals, and forums directly on the Salesforce platform is easy through CRM data.
Notable Features are Mobile optimization, personalization, business integration, lightning bolt, case escalation.
Add-on Products: Presence of 3rd party apps such as AppExchange and Experience builder.
Price Range: Our price range depends on the following factors:

Customer Community: $2/login and $5/member/month.
Customer Community Plus: $6/login and $15/member/month.
Partner Relationship Management: $10/login and $25/member/month.
External Applications: $15/login or $35/member/month.
Now also known as Experience cloud, Salesforce community cloud comes with notable benefits such as:
Indeed it integrates well with legacy software to access data in real-time.
Also, Mobile-enabled for easy convenience in offering a user experience.
It comes with a pre-built platform to limits the use of vast resources and thus lower overall costs.
Also, it differentiates business operations to stay ahead in the competition.
E. Salesforce Analytics Cloud
The given platform permits the users to connect data from multiple resources to develop interactive data views. Here, data analysis is done either on private or public cloud with the collaboration with a cloud service provider.
Notable Features: Dynamic visualization engine, self-service access, native Salesforce integration, in-built mixed data dashboards.
Add-on Products: Service analytics, sales analytics, Einstein Analytics, B2B marketing analytics, Einstein discovery.
Price Range: We offer Salesforce analytics cloud at the price range of $75/user/month to $3,750/user/month.
There are several advantages of Analytics cloud that we must need to discuss in brief:
A mobile-friendly platform that will make users connect with enterprises from anywhere and anytime.
Particularly it comes with a dynamic visualization engine that helps users to make better decisions for the future.
Also, offers self-service access for updating customers in real-time.
Operate on multiple dashboards to embrace data from tools such as ERP, CRM, RFID, etc.
F. Salesforce Apps Cloud
It is an application program that functions specifically on the cloud with mixed characteristics of a pure desktop and web application. The desktop app resides on a sole device that is present at the user's location. On the other hand, web apps rest entirely on a remote location, and their delivery is done through the browser interface.
Notable Features: Lightning components, platform events, Identity Embedded login.
Add-on Products: Salesforce AppExchange, Heroku enterprise, Force.com, Thunder.
Price Range: We charge users for Salesforce apps cloud in three plans:

Essentials: $25/user/month.
Professional: $75/user/month.
Enterprise: $150/user/month.
Salesforce Apps cloud offers numerous advantages such as:
Efficient execution of multiple events at once.
Overall it comes with secured system integrations to manage customer data effectively.
Also, Support lead routing and workflow automatically and eliminate manual data entry.
Notably, it creates documents, quotes, and contracts effortlessly.
G. Salesforce IoT Cloud
Among the present Salesforce products, the Internet of Things (IoT) is a hot topic. It is already generating a lot of opportunities among enterprises. Salesforce IoT cloud focuses precisely on conducting transformation of the connected devices into crucial customer data. It harvests data from the devices so that professionals can interact with their customers proactively in real-time.
Notable Features: Einstein Analytics, message notifications, user access tokens for secure access.
Add-on Products: Apache Kafka (to handle high read/write per second), Apache Storm (real-time big data), Apache Spark (large scale data streaming), Apache Cassandra (database management system)
Price Range: We offer IoT cloud for around $6000/month.
Now, getting access to meaningful data is possible thanks to the Salesforce IoT Cloud. So, evaluate its benefits:
Markedly users can view the working of devices at a single location.
In general, helps in building insightful consumer profiles.
Significantly resolve product problems with no trace of errors.
Above all, it provides exceptional services to the customers.
Last Thought
Salesforce products offer simple yet defining solutions to the organizations to create their tech stack from simple CRM to innovative one. They assist the users to not only retain the old customers but also appeal to new ones into their fold. Moreover, they also help in the proper maintenance of commercial, financial, and non-profit services. For users, in effect, it is a win-win situation as they can keep track of their data and easily maintain their customers with great ease.
We at Emorphis Technologies offer the best Salesforce consultancy services to our customers. By hiring our Salesforce experts, the users can get meaningful answers to the given questions:
Is Salesforce's customized platform fit my core business requirements?
How well do you integrate 3rd party system with Salesforce?
How Salesforce can help increase my revenue?
What is the estimated cost to hire a Salesforce expert?
How much support will I get post-Salesforce implementation?
Consequently, with the right Salesforce products, we can offer the finest Salesforce customization services to our consumers who can get suitable answers for the above-given questions and improve their business manifold.