In today's digital age, where data breaches and compliance concerns seem like formidable challenges, safeguarding customer information has become a top priority. Moreover, meet Salesforce Shield, the trusty guardian of your CRM's security!
This powerful suite of tools stands tall, providing essential data protection and ensuring regulatory compliance. Furthermore, in this blog, we'll unveil the real-life magic of Salesforce Shield. Also, explore how it fortifies your organization's data.
Let's dive in!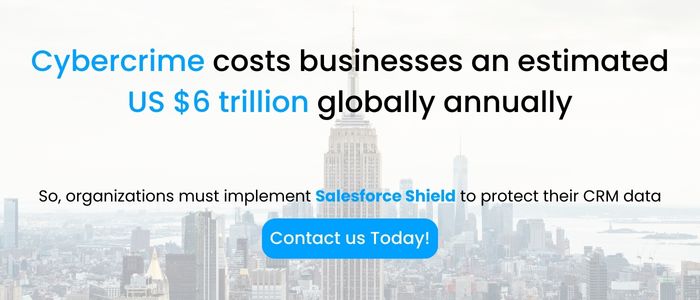 What is Salesforce Shield?
Salesforce Shield is a security suite for Salesforce, safeguarding sensitive data and enabling compliance. Moreover, it includes event monitoring, field encryption, and platform encryption.
Salesforce Shield is like a fortress, protecting your data from cyber threats. Through event monitoring, you gain insights into user actions. Alongside, Field and platform encryption keep data safe, ensuring regulatory compliance. In short, Salesforce Shield is the guardian your CRM needs!
Why do you need Salesforce Shield?
Salesforce Shield helps protect against:
Data Breaches
Compliance Violations
Insider Threats
Data Integrity
Industry-Specific Regulations
In today's data-centric world, protecting sensitive information is of utmost importance. Salesforce Shield provides robust security, ensuring compliance and shielding against breaches. Moreover, its comprehensive encryption and monitoring features offer peace of mind, making it indispensable for any business.
Features of Salesforce Shield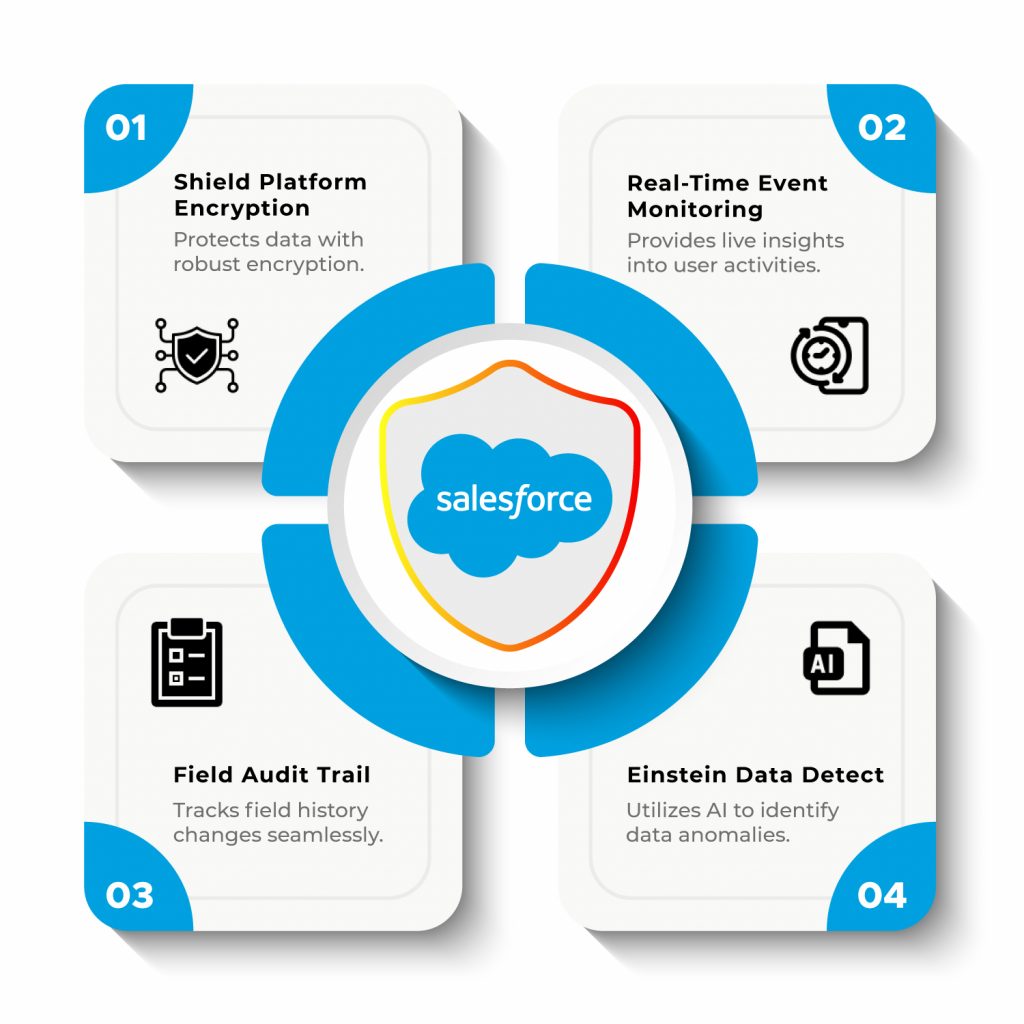 1. Shield Platform Encryption
Shield Platform Encryption secures sensitive data in Salesforce apps with native data encryption at rest. Additionally, it ensures compliance with internal and external data regulations, protecting personally identifiable and confidential information. Moreover, critical app features like search and validation rules work seamlessly with encryption.
Furthermore, complete control over encryption keys ensures authorized user access to encrypted data. Additionally, configurable permissions restrict unauthorized users, while the Bring Your Own Key (BYOK) option allows clients to use their own tenant secret. Furthermore, no additional hardware or software is required for easy implementation, making it cost-effective.
In addition to robust encryption with full probabilistic encryption and 256-bit AES symmetric keys, it ensures strong data security. Notably, Shield Platform Encryption allows for rotating, exporting, and destroying secrets, facilitating compliance with changing data security needs. Ultimately, it is a valuable investment to safeguard sensitive and regulated data across Salesforce apps.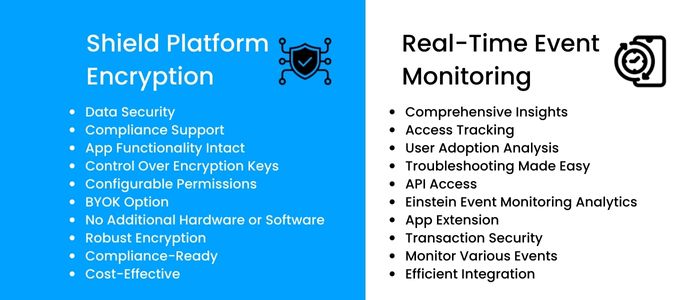 2. Real-Time Event Monitoring
Real-Time Event Monitoring offers comprehensive insights into your Salesforce apps. Notably, it provides detailed performance, security, and usage information, enabling informed decisions to optimize business operations. Additionally, access tracking enhances security measures by identifying who accessed critical company data and from where.
Moreover, user adoption analysis helps understand how users interact with your apps, enabling improved user experience and engagement. Furthermore, troubleshooting becomes effortless as you quickly identify and resolve performance issues. Additionally, API access allows seamless integration with data visualization and application monitoring tools for in-depth analysis.
Besides, Einstein Event Monitoring Analytics comes with 16 pre-built dashboards for easy event log analysis. Furthermore, powerful AppExchange apps extend functionality and provide additional insights. Moreover, Transaction Security ensures real-time security policies through clicks, making protection configurable and customizable. Additionally, over 40 event types provide a holistic view of app activities.
3. Field Audit Trail
Field Audit Trail ensures data visibility, offering a comprehensive view of your data's status and value at any date and time. This valuable insight helps you make informed decisions about your data. Additionally, meeting regulatory compliance is effortless with Field Audit Trail, which aids in adhering to requirements for internal governance and customer service. The automated field retention system simplifies data storage and removal as needed.
Furthermore, Field Audit Trail's scalability, backed by a big data infrastructure, efficiently handles large data volumes. It manages the complete data lifecycle, retaining, archiving, and removing data based on your specified rules. Moreover, the rapid data querying feature allows quick access to vast amounts of information within 120 seconds, streamlining data assessment. The tool also empowers robust data forensics, enabling detailed investigations when required.
Furthermore, historical data stored in Field Audit Trail enhances customer service by providing valuable insights and facilitating effective issue resolution. Data management becomes hassle-free, allowing you to focus on essential business priorities. Lastly, with Field Audit Trail, you can retain field history data for up to 10 years, gaining historical insights and trends over an extended period for better decision-making.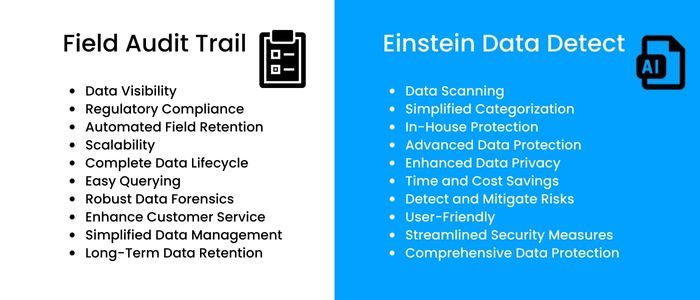 4. Einstein Data Detect
Einstein Data Detect offers robust data protection through advanced scanning. It detects sensitive data and simplifies categorization, making security measures streamlined and user-friendly. By keeping data in-house, it ensures enhanced privacy and compliance with industry standards.
Moreover, Einstein Data Detect proactively safeguards data from potential threats, saving time and resources with its automated scanning and categorization. It helps detect and mitigate risks, ensuring comprehensive data protection and maintaining customer trust.
Furthermore, Einstein Data Detect is user-friendly, requiring minimal technical expertise for implementation. It streamlines security measures and provides a cost-effective solution for efficient data protection within the secure Salesforce platform.
7 Benefits of Implementing Salesforce Shield
Salesforce Shield provides an extra layer of data protection, reducing the risk of data breaches and unauthorized access.
Implementing Shield's features helps organizations meet industry-specific compliance requirements. Also, aligning data management with legal and regulatory standards.
Additionally, maintains data integrity with a historical record of changes, ensuring accuracy and tracking modifications.
Furthermore, transaction security defines policies to control user actions, reducing the risk of insider threats and unauthorized activities.
In addition to this, offers insights into user activities, security events, and data changes. Enabling proactive identification of security issues.
Implementing Salesforce Shield fosters trust with customers, partners, and stakeholders. Enhancing the organization's reputation.
Safeguard sensitive business data, protecting it from unauthorized access and misuse.
Discover the detail of the latest release from Salesforce – Salesforce Einstein GPT – The World's First Generative AI for CRM
Salesforce Shield Pricing
The pricing for Salesforce Shield is determined as a percentage of your net spend on other eligible and technically compatible Salesforce products. Upfront costs and additional fees may vary depending on your specific product requirements. So, it's best to discuss your needs with a Salesforce consultant.
If your business priorities change, Salesforce is committed to supporting you and exploring alternative options. Reach out to a Salesforce consulting services provider for more information and to find the best Salesforce Shield package that suits your organization's needs.
For official Salesforce Shield pricing visit this page.
For those seeking comprehensive protection, the full bundle of Shield offerings provides even more power at a reduced cost. With multiple encryption levels, lifecycle control, field retention, and detailed insights into events, transactions, and security, this all-in-one package is a robust solution.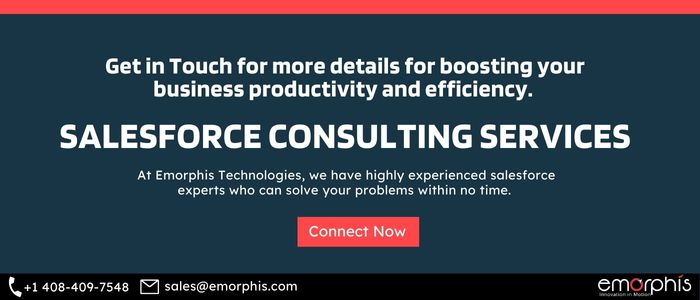 Conclusion
So, there you have it – your ultimate Salesforce Shield guide! Shield's powerful security features, from Event Monitoring to Platform Encryption, will take your data protection to a whole new level.
Don't wait! Implement Shield today to safeguard sensitive data and ensure compliance. Connect with a trusted Salesforce implementation services provider for seamless integration and expert guidance.
Happy Shielding!