As telemedicine becomes more prevalent, many are asking the question "What is telemedicine?". Telemedicine is a term that refers to remote medical care. It provides you with all of the benefits of in-person doctor visits without ever leaving your home. There are so many things that people don't know about this technology and we've compiled its features and benefits for you below!
Features in Telemedicine app development
Telemedicine development is moving at a rapid pace. With the continued growth of telemedicine and the increasing demand for mobile health apps, we can expect to see more advancement in this field in the years to come. Providers need to focus on developing secure, HIPAA-compliant software that can be integrated with different medical devices and wearables.  They also need to develop platforms that can be used by multiple providers. Communication needs to be more efficient in order to handle the increasing volume of patients. And finally, research and development must continue in order to meet the ever-changing demands of this growing industry.  
Remote Patient Monitoring Features Boosts Telemedicine Usage
The Remote Patient Monitoring market is expected to grow at a CAGR of 16.8% during the forecast period 2016-2024, and reach $6.2 billion by 2024.

Alltheresearch.com
Remote patient monitoring software enables healthcare providers to monitor their patient's vital signs remotely through video conferencing, phone calls, or text messaging services enabling them to keep an eye on the health status of their patients from any location around the world 
Remote patient monitoring software development process integrates with different equipment, such as bedside monitors and other medical devices to provide comprehensive remote care for patients in need of long-term treatment or those who live in rural areas where there are no local clinics or hospitals nearby. 
The need for insurance, online pharmacies, and other patient-centric features will continue to be a major concern. The integration of telemedicine with different medical devices must also become easier as many patients already have these at home.
Telemedicine app development services are moving towards more connected healthcare solutions that can offer support anytime and anywhere. With the right focus and direction, we can expect to see even more amazing advancements in this field. 
Do you have any questions about telemedicine solutions? If so, please feel free to reach out to us! We are more than happy to help.
Ten Benefits of Telemedicine App Development 
Telemedicine allows you to visit your doctor when it's convenient for you
Telemedicine can make quality healthcare accessible to everyone, even those in remote areas. This is especially beneficial if there are no doctors in an area or if appointments aren't available.
Telemedicine can also help to improve the quality of care for patients in underserved areas.
Telehealth apps are available on all devices, including smartphones and tablets.
Telemedicine takes the pressure off crowded emergency rooms by providing quick treatment at home or virtually.
Telemedicine also helps you to avoid the hassle of waiting rooms and long appointment lines. You can even schedule your visit online.
With Telemedicine, information is transmitted electronically rather than by fax or mail. This means that all records are easily accessible from any location for both providers and patients.
Doctor consultations through telemedicine are typically covered by insurance.
In some cases, you may be able to get prescriptions filled without ever having to leave your house.
Telemedicine can be used for a variety of purposes, including diagnosing and treating illnesses, monitoring chronic conditions, and providing mental health services.
Top 5 Telemedicine App Development Trends
The need for secure, HIPAA, MOHAP, GDPR compliant telemedicine software.
Integration with wearables and other medical devices for remote patient monitoring.
A growing need for must-have software features like insurance, and online pharmacy integration.
Increasing focus on telemedicine for infants and other patients that require continuous care.
The growing demand for patient data security, interoperability between different providers, and must-have software features like real-time tracking, etc.
Have a look at the infographic which states a clear view of the trends.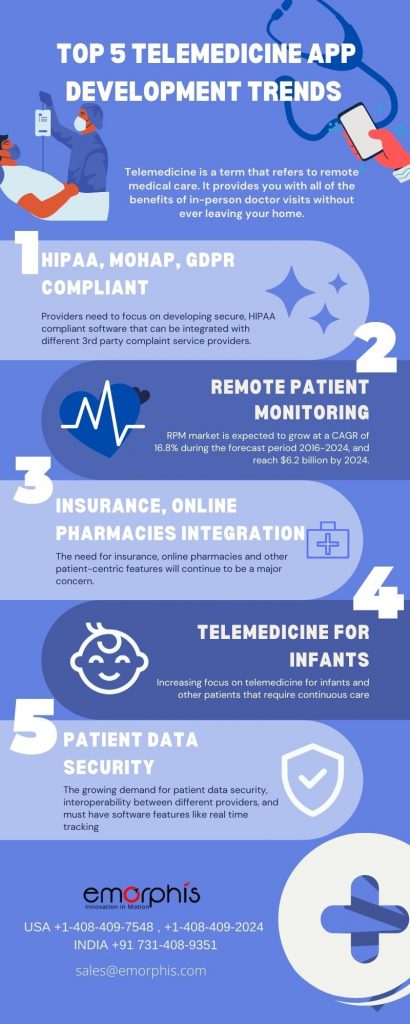 Looking for a reliable telemedicine app development company?
Contact us today! We have years of experience in developing secure and compliant software for healthcare providers. Let us help you take your business to the next level.