Hey there! Are you looking for ways to grow your business with Salesforce? If so, you're in luck!
In this article, we'll discuss the top 30 Salesforce custom app development ideas and how they can help you take your business to the next level. So whether you're a small business owner or a large enterprise, read on to learn how custom Salesforce applications can help you achieve your goals.
Also, do recommend getting in touch with a salesforce consulting services company for more explanation on why you would need a custom salesforce app development service.
In today's digital age, consumers expect to be able to get the support they need when they need it, and how they want it. In fact, a recent report found that 71% of consumers say that it is important to them that they be able to receive product and customer support via their mobile smart devices. Consequently, this means that businesses that want to stay ahead of the curve need to invest in Salesforce application development.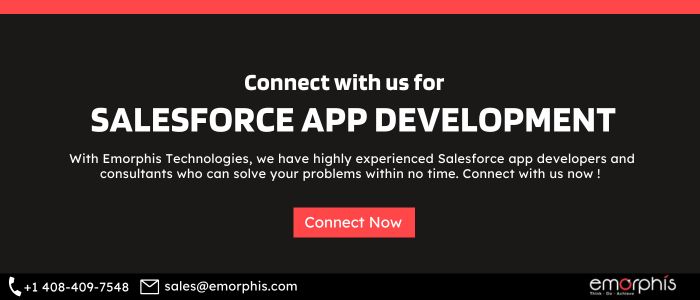 Types of Salesforce Application
Standard applications are pre-built and ready to use. They are designed to meet the needs of a wide range of businesses, but they may not be able to meet the specific needs of your business.
Custom applications are built specifically for your business. They can be tailored to your exact requirements, but they can be more expensive and time-consuming to develop.
In fact, the best type of Salesforce application for your business will depend on your specific needs and requirements.
Here is a table that summarizes the key differences between standard and custom Salesforce applications:
| | | |
| --- | --- | --- |
| Feature | Standard Salesforce Applications | Custom Salesforce Applications |
| Cost | Less expensive due to pre-built nature | More expensive due to tailored development and customization |
| Time to implement | Quicker deployment as applications are readily available | Slower implementation due to development based on specific needs |
| Flexibility | Less flexible as they cater to a wider audience | More flexible, allowing customization to match unique requirements |
| Specificity | Less specific as they serve a broader range of needs | More specifically, designed to address industry-specific requirements |
| Scalability | Limited scalability as they have predefined capabilities | Highly scalable, can be designed to accommodate future growth |
| Integration | Limited integration capabilities with other systems | Seamless integration with existing systems and processes |
| Support | Standard support offerings from Salesforce | Customized support options to meet specific business requirements |
Why Custom App Development?
Salesforce Custom app development is a good option for businesses because it allows them to create applications that are tailored to their specific needs and requirements. This can lead to improved efficiency and productivity, in addition to increased customer satisfaction, and enhanced competitive advantage. Furthermore, custom apps can be designed to meet specific security requirements, scaled up or down as needed, and updated as new technologies emerge.
If you are considering custom app development, it is important to work with a certified Salesforce app developer who can understand your needs and consequently create a solution that meets your specific requirements.
Benefits of Salesforce Custom Application Development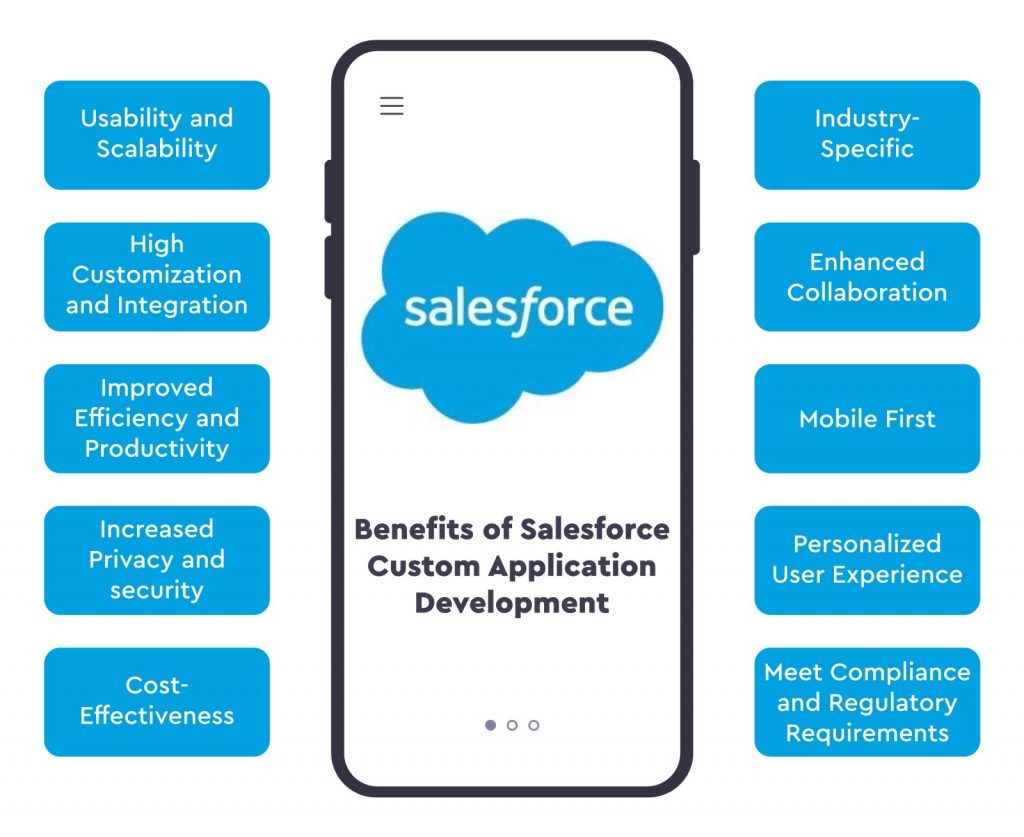 Types of Apps you can create in Salesforce
Custom apps: Salesforce Custom Apps are tailored to address unique business requirements and workflows. In fact, they can be designed from scratch using Salesforce's low-code or no-code tools. It can include custom objects, custom tabs, custom fields, and custom functionality.
Lightning apps: They are built on the Salesforce Lightning platform, which offers a modern and intuitive user interface. Additionally, lightning apps provide a rich user experience, customizable dashboards, and drag-and-drop functionality.
Mobile apps: Enabling businesses to create apps optimized for smartphones and tablets. Mobile apps allow users to access Salesforce data, collaborate, and perform tasks while on the go. You can also use tools like Salesforce Mobile SDK or the Salesforce Platform to build a mobile app.
AppExchange apps: Salesforce AppExchange is an online marketplace where businesses can discover and install third-party apps that extend the functionality of Salesforce. Furthermore, businesses can opt for Salesforce App Development Company to develop and publish their own apps on the AppExchange, allowing other Salesforce users to benefit from their solutions.
Community Apps: They enable businesses to create branded online communities for their customers, partners, or employees. Additionally, these apps foster collaboration, knowledge sharing, and engagement within a specific community, enhancing customer support, partner relationships, or employee collaboration.
Console Apps: It provides a unified workspace for users to manage multiple records and processes simultaneously. Also offer a tab-based interface, making it easier to handle customer inquiries, support cases, or sales opportunities.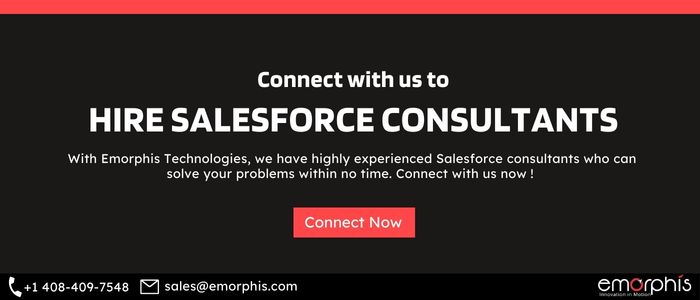 Other Functional Application Development in Salesforce
Integration apps: Integration apps facilitate the seamless exchange of data between Salesforce and other systems. Additionally, these apps enable businesses to synchronize data, automate processes, and provide a unified view of information across different platforms.[Text Wrapping Break]To maximize the effectiveness of Salesforce integration, consulting a Salesforce integration expert who possesses in-depth knowledge of the platform's capabilities and can design tailored solutions to meet specific business requirements is crucial.
Analytics Apps: Leverage Salesforce's robust reporting and analytics capabilities to provide users with valuable insights and visualizations. Furthermore, these apps enable businesses to analyze sales performance, customer behavior, marketing campaigns, and other key metrics to make data-driven decisions.
Sales Apps: Sales apps focus on streamlining and optimizing sales processes. They provide features such as lead management, opportunity tracking, pipeline visualization, and forecasting, empowering sales teams to effectively manage their accounts, contacts, and deals.
Service Apps: Service apps enable businesses to deliver exceptional customer service and support. Moreover, these apps facilitate case management, knowledge base access, customer communication, and service-level tracking, ensuring efficient resolution of customer inquiries.
Marketing Apps: It helps automate and manage marketing campaigns, lead generation, and customer engagement. Additionally, these apps provide functionalities such as email marketing, lead nurturing, campaign tracking, and marketing analytics to drive targeted marketing initiatives.
Industry-Specific Apps: Salesforce offers industry-specific solutions and apps tailored to meet the unique needs of various industries. In fact, these apps provide industry-specific functionality, compliance features, and best practices, allowing businesses to optimize their processes and workflows.
Don't forget to check out – How To Increase Your Consumer Engagement And Productivity With Salesforce App Development
Top 30 Salesforce Custom App Development Ideas for Your Business
1. Social Media Management App
Tracks and analyzes social media activity, identifies trends, and automates social media marketing tasks. This app can help you track your social media performance, identify which channels are most effective, and also, automate tasks like posting and scheduling content.
2. Chatbot App Development
Provides 24/7 customer support, answers FAQs, and helps with sales and marketing. Additionally, this app can help you provide better customer service, answer questions quickly, and generate leads
3. Project Management App
Tracks projects, assign tasks and manages budgets. Moreover, with this app, you keep track of your projects, ensure that tasks are completed on time, and stay on budget.
4. Field Service Management App
Manages field service technicians, schedules appointments, and tracks work orders. Furthermore, this app can help you improve the efficiency of your field service team, track the status of work orders, and ensure that customers are happy.
5. Sales Performance Tracker
Tracks sales lead and opportunities identifies trends, and forecasts sales. Also, track your sales pipeline, identify which leads are most likely to convert, and forecast your sales for the future.
6. Inventory Management App
Tracks inventory levels, manage orders, and forecasts demand. Furthermore, keep track of your inventory, ensure that you have enough stock on hand, and forecast demand for your products.
7. Expense Management App
Tracks expenses, reimburses employees, and generates reports. This app can help you track your expenses, ensure that employees are reimbursed for their expenses, and also generate reports for tax purposes.
8. Employee Onboarding App
Automates the employee onboarding process, provides training materials, and tracks progress. In fact, you can streamline the employee onboarding process, ensure that new employees have the resources they need, and track their progress.
9. Financial Reporting App
Generates financial reports, tracks expenses, and forecasts revenue. Additionally, it streamlines data analysis, facilitates decision-making, and enhances financial transparency.
10. Tax Management App
The tax management app simplifies and automates the complex process of tax management. Moreover, it ensures compliance with changing tax regulations, streamlines tax filing, and facilitates accurate calculations. It also provides real-time insights for effective tax planning and optimization.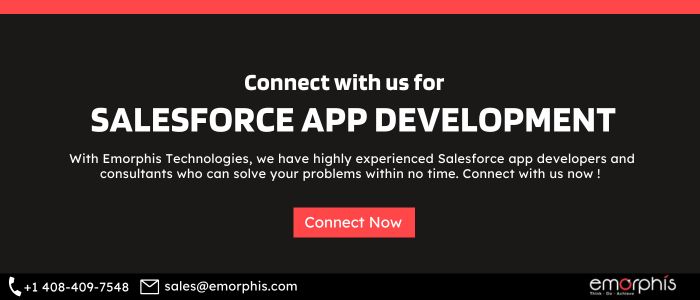 11. Quality Control App
The quality control app streamlines the quality control process by providing comprehensive tools for inspection, defect tracking, and performance analysis. Furthermore, it enhances efficiency and promotes continuous improvement. Also, enables data-driven decision-making to ensure optimal product quality and customer satisfaction.
12. Event Management App
Simplifies and streamlines the entire event planning process, from registration to post-event analysis. Additionally, it centralizes communication, automates tasks, and facilitates collaboration. Furthermore, provides real-time insights for seamless event execution and success measurement.
13. Appointment Scheduling App
Schedules appointments, manage calendars, and tracks availability. This app can help you schedule appointments, manage calendars, and track availability so that you can better manage your time.
14. Recruiting App
Automates the hiring process, from job posting to candidate management and onboarding. Additionally, it improves recruitment efficiency, enhances candidate experience, and facilitates effective talent acquisition.
15. E-Signature App
Collects electronic signatures, automates paperwork, and reduces costs. Moreover, it eliminates the need for physical paperwork, streamlines document management, and enhances workflow efficiency.
16. Design Collaboration App
Allows designers to collaborate on projects, share files, and track progress. In fact, its user-friendly interface allows seamless collaboration between designers and stakeholders. Additionally, it streamlines communication, fosters creativity, and enhances productivity throughout the design process, resulting in remarkable outcomes.
17. Data Backup and Recovery App
Ensures the security and availability of critical data, providing peace of mind in case of data loss or system failure. Additionally, it enables seamless data restoration when needed.
18. App for Automation
Streamlines repetitive tasks and workflows, reducing manual effort and improving operational efficiency. Additionally, it enables seamless integration and enhances productivity across various business processes.
19. Product Management App
Simplifies and centralizes the product lifecycle, facilitating efficient planning, tracking, and collaboration. Moreover, it enhances cross-functional alignment and streamlines product development and launch processes.
20. Supplier and Vendor Management App
Streamlines and automates supplier onboarding, performance tracking, and relationship management. Additionally, it enhances transparency and facilitates effective collaboration with key partners.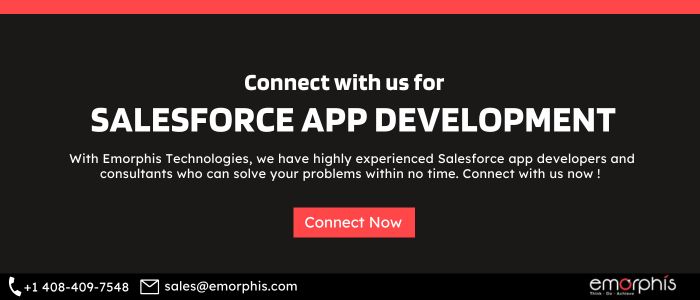 21. Account Management App
Centralizes and optimizes customer account information, fostering efficient communication, and enabling personalized interactions. Additionally, it enhances customer satisfaction and strengthens long-term relationships.
22. Email Marketing App
Automates and optimizes email campaigns, allowing for targeted messaging, personalization, and performance tracking. Additionally, it enhances customer engagement and drives effective communication for successful marketing initiatives.
23. Review Aggregator App
Consolidates customer reviews from multiple platforms, providing a comprehensive overview of feedback. Additionally, it simplifies analysis and informs decision-making for continuous improvement.
24. Partner Relationship Management (PRM) App
Streamlines and enhances collaboration with partners, enabling efficient lead distribution, joint marketing activities, and performance tracking. Moreover, it strengthens partner relationships and boosts overall business growth.
25. Deal Management and Pipeline Visualization
Streamlines the management of sales deals and provides a visual representation of the sales pipeline. Furthermore, it improves sales efficiency and facilitates better deal tracking and forecasting.
26. Sales Forecasting and Analytics
Enables accurate prediction of future sales trends and provides valuable insights for informed decision-making. Additionally, it enhances sales performance and drives revenue growth.
27. Sales Funnel Optimization App
Optimizes the sales funnel, identifies bottlenecks, and increases conversions. This app can help you optimize your sales funnel, identify bottlenecks, and increase conversions so that you can close more deals.
28. Customer Journey Mapping App
This app can help you track the customer journey, identify pain points, and consequently, optimize the customer experience.
29. Customer Data Privacy and Compliance App
Tracks customer data, manage privacy settings and ensures compliance with regulations. Also, by utilizing this app you track customer data, manage privacy settings, and ensure that you are in compliance with data privacy regulations.
30. Customer Feedback and Survey App
This app can help you collect customer feedback, track sentiment, and identify trends that can help you improve your products or services but also streamline the process for better efficiency.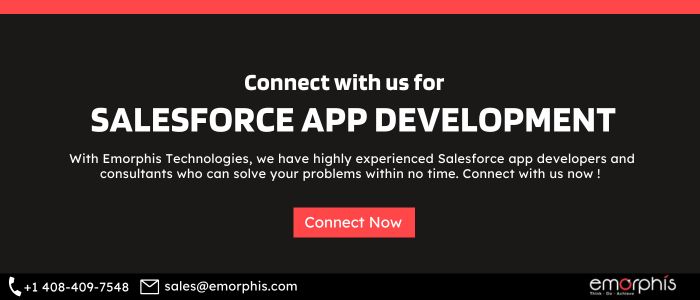 Wrapping Up
Salesforce custom app development offers a multitude of possibilities for businesses. Whether it's streamlining sales processes, enhancing customer service, or improving marketing campaigns, companies can leverage Salesforce's platform to create tailored custom apps that drive efficiency, productivity, and growth in their unique business environments.
If you are looking to develop a custom application, check out how our Salesforce App Development Services can help. Or send your query here.