What is Digital Transformation?
First of all, Digital Transformation is the procedure of up-gradation of the current business technique to improve customers' experience and enhance the conversion rate of the enterprise. There are mainly four areas that accelerate digital transformation and include:
Process
Technology
Data
Organizational Change
Digital Transformation in Banking
Simply speaking, digital transformation in the banking industry signifies the integration of digitalization in every part of the banking sector. It results in a complete makeover of the operation and delivering values to the customers by financial institutions other than banks.
At the same time, there is a surge in mobile technology. The inclusion of Blockchain and the Internet of Things (IoT) in the banking infrastructure accelerated the digitalization of banking institutions.
With the presence of such technologies, several banking transformation examples are ruling the financial world and include:
Fraud detection systems
Data encryption
KYC Software
What does it mean for modern banking institutions?
It implies that people that handle the financial world are now rethinking bringing customer-oriented strategies to improve customer experience. Moreover, focusing on automation of the entire customer journey starting from purchase to retention has made the banking process simpler and safer.
Likewise, various leading financial experts from Deloitte, McKinsey, Gartner, and others emphasize that the digital transformation in the banking sector is happening due to attaining a single common goal: customer retention. Why?
The answer is that if a company has a solid customer retention strategy, then they can:
Reduce the cost of attracting new customers by whopping 30%
Speed up the financial process by 1.5 times
Enhance revenue by 80%
Key Components of Digital Transformation in Banking Services
In the procedure of digital transformation, there is a complete change in the working pattern from the traditional method to the new digitalized one built on modern technology. Several components define the banking and financial digital transformation and include:
Customer Relationships
The given transformation helps in enhancing customer experience in the best possible manner, and the result is visible for everyone. Besides the involvement of new technology, there is a simplification of external communication, and even sales and marketing reach a new level.
It helps an organization to get a better understanding of the clients. Likewise, it also assists them by offering more personalized solutions through an effective marketing strategy. It then results in momentous perfection in customer relationships.

The process within the Organization
When there is a change in the company's infrastructure, one is bound to expect the emergence of new processes. It is also beneficial to the companies. How?
With the increase in the level of awareness, there is a sense of infusion of new energy in planning and decision-making processes. Due to it, allocation of resources and even delegating tasks energetically is possible now. The outcome will be so strong that the companies can position themselves in the market well.

Political Will of Leadership
Research has shown that organizations still hesitate in implementing digitalization. It is because it fails in more than 70% of cases. Why so?
The answer is a lack of fear of adapting to changes. Nevertheless, an innovation that comes with digital transformation compels businesses to rethink business management to change their working and bring a clear and precise goal in leadership to move towards success.
Two Ways to Implement Digital Transformation in Financial Sector
There are two methods for digital banking transformation that starts from scratch and gain momentum with time. These are as follows:
Radical: It is the procedure of producing a business model from scratch. Its best part is that it attracts younger employees to produce the best result for the team. It is suitable mainly for banks that offer expertise and consulting services. However, it comes with high risk, and there is no guarantee that it will ensure success.
Consistent: It focuses on developing a separate business link. It focuses on optimizing management by testing its approach for enhancing innovation. It is suitable for all banks irrespective of capital and size to increase investment and turnover. Its worst part is hesitation in adopting modern technology.
Impact of Digital Transformation in FinTech Sector
After analyzing various aspects of digital transformation, we come to the point that there are several ways it has impacted the financial especially, the banking sector with high positivity. So, digital transformation has helped in solving numerous business issues such as:
Decreasing fragmentation in decision-making by analyzing data on the market situation as per the demand of the audience.
Make communication with clients active and regular by contacting them online and staying in touch all-time via chatbots.
Reduction in late report delivery by applying automation to create and send digital reports instantaneously.
Helps to develop clear objectives and goals by using tools for better assessment of data for each department.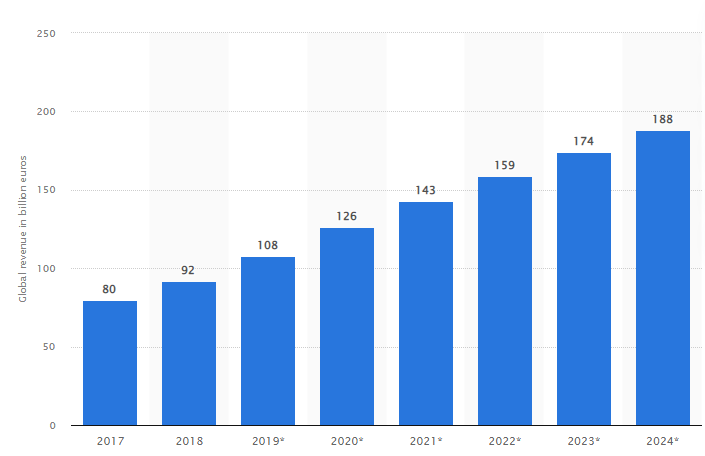 The given figure reveals that revenue generation from FinTech solution development was 92 billion euros that are expected to reach 188 billion euros by 2024. Moreover, there are some more reports from experts that signify the FinTech market will dominate worldwide.
The Global FinTech Market was valued at USD7301.78 billion in 2020 and is projected to grow at a CAGR of 26.87% during the forecast period. – Research and Markets
It clearly shows that digital banking is growing at an exponential rate and the world including superpower USA is expecting a tremendous evolution in FinTech in the coming years.
Another factor that is making the FinTech market enhance its fortune is due to the rise and rise of e-commerce which is projected to grow at a healthy rate of 12% by 2026.
Besides, the easy availability of smartphones has made financial companies improve customer experience by making delivery of products and online payments via e-commerce to make clients feel more relaxed.
Furthermore, the arrival of infrastructure-based technology uses APIs that help in modifying the financial industry. Moreover, it will also include automation through RPA and chatbots to increase efficiency and precision to generate greater agility.
Market Growth & Trends
The adoption of financial services is growing at a rapid pace. Even small and medium-sized enterprises (SMEs) are using it to meet their customer's needs successively. With FinTech at the helm, SMEs are augmenting in the field of financial management, insurance, and online payments peacefully.
A recent report from World Bank statistics has found out that banks must lend out credit to SMEs that will help in the generation of more than a million jobs. In addition to credit financing, the FinTech industry is also adopting distributed accounting technologies to benefit people and make them adapt to a new era of the financial revolution.
Now, there are two crucial market drivers:
First is cybersecurity which is becoming a challenging aspect as organizations have become more prone to cyber-attacks. By inclusion of FinTech, not only do you secure financial data but also make the whole operation seamless for perfect cash flow in the monetary ecosystem.
The demand for mobile banking apps is increasing with each passage of time. It has made the FinTech market capitalize on the growing demand and make a strategy to adapt to government rules with advanced data securities to remain vigilant.
Market Segment Analysis
Global report on financial market has been done taking the base year 2020, and it covers various segments such as applications, technology, etc. The market size is taken from the year 2020-to 2026. It is then segmented into multiple categories:
By Technology:
Artificial Intelligence (AI)
Blockchain
API
Distributed Computing
Out of these, AI and Blockchain are growing at a positive rate. AI-oriented FinTech market with chatbots will grow at a healthy rate of CAGR around 21%.
By Service:
Payment
Fund Transfer
Personal Finance
Insurance
Wealth Management
By Application:
Banking
Securities
Insurance
By Deployment Mode:
At present, the cloud segment covers a larger business portion and will expand in the future further.
By Region:
North America
South America
Asia Pacific
Europe
Africa & Middle-East
Among the above, the leading contributor to global financial business is North America and will dominate in the future. On the other hand, there are players rushing towards investment in the Asia-Pacific region, such as China and India which will have higher penetration rates for FinTech services.
Key Players

To name a few the key players to include, ZhongAn, JD Finance, Atom Bank, Lufax, Qufeng, Square, and other market players.
Now, let's look at the types of fintech solutions.
Types of FinTech Solutions that Mint Money
In recent years, FinTech software development is getting wider acceptance in the IT field. Previously, people talked about computerization and streamlining in the banking procedure, but now, FinTech has grown to such an extent that every company is vouching for it.
Digital transformation has created ample opportunities for financial enterprises to develop banking software not only for banking services but beyond it (in lending, insurance, risk management, and many more).
As per the reports of Statista, there are more than 10500+ FinTech startups in the USA alone and are growing at an awesome rate. The given fact can be explained in the way that people are now loving FinTech, whether it is in the form of money transferring services to mining Bitcoins!
Several types of FinTech solutions help organizations to generate income to meet their end needs successfully:
I. Digital Banking Transformation
Digital banking is the most popular type of FinTech software. Whether it is a mobile or web solution, online banking helps customers access their financial services remotely as per their comfort.
Many larger financial service providers such as Barclays, JPMorgan, etc. offer the best digital banking services to their customers. From the business perspective, it is profitable because:
It brings changes in the perception of customers towards digital money and makes it comfortable just as you pay cash
There is tremendous growth in the digital banking industry, and cardless payment has entered its golden era
The digital market is still far away to reach its saturation point
II. Blockchain
It is a new world rage and is quick, decentralized, and safe when it comes to processing payments. Digital payments through Blockchain are getting more and more recognition in the FinTech sector due to:
Their impressive coverage is due to the truly multifunctional working and is perfect for payment and trading service providers
Holds the unchallengeable record of offering strict security to data across the network and ensuring a higher level of transparency for each transaction
III. RegTech
In recent years, the financial industry has been hit by money laundering and terror financing. To protect them, RegTech providers have come to the scene. They offer a convenient tool that uses AI/ML to protect fraud detection perfectly. From the customer's point of view, it is economical because:
They have become a continuous demand as they now form a crucial part of banking as well as insurance companies
They offer real and measurable benefits as they streamline the operational process of banking and make it less prone to human errors.
IV. WealthTech
Personal finance management apps are in great demand as people are now paying more attention to managing their assets. In such a scenario, WealthTech apps such as Mint offers personalized tips on how to make budgeting more successful. They are getting high popularity because:
They offer a wide range of financial services available which are available to the customers in a single ecosystem
They are easily scalable on the FinTech environment where an entrepreneur can add a feature, test it out and include new functionality as the need arises
V. PayTech
There are payment processing apps that offer all-digital payment solutions. There are various examples of PayTech that are digital wallets, mobile payments, payment gateways, and many more. From the business outlook, they are reasonable as:
They offer a smooth payment experience by including instant transactions, supporting multicurrency, available 24/7 for the customers
There are no limitations in the regional market with the notable example of PayPal which operates in more than 200 countries and support multiple currencies.
Conclusion
Digital industry transformation is the new norm that is going beyond the premises of every sector. In the given blog, we have given various features that will enhance the transformation of financial services digitally.
Besides, the global financial market report offers a glimpse into the bright future of the FinTech market not only in the USA but across the globe. Moreover, adopting automation and new technologies has made FinTech more secure and easy for the online functioning of numerous banking services such as payment, loans, personal finance, etc.
Do have a look over our Guide to Develop a Successful Mobile Banking App.
Finally, we have elaborated several FinTech solutions that will help the enterprises to generate money and expand their profits to enhance their business fortune manifold.