Introduction
Gone are the days of standing in a long queue just to deposit cheques and money outside any financial institutions (banks). It has happened because of the arrival of mobile technology. Yeah, you heard it right!
With the dawn of mobile apps, all the banking and financial institutions have undergone phenomenal transformation towards advancing and upgrading technologies to meet customer's expectations.
During its initial phase of expansion, mobile applications were not only taking the world by storm but also came towards the periphery of the banking sector and conquered it with a boom!
In earlier times, a bank was successful if it had a luxurious office, but as of now; it is popular among the people only when it has an official website where one can access their personal account with great ease.
This is when people working in financial institutions felt the demand for the inclusion of FinTech app development in their strategy to appease people in their fold.
Not only it has become a trendsetter, but it has also allowed the banking sector to ease the working for its customers and provide the best services to meet their expectations wholeheartedly.
Features of various mobile banking apps such as online bill payment, checking bank statement and instant fund transfer has made customers accomplish all their banking work with just a click. That's it!
Here is a guide that will reveal the importance of mobile apps and encapsulate your imagination by providing a step-by-step procedure to build a successful FinTech app to meet the expectations of your needy customers.
Before venturing more on the topic, first, try to answer some questions related to the mobile apps. Let's venture deep into this exciting journey!
What are Mobile Banking Apps?
At first, banking as a sector is evolving with each passage of time and has revolutionized the way people look towards it by providing its services to run successfully on a mobile phone (or smartphone). Is that make any sense?
Yes, because it has disrupted the way of conducting the financial services and has enhanced the reliability of the banks among the people. But what is mobile banking?
It is a service offered by banking and other financial institutions to permit the customers to perform financial transactions remotely using their mobile devices. Unlike internet banking, it uses software called app which is provided by the respective financial institution to fulfil online banking purposes.
Hey, wait! You might be puzzled that online banking and mobile banking are different. How are they unique from each other? Let's find out!
Differences Between Online Banking & Mobile Banking Apps
Even though online banking services have proved their calibre and have made financial transactions highly convenient for the people, yet it is mobile banking which is in demand among digital users. Do you know why?
It is because digital users are smarter than you think and are ready to try new products that suit their persona. Besides the constantly evolving digital world, they are willing to adopt those trends which makes the banking simpler.
The same has happened with the onset of mobile banking which has made the banking procedure extremely convenient just at the fingertip of digital users and thus has become part and parcel of their life.
Some key differences between online and mobile banking are illustrated below:
I. Definition
Internet banking is a service that permits the conduction of financial transactions by the customers using the internet. Mobile banking is an internet-based facility provided by the bank to customers for executing bank transactions via mobile devices.
II. Functionality of Online & Mobile Banking
The functionality is the key difference between online and mobile banking services. Online banking is done through PC (or laptop) with internet connection mandatory. Alternatively, mobile banking can be done with or without the internet and even through SMS.
III. Accessing the Online Banking Portal & Mobile Banking App
Online banking portal is accessed from any browser without downloading the software, whereas mobile banking can be accessed only by downloading the appropriate banking app.
IV. Transaction Facilities
More banking facilities are provided through the online portal of the bank which simplifies internet banking. On the other hand, limited facilities are offered from mobile banking to the customers.
V. Opening of Online Banking & Mobile Banking Account
Your banking credentials are needed for opening an online banking account, but in the case of mobile banking, you must apply for it separately. Besides, various banks allow applying mobile banking through online portals.
VI. Funds Transfer
Fund banking in online banking is conducted using NEFT, RTGS, and IMPS and mobile banking is done through NEFT or RTGS.
These are some of the key differences which separate mobile banking from that of internet banking. Now, the importance of mobile banking for a bank will be discussed in the next step.
Why Mobile Application is Gaining Importance in the Banking Sector?
Before answer the given question, first go through some important fact collected by Statista:
30% decrease in the use of physical banks since 2017
33% increase in the use of mobile banking since 2016
Estimate increase in users of smartphone upto 3 billion by 2020
The given facts clearly indicate that the time has arrived for financial institutions to develop their personalized mobile banking apps to enhance their competitiveness. What's more, the present generation consumer will always prefer internet banking instead of visiting the bank.
Therefore, the time has arrived that banks should take note of it and develop user-friendly banking options via an app which, in turn, will help them to win back the loyalty of their audience.
In addition to this, there are ample benefits your FinTech institution will avail by incorporating mobile banking apps into their fold. Some of the advantages of building mobile apps are:
Lowering of expenses incurred upon banks
Significant improvement in customer experience
High Return on Investment (ROR)
Gathering customer analytics to improve client-oriented services
Provision of push & in-app notifications to retail customers
Utilisation of AI to personalized customer services
Thereby, mobile applications have become a necessity for banks to sustain in this cut-throat competition successfully. In the next section, core features will define mobile banking app development.
Core Features which Defines Performance of Mobile Apps
While creating mobile apps for a banking institution, two important features must be given utmost importance which are:
Security: A prime factor to make your app safe from a data breach
Simplicity: A feature which makes app prominent among digital users
Besides, various other features make mobile apps successful among online customers. Some of them are as follows:
Properly Working Login/Restoration Page
Clear Showcase of Transaction History/Online Passbook
Provision of Push Notification
Presence of Feedback System
Well-laid Integration with Social Media Channels
Availability of Customized Structure
Google Indoor Map
Payment Gateway Integration
Presence of One-Click Contacting
QR/Barcode Scanner Integration
Usability of Bank Apps in Offline Mode
And, so on
Exclusive Functions of a Mobile Banking App
Custom mobile banking apps must offer various basic functionalities for their proper working by users such as:
Making easy bill payments (internet, mobile communications, fines, etc.)
Making a money transfer successful (digital payment, other banks, account of the same person)
Proper checking of transactions' history & account balance
Moreover, there are various additional assets of the mobile app which act as an advantage for any banking institution. These are:
Receiving text message for every transaction
Push notification to get alert about money debited/credited in the account
Generate a summary of account activity reports
Availability of Geo-location features to discover nearest bank office
Provision of currency conversion facility
Types of Mobile Banking Apps with their Special Features
A custom mobile banking app solution emphasize more on meeting the specific requirements of the customers. So, depending on their demands; numerous mobile banking apps with exclusive features are present to showcase functional scope for your mobile banking app.
a) Basic Mobile Banking Apps
These are suitable for low prospective markets and comes with various features such as:
Account Management
Money Transfer
Payment Scheduling
GPS Navigation
Customizable Alerts
b) Advanced Mobile Banking Apps
They come with personalized and differentiated mobile banking experience through features such as:
Customized bank product offering
Personal financial management
Integrated loyalty program
c) A-Class Mobile Banking Apps
It offers a digital platform with seamless transaction experience by combining features of basic and advanced mobile banking apps with some extra-added features:
Self-Service Features
Pre-Login Functionality
Cardless ATM Withdrawals (with QR Technology)
Voice Navigation
Live Chat
And Many More
Besides, there are two more types of mobile banking apps- employee-oriented (only for bank employees), user-oriented (customers using banking services).
Best Mobile Banking Apps for Android and iOS
Millennials are the one which are famous for purchasing most of the products and does not like to wait in the queue. This fact also applies to banks and to meet their requirements, banking apps came to existence.
Now they have everything on their fingertips right from online cash transfers to locating the nearest ATM! Sound's good isn't it?
But a question arises- How to pick the best banking apps? It has been made possible through checking customer reviews (positive and negative) about mobile apps and finding their rating on the Apple App Store and Google Play Store.
Furthermore, information was also collected from the various reliable survey to get a good analysis of various apps. Some of these excellent apps are listed below:
Bank of America: Hi-Tech Security-based Mobile Banking App
Ally Bank: Best Online Mobile Banking App
Capital One: Best Customer Service Provider Mobile Banking App
Wells Fargo: Renowned Mobile Banking App for Monitoring Investments
Chase: Finest Mobile Banking App for Prepaid Cards
PNC Bank: Mobile Banking App Famous for Cardless Purchases
Discover: Rewards providing Mobile Banking App
These are some of the best mobile banking apps which have appealing features and are upto you to select the one best suited for your business.
Notable Challenges in Building Innovative Mobile Banking Apps
If you are thinking that building a mobile banking app is easy; then you are digging your own grave! It is because there is a dark side also which will have a severe impact on the customers once the app becomes functional.
Let's explore several challenges which are trying to put a speed-brake on building innovative Fintech apps:
Lack of Security is Grave Concern for Protecting Customers' Data
Lack of Catering Cross-Platform Digital Experience to Banking Customers
Compiling with Strict Regulations is Difficult Task
Difficult to Stay Update with Latest Trends
Reducing the Development Time is No Mean Task
These are some of the challenges which will pose a serious threat to the building-up of a user-friendly mobile banking app for the welfare of the customers. Therefore, to cope up the above-given challenges; various factors should be taken into consideration and then proceed with selecting the best suited technology to build mobile banking applications.
Factors to Consider Before Choosing Technologies for Mobile Banking Apps
It is an uphill task for developing mobile apps for banking and other FinTech sectors because various technologies are taken into the consideration. It is because the given sector requires that the banking app must be both competitive and function so that customers get highly secure, authenticated and UI/UX based apps to ease their financial transactions.
However, there are a few fundamental principles that you should keep in mind when developing a mobile banking app without confusing yourself to make your project an utter failure.
I. Project Type for your app
A vital determinant in choosing a perfect technology for mobile banking app development. For example, if you are creating an app with platform-specific and great performance; then using technology such as Swift language will be beneficial for you.
II. Security from a Customer Perspective
Security is a multi-dimensional issue that you can ignore at your own peril. Once developed, apps must be properly secured from any breach which might affect their efficiency. So, thinking from the customer's perspective; choose those technologies which can minimize human element in security control.
III. Apps must be Future-Proof
Just making your app more secure is not enough to meet your customers' expectations. You must use technologies that come with updated features and focus on recent marketing trends to make your banking app more user-friendly and acceptable among people.
IV. Banking App should be Mobile Responsive
The present generation is drifting towards mobile banking because they want to manage their budget precisely with minimum screen taps and is possible only with an authentic mobile experience. So, choose that technology that offers a mobile-responsive app to your clients.
V. Choosing Technology to Introduce App for Customers Quickly
Today is a time with stiff competition and if you choose a technology that has an amble number of ready-made solutions, then it will be crucial for you to have a great competitive advantage against your rivals.
VI. Apps must be Differentiable to Stay Away from Competitors
If you are one step ahead of your competitors; then no one can stop your app to have wide appeal among your audience. To get a competitive edge, select a technology that should include an outstanding feature in your mobile banking services and stand out among the crowds successfully.
VII. Personalized App is a Stepping-Stone to Success in Banking Sector
Surely, having an extra feature in the banking app will give you a competitive edge, but offering high user-experience will make your app more successful. Choose that technology that collects relevant customers' information and helps in meeting their expectations wisely.
Best Technology Stacks for Mobile Banking App Development in 2020
To ensure a highly rewarding and successful mobile app, it becomes crucial for you to select the correct technology app to not only give it a new lease of life; but also make it more committed to your functional requirements. Selecting a perfect technology will lower costs and take less time for efficient FinTech app development.
We have reviewed various popular approaches and advanced technologies that will be best suited for your mobile apps and fulfil the criteria explained in the above-given step.
Native App Development
It implies using platform-specific technologies for some devices and its operating system (iOS and Android).
Technology Stack for iOS-based Mobile Banking App
You should consider the following technology stack to create your banking application for iOS:
i. Objective-C
Provides the developers object-oriented capabilities & dynamic runtime environment to build robust solution. Most widely used for app development in Apple system.
ii. Swift
Provides the developers with less error-prone codes & dynamic libraries to enhance app performance with advanced features which can be easily maintained.
iii. Apple XCode
A full-featured development environment to support user interface and debugging tools.
iv. iOS SDK
It is a software development kit which serves as a link between software apps and platform on which they run.
Technology Stack for Android-based Mobile Banking App
You should consider the following technology stack to create your banking application for Android:
i. Java
It is an object-oriented programming language which helps developers by providing vast open-source tools with libraries and create a highly secure banking app as compared to apps created using other programming language.
ii. Kotlin
It provides a lightweight and clean solution to solve API deficiencies and is capable to improve the existing flaws in Java-based app models.
iii. Android Studio & Developer Tools
It offers a flexible build/deploy system using on-device debugging tools, emulators and various other features to develop high-quality and unique mobile apps.
iv. Android SDK
A software development kit capable of serving as a link between software apps and platform on which they operate and helps in updating the app with latest features.
Cross-Platform App Development
In this approach, the focus is more on developing mobile apps that run on multiple platforms as it becomes easy for developers to use a single code base.
Technology Stack for Cross-Platform Apps
Let's consider some frameworks which help in building cross-platform apps.
i. React Native
An open-source JavaScript-based framework which is the most preferred mobile app development technology for building native apps for Android and iOS platforms.
ii. C#
The major language for cross-platform development which allows using device-specific APIs and functionality from its code.
Hybrid App Development
It is blending of native and web solutions where the core of the apps is written using web technologies which are then embedded in native apps.
Technology Stack for Hybrid Apps
Let's consider some frameworks which help in building hybrid apps and see how they work.
i. HTML5
It is one of the best technologies to build front-end based web applications for mobile devices.
ii. Ionic
It uses HTML programming language to build native-based apps for creating UI functionalities for them with great ease.
iii. PhoneGap
It is a popular mobile app development framework for developing hybrid apps to provide a cost-effective solution to users.
Some other Technologies which are as useful for effective mobile banking app development as above-given tech stacks are:
1. Node.JS
A Cutting-edge front-end technology which helps in building network apps to provide many tools and libraries to create a robust framework.
2. Swift
It is an open-source programming language that adds modern features such as minimum coding with easy maintenance to make programming more flexible and with fun.
3. C++
It acts as a foundation base for most of the programming language and is a versatile tool for creating dynamic apps on multiple platforms.
4. PHP
A great language renowned for designing dynamic mobile apps and create wonders for apps with database integration.
5. Appcelerator
It is an open-source mobile engagement platform that can create native apps for Android, iOS, and Windows.
So, these are some of the most renowned and popular technologies which can be utilized by the developers for creating a highly functional FinTech app for the banking and other financial industries.
Top Mobile Banking App Development Trends to Watch out in 2020
With the rise of smartphone technology, things have gone beyond imagination. Henceforth, mobile app development has become a leading game-changer in business as it has now become a major source of revenue for the companies as shown in the below figure: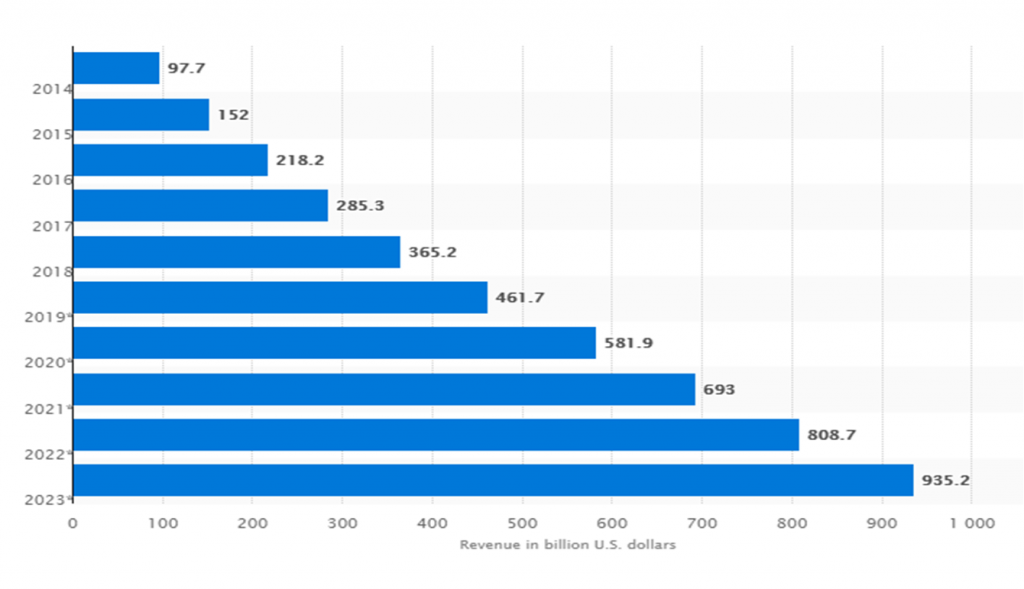 It has been estimated by the experts that there will be about a 10.5% increase in mobile app revenue in 2023 (935 billion US$) from 2014 (98 billion US$). The given fact displays that the future of banking rests on mobile apps.
Thus, recent trends bet for greater expansion of mobile app development across the globe. Since the visibility of a brand has got a great boost-up via mobile technology, almost every financial sector is trying to reap benefits from it.
So, the future of mobile banking is brighter which is indicated by the latest trends that will dominate the year 2020.
1. Voice Payment will be the New Norm in Banking Services
By taking security concerns into the account, many banks have included voice payment in FinTech apps as a means of the two-way authentication system for customers so that they could securely access their accounts.
2. Thanks to Big Data, Fraud Detection is Easier than ever Before
With increases cases of fraudulence; safeguarding the resources of FinTech businesses and protecting the customers' identity becomes the top priority of banking institutions. So, they have adopted big data engine's risk assessment procedures to reduce and minimize the impact of the fraud.
3. Customer Service will get Boost-Up via Machine Learning & Smart Bots
Smart bots provide personalized real-time services by predicting consumer behaviour and help them to make payments and save money in an easy format. It is done by using machine learning to meet the customers' expectations most proficiently.
4. Rise & Rise of Cardless ATM Withdrawals
It is a crucial trend that will revolutionize the banking industry shortly. Various mobile banking solutions offer card-less transactions using payment exchanges like PayPal to card-free ATM transactions.
5. Paydown Apps will Sustain Debt Payoffs
A trend-setting mobile banking trend, it will offer a quick way for the customers to come back on track with their finance and help loan holders to pay off their debt swiftly.
Why are Customers Switching to a Mobile Banking App?
The simple, answer lies in the question itself! It is because the customer is not fooled enough to go to the bank and avail those services which they can receive at the home itself! By providing banking software solutions to the users, operating bank accounts is easier now.
But the mobile banking app does more than that. If you want to know about it more, then look at some solid reasons:
24/7 Support & Access to customers and thus negating the traditional banking systems which disrupted the services previously
Easy to use with enhanced security
All-in-one App to provide a single solution for every problem with just one click
A single app with high cost-effectiveness and great time saver
Comes with speedy transactions to accomplish work swiftly
Personalized Services present at your Doorstep
Customers have full control over customer finances
Capable of automating regular payments
With so many facilities available to the customers, then who will go to the bank and waste precious time of their life? Indeed, mobile banking has poised to be the future of banking!
Key Insight into Building-Up of Successful Mobile Banking App Development
There are different stages for building a successful mobile banking application for the designated FinTech company:
a. Planning
In this stage, relevant data is gathered to clarify project details. For a successful product, careful planning is imminent and is possible through:
Target market research
Analysing competitor offering
Defining key issues
Generation of ideas to solve issues
Evaluating best procedures
Choosing an operating system which app supports
b. UI/UX Design
The look of the app is more important among customers and thus the role of designers become more prominent than the developers. So, they need to work first before the developers and make their operating with codes easier.
c. Development
In this stage, the completed design is vitalized using two development processes, namely:
Frontend development- the User interface is converted into functioning code
Backend development- Deals with data integration and security
d. Testing
Different types of testing should accomplish with the development process to ensure the final product remains in perfect shape.
e. Marketing & Deployment
This stage focus on persuading customers to purchase the products through various mediums and provide necessary feedback.
f. Maintenance & Support
To make your mobile banking app perform well, further maintenance and updating features must be included in them.
Cost Estimation of Banking App Development
To develop a secure mobile banking app, its cost will depend entirely on:
Concept of the app and its features
Hiring mobile app developers who are expertise to convert your idea into software
Effective app design and platform on which app will run
The procedure of integrating your app with another banking system
Guarantee of maintenance and support after delivering ready-to-use app
Apart from this, developers always contact security experts with expertise in the financial domain to incorporate preventive security measures and invest wisely on it which also adds to the cost.
To Sum Up
Henceforth, the study has revealed that a FinTech industry is a specific sector where building a successful mobile solution requires some special efforts to win customers' loyalty.
The takeaway- a good banking app is not just a cool buddy; it is more about the delivery of a rewarding financial experience to its beloved customers! So, if you want to add value to your FinTech app development; then focus on:
Giving high priority to the app security as people need bank accounts with high safety features instead of seamless user experience
Personal financing is the need of the hour and allowing people to track expenditure and plan budgets, you are providing them more than enough
This guide is therefore, here to help you in having smooth sailing towards achieving a good banking app to meet the expectations of your clients in the most appropriate manner.