Introduction
In today's world, everyone is opting for digital transformation to woo their customers. If you too wish to digitalize your business, then you can opt for Salesforce. Why?
Actually, the world's no 1 CRM platform that helps companies not only in optimizing their sales process but also in marketing, services, and operations departments can benefit from the Salesforce platform.
However every business needs many other enterprise software products to run their business, here it becomes very important for businesses to maintain a uniform flow of data throughout the multiple software systems (along with Salesforce CRM).
The good thing is Salesforce can be integrated with other software systems and businesses can get the best out of each system by implementing Salesforce integration.
In the given article, we will understand in detail about Salesforce integration services and how it leads to a surge in productivity of your business fortune manifold.
What is Salesforce Integration?
Before proceeding forward, let's interpret the given concept: 'Salesforce integration.'
Basically, Salesforce integration services attempt to integrate Salesforce solutions to your other business-critical platforms seamlessly.
Moreover, it performs several functions like connecting the front office (sales & marketing) with the back office (accountant & logistics), end-to-end business automation, offering 3600 customer views, and many more.
Since its inception, Salesforce integration is assisting businesses across the globe by saving their time in preventing switching between several systems.
Today, we'll discuss several reasons investing in Salesforce integration services is the best move forward.
Why should businesses invest in Salesforce Integration Services?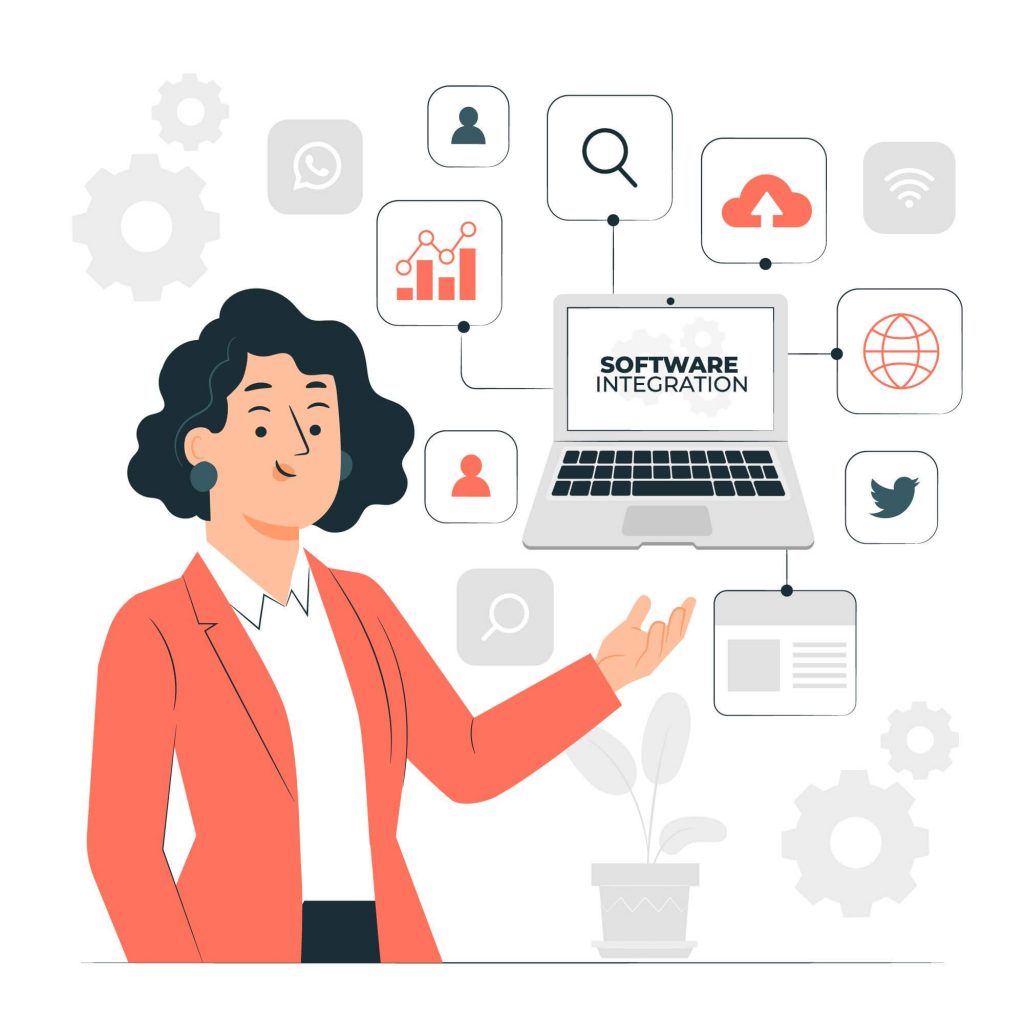 Before answering the given question, it is vital to know why businesses need digital transformation through Salesforce integration. Again, certain reasons support the given point.
As mentioned earlier, every business needs more than one software system to run their business and since Salesforce is at the core of their business, it is important to maintain a proper sync of the whole ecosystem otherwise it can be confusing and a potential threat to any business.
For example- If the billing system is not integrated with the Salesforce CRM, it will become extremely difficult for companies to see the potential of their leads which are stored in CRM only, additionally, it will increase the manual efforts as it will require multiple entries of single contact on multiple systems.
In such a scenario, it is prudential to invest in Salesforce integration services. Moreover, they can contact a reputed Salesforce integration consultant who will figure out their business needs to offer personalized customer experiences.
Well, here are some of the best replies for investing in Salesforce integration:
A. Paving Way for Better Communication
In the current business world, focusing on the right software tools and efficient communication is the perfect way to achieve success.
Out of it, effective communication is what makes any organization achieve optimum success. However, the problem arises when one department uses Salesforce and the other works on a different system.
To solve it, the focus must be on Salesforce integration as it helps in streamlining communications with relevant information sharing between different departments at once.
What's more, it hosts on-premise and cloud software to promote business data between customers and companies easily.
In this way, there is a significant improvement in communication that paves way for offering better customer services.
B. Whole Workflow Fully Automated
Whole over the world, companies are looking towards automation to increase productivity. Here, the role of Salesforce integration becomes more prominent.
Not only this, there is no need to re-write the code again as automation makes the workflow looks easy. Moreover, Salesforce can easily integrate with several systems to automate sales and marketing tasks with minimum cost.
C. Easy Access to Data
As the integration of Salesforce with other systems is feasible, it becomes relatively easy to import data into Salesforce and export data from Salesforce to other systems.
Adding to it, there is an effective data transformation through running complex data on Salesforce. In this way, there is time-saving, and improvement in productivity to drive overall operation.
D. Easy Decision-Making for Better Results
To say the least, Salesforce integration enhances great development in the reporting system of any organization. Now, data is easily accessed so that employees can get meaningful insight through reports.
What's more, the reports come in detail making it easy for management to make quick decisions. Moreover, it also permits an organization to take appropriate actions to boost organizational growth.
E. No Chance of Data Duplication
Previously, manual tasks took lots of time and were prone to errors. Nevertheless, Salesforce integrated system focuses on automation checks and perfect data accuracy right from the start.
Hence, it assures that every system has similar data, so no need to duplicate data again. Moreover, the employees need not rework again and can focus on a crucial task to complete it on time.
F. Delightful Customer Experiences
As a matter of fact, one has to constantly deliver excellent customer services to sustain well in the given business scenario.
So, if the customer gives a positive response in terms of experience, companies can expect three things using Salesforce integration:
"Retaining customers, enhancing loyalty among potential customers, and aggressive drive towards brand advocacy!"
With Salesforce integration services, companies get access to 3600 views of their client's data which comprises transactional history and buying behavior. In addition, management can now have a fruitful conversation with their end-users.
Therefore, one thing is sure for the companies:
"Better customer experience makes them cheerful, and in turn; skyrocket revenue generation for the organization."
Check out an ultimate guide for Salesforce Integration.
5 Best Practices For Successful Salesforce Integration
Notably, Salesforce customization services or implementing salesforce with 3rd party apps delivers flexible and more customized user-friendly solutions. However, if one has to harness the power of Salesforce, they have to look at several Salesforce integration services' best practices to accomplish their objectives.
Now, why we are discussing them here?
To say the least, implementing these practices will help an organization minimize errors and maximize the profitability of its business fortune.
Therefore, let's have a look at some of the best Salesforce integration practices:
a) The objective of Integration must be Clear
For an organization, setting their expectation right by specifically identifying its business needs should be given top priority. Though not an easy task, still, companies must be clear about why integration shall bring benefits to their business.
Before commencing, the enterprise must access the outcomes, and identify the applications where integration must be applied, and their impact on the business procedures.
Besides, they must focus on transparency and a hands-on approach by emphasizing vital technical and business stakeholders swaying across the applications.
Finally, they must maintain a document that concentrates on solving issues that prop up just after integration comes live.
b) Understand Potential Risks that Arrives with Integration Solution
If a company wants to automate its business procedure, then Salesforce integration is a must. In such a scenario, there will be dependencies on external and middleware apps.
In addition, if there is a lack of native integrations, the need of 3rd party integration services might arise. So, it becomes crucial to understand the application's specifications as they will have a major say in the completion of the project.
Likewise, one must prepare a guideline document that contains the features and functionalities of the applications. Moreover, designing the solutions will bring potential risks. Hence, identifying and addressing will bring good luck to them.
For instance, preparing standard operating procedures documents will help them to identify and flush out these key integration risks that offer data and application security, and risks associated with accessing the system.
c) Identify & Filter Integration Attributes
In general, several integrating platforms are present in the market. However, it is up to the enterprise to identify the best fit that will meet their requirements. To accomplish this, an organization can choose Salesforce consultancy services which help them access the same.
What could it be? Whether it requests real-time (and near real-time), batch processing, or mixing of both? No need to panic! It's because of the existence of several factors that require detailed discussion:
What triggers the integration workflow?
What is the frequency of the execution of the integration workflow?
Which data model will match the data exchange between apps?
Which authentication method will be useful for the users? Does single sign-on (SSO) enough?
What shall be the best way to address scalability needs and high availability?
d) Maintenance of Data Quality is a Must
In every Salesforce integration, data is the boss! It shall prove its caliber either in a single system or by merging data from others to offer meaningful insights.
In every case, it becomes crucial to retain quality data with high urgency. Even more, data obtained from different elements must be clearly defined during the design phase itself.
At a later stage, there must be the resolution of any conflict by taking necessary precautions. Therefore, well-defined data parameters help in resolving data conflicts in the best possible manner.
e) Don't Avoid Errors but Handle them with Care
In the initial phase of Salesforce integration, errors are bound to happen, and no one can stop them. Instead, the focus must be on solving them to prevent their long-term negative impact.
Hence, the integration phase must consist of an exceptional error handling mechanism that will offer timely alerts, error details, and other information. In this way, taking swift action when there is no automatic recovery is possible.
Additionally, the companies must prepare well-documented procedures to run recovery processes, debug several issues and find out several steps to get the system back to its normal state.
f) Not to Forget Leveraging Tips from Experts
If the integration is done poorly, the result will be the wastage of resources, prolonged errors, severe data loss, and an increased dissatisfaction rate among the customers.
What is the best way to avoid it? The answer is to hire Salesforce integration experts. They'll assist you in providing meaningful insights and enhancing consumer experiences.
Point to consider: The management must make sure that they should check their team's skill-set and then decide on data manipulation through ETL tool, source system database, etc.
Consequently, every company must follow these essential practices and reap the rewards of successful Salesforce integration to maximize their productivity.
Salesforce Integration Services by Emorphis Technologies
We at Emorphis Technologies, consider every business unique. Therefore, our Salesforce integration consultants offer you integration services that will offer seamless data flow between your on-premise system and Salesforce.
To the delight of the customers, we offer numerous integration systems that shall definitely benefit them in the long run.
a. Email Integration
Thankfully, we integrate Salesforce with Google email (or Microsoft) to make your business look fully automated. Further, it will be easy for you to manage contacts and calendar events and update pipeline data from your inbox.
Further, we also have an exclusive offer for you! We provide smart remainders for priority deals through mobile apps. Eventually, it will help your sales reps to remain flexible in selling your products.
b. ERP Integration
To be precise, we integrate two different systems, ERP and CRM respectively. ERP handles the back-end, and CRM handles front-end processes. By integrating two of these, customers can improve their business productivity manifold.
Starting from forecasting to end-to-end visibility; will ultimately improve services to a great extent.
c. Google Apps Integration
We care for our customers by offering them a collaborative and personalized experience through integrating Salesforce with Google apps. With it, customers can link their vital Google Docs with Salesforce records and serve their clients well.
d. Marketing Automation
For our customers, we consider marketing a crucial aspect to take the business forward. We are experts in integrating marketing automation solutions with others like Pardot, HubSpot, MailChimp, etc.
In this case, there is an assurance that data that is ready for utilization by sales and marketing teams remain up-to-date. Therefore, customers receive automation alerts to help them in keeping a vigil on leads and prioritize their tasks.
e. Computer Telephony Integration (CTI)
To meet the client's needs, we integrate 3rd party CTI systems with Salesforce. It will boost sales and market growth by generating more leads, closing more deals, and improving the overall satisfaction rate among the consumers.
f. E-commerce Integration
As a matter of fact, Emorphis Technologies assist businesses in integrating Salesforce with several e-commerce platforms such as Shopify, Magento, etc. So, customers get a unified 3600 view with specialized features.
What's more, many other benefits come with integrating Salesforce with e-commerce. Some of them are: analysis and monitoring of e-commerce data, improving operational efficiency, tracking sales and growth trends, and many more.
At a Glance
In a nutshell, Salesforce integration offers a smooth data flow with perfect automatic data synchronization. As you can see, it reduces operational costs that help your organization to earn enormous profits.
By partnering with Emorphis Technologies, a reputed Salesforce integration consulting firm, you can avail the best Salesforce integration services. Furthermore, it will enable you to see a bright business picture in the future with no disruptions.