Getting most out of IT has shifted to the top of every corporate agenda. Large, global companies have reached a wall where their customer experience cannot be improved or better connected with associates without enhancing their IT skills. To improve IT skills, corporates have an option to either raise a team inhouse or outsource to a vendor partner within the same country ot other country of interest or hiring a contract employee, thus led to the incubation of inshoring, offshoring and nearshoring.
When considering the alternatives – offshoring vs Inshoring, consider "create" or "buy" as the foundations of the management concept and its related evaluation. This assessment should result in a choice that maximizes the company's long-term economic outcome. It may originally seem that a quantitative assessment of making or buying includes a straightforward comparison of internal costs to the quoted price of a vendor. Though, there are several concepts to consider including – cost, capacity, expertise, funds, bottleneck and strategic importance.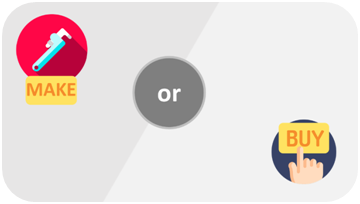 Important to understand is that outsourcing job to another business can deliver excellent outcomes, cut expenses, and boost long-term efficiency. It enables you to concentrate on key company operations rather than spending time on stuff we're not great at. It is much more advanced than that of yesterday, and there are clear legal and competent limits over what is outsourced today, how it is outsourced, and to whom. While all this sounds good and appealing, the distinctions between offshoring, inshoring, outsourcing and nearshoring are still not understood by individuals, and often used interchangeably.
Brief on Offshoring in IT and Software Industry
Offshore IT services vendors have been utilized since the turn of the millennium to develop and implement new applications and upgrade existing infrastructure. Offshore vendors have been efficient for providing quick project scalability, reduce IT costs, and quicker the business time.
Offshoring custom software development companies in the IT world comprises of offshoring the software design and/or development to a country destination where development costs are substantially lower, thereby reducing budget expenditure.
Development of offshore technology may include: product design and architecture, coding and testing, SaaS, Internet/Intranet applications, e-commerce, CRM, project management and other unique web services (including Web 2.0 applications).
Industry Examples and Success Stories – Offshoring
Since 1960s the early Silicon Valley days', technology pioneers have created offshoring facilities in the country of Jalisco, Mexico. General Electric first launched its own offshore facility in India in 1996.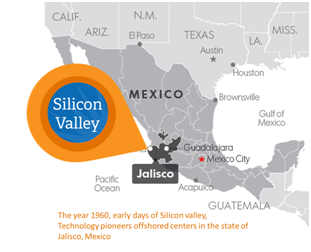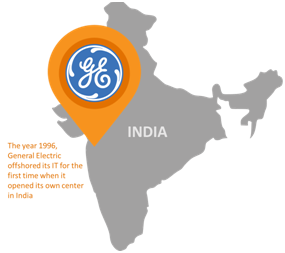 Given the IT sector's fast growth, several businesses started offshore development in China, India, and other nations with a reduced cost per developer model. In the early late 1990s & 2000s software development companies & web development companies in the USA were mushrooming, this was also the time when offshoring companies from countries like Russia, India, Ukraine, and China were strengthening their business in IT offshoring. The time gap for the western world while collaborating with India and China enabled job to be performed 24×7 across 365 days a year creating a competitive edge. South east Asia, Latin America have appeared on the map of IT offshoring destinations, having great engineering resources and an excellent price/quality ratio.
In September 2010, the French company Capgemini acquired Brazilian software developer CPM Braxis for a whopping $ 330 million to increase its offshore ability. In November 2010, Hewlett-Packard revealed an investment of $ 1 billion to create six significant offshore facilities in Bulgaria, China, Costa Rica, India, Malaysia and the Philippines.
The offshore technology industry in China peaked $ 5.05 billion in 2013. By 2015, India was contemplating repatriating most of its outsourcing operations to migrate to an advanced automated software development generation. In February 2016, Apple Inc. launched its first offshore facility for technology in India.
Unfolding Inshoring in IT & Software Industry
It is often seen with people using the two terms interchangeably 'insourcing' and 'inshoring'., however it is important to understand the difference between the two terms. As can be well understood from the terms, insourcing is the process of assigning a task to a person/department within a company. Whereas inshoring is outsourcing of some of the business process to the contractor located in the same country with the client.
With the present cultural and political reaction against offshoring in the United States, and so many web development firms that need to outsource IT activities to save cash and shore up IT services that have hit owing to layoffs, and so many qualified IT folks searching for job, the chance seems to be ready to launch some small and medium-sized outsourcing businesses in the states.
This is basically a mid-way approach between inhouse and offshoring, companies are either over-spending on big in-house contract employees or losing critical knowledge of their company to offshore suppliers with bad governance strategies.
Offshoring vs Inshoring – Discussing Pros & Cons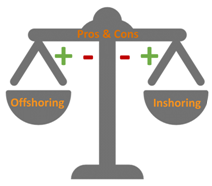 By the mid-2010s, the debate onshore/offshore has become irrelevant, as all major software outsourcing providers had shifted to worldwide operations and integrated offshoring into a seamless offer for their clients. However, evaluating offshoring vs inshoring is still critical for new companies, startups, unicorns and entrepreneurs. There is a significant difference between the annual salaries of developers in US as compared to India. On an average a developer in United States costs USD 80,000 more than a developer in India.
Average Annual Salary
United States
USD 94,000
India
USD 14,000
Offshoring – Pros
Inshoring – Pros
The model of offshoring is prevalent, as offshoring of workforce promise significant cost savings. It is easy to terminate contract with an offshoring partner, since jurisdiction is of more than one country. The company saves significantly on hiring, benefits and costs associated with permanent employees.
Inshoring uses developed resources to perform tasks or to attain an objective. Since inshoring involves vendor company to be in the same country as that of client company, onsite work is easier.

The company saves marginally on hiring, benefits and costs associated with permanent employees.
Offshoring – Cons
Inshoring – Cons
Offshoring IT function is regarded to be difficult and risky, particularly for applications confronting mission-critical customers. Offshoring is no longer delivering value to justify the business hassle and is increasing project risk. Poor quality of work, project delays and service challenges that struggle to meet increasing global / universal standards.
Typically, the adoption cost for inshoring is higher for contracting organizations. It is a bit difficult to terminate contract as jurisdiction is within the same country. There are more likely chances of an upfront competition in the local market, in case of inshoring resource concept leak.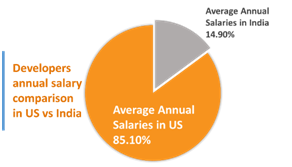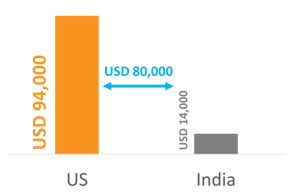 The difference between offshoring and outsourcing
Outsourcing relates to a third-party contracting organization not necessarily in a distant country, while offshoring relates to having job performed in another country, generally to maximize cost benefits. It's possible to outsource work but not offshore it; for example, hiring a software UX design team to review look and feel instead of maintaining an in-house staff of UX designers. It is also possible to offshore work but not outsource it; for example, a Dell customer service center (IT technical support and troubleshooting) in India to serve American clients.
The term outsourcing dates to 1980s when it was coined for business lexicon, as to contracting out of an entire business function, or project, or certain activities to an external service provider. Because businesses tended to develop bigger and abilities needed to be more and more dedicated in the second quarter of the 20th millennium, businesses discovered that external providers were often prepared to accomplish job quicker and more effectively because of their abilities. This resulted in more external providers being hired to handle company operations and initiatives requiring specific abilities.
By the end of the twentieth century, with improvements in telecommunications infrastructure work in other geographic regions particularly in emerging countries where salaries are lower has become progressively effective. This practice came to be known as offshoring.
In recent times growth has slowed overall in the IT outsourcing market, deals are fewer and smaller, but the recession that stalled the growth will become the economic impetus for an outsourcing boon. Many businesses struck hard by the recession realize they need to be lean, intelligent, and adhere to their strengths and key businesses. They need to streamline IT activities and then discover IT professionals they can work with to exploit IT to innovate, create stronger IT products, provide stronger IT services, boost business share, and ultimately boost income. In this context, the median price benefit of India per hour has also shrunk to just 6-7x U.S. prices (compared to a 20x benefit 10 years ago).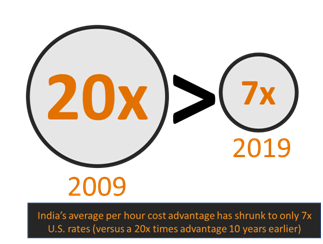 Advantages and Disadvantages of Offshoring vs Outsourcing
| | | |
| --- | --- | --- |
| | Offshoring | Outsourcing |
| Advantages | Lower labor and operating costs: The main reason for offshoring is to decrease labor costs, and since it is essential to boost revenue in a competitive industry, this is a good advantage. Skill Set: The competitive advantage of a country for instance India which is enriched with IT and software developers, being an English commonwealth; English is a second language with all educated Indians. Close Collaboration: Offshoring provides higher control of the business through closer physical cooperation. Favorable Government Policies: There are some governments that grant special exemptions and incentives to companies that invest in their economy. | Cost Benefit: Costs is main motive behind outsourcing. Companies often discover it lucrative to contract to a third party. Core Competency Focus: Within the Information Technology practice,there are certain aspects which are core to a company and certain aspects which are business as usual. Companies tend to outsource such non-core activities so that they can focus on core competencies to have a competitive edge. Quality: For certain operations, businesses often do not have in-house expertise. In such cases, outsourcing is more efficient, and the resulting IT products and services tend to be of higher quality when provided by outsourcing vendors. Flexibility: Outsourcing enables a business to rapidly ramp up and ramp down as necessary. For instance, in order to create an implementation, a business may need many software programming professionals for 6-8 months. Hiring individuals for only 6 months would be unfeasible. However, outsourcing can provide flexibility so that the business is not worried about employing and firing. |
| Disadvantages | Offshoring involves setting up physical infrastructure in another region or country. Increases unemployment in the client country Culture and Social Differences Security Issues | Culture and Social Differences Communication Problems Security Issues |
The Hybrid Approach (Offshore Outsourcing)
Offshore Outsourcing: Not only is work assigned to a third party when outsourcing is coupled with offshoring, but it is also decided that the job will be conducted in another country. Usually the reasons are to take benefit of both outsourcing and offshoring.
Opportunities with offshore outsourcing
Offshore outsourcing combines outsourcing and offshoring advantages such as simpler asset ramp-up and down, and more specific abilities; with offshoring advantages such as reduced expenses and greater efficiency.
Offshoring has been the fastest-growing part of the outsourcing industry in the previous century and a quarter of increasing development. This is particularly true when it comes to IT facility, with India guiding that room. Outsourcing of business processes is another sector of offshoring that has expanded tremendously.
Risk associated with offshore outsourcing
Just as outsourcing offshore mashes the advantages, both are vulnerable to company protocols ' risk as well. Critics argue that due to the complexity being increased, these potential risks are magnified. For instance, while working with an external organization may be difficult for initiatives requiring understanding of your companies' key activities, these difficulties may be multiplying when external organization employees are in another nation. Risks include poor interactions & communication, setting expectations incorrectly and buildings disconnected control structures.
Introduction to the Concept of Nearshoring
It is an outsourcing to a neighbouring country or not to a very distant location or within the same region with the time difference not more than two hours. For example, when organization located in United States passes some work to the third-party contractor located in Latin America or Mexico, it's a nearshore outsourcing.
Nearshoring, offshoring to a very close nation, has also attained popularity among entrepreneurs, big MNCs and startups alike. The United States is increasing its IT shopping in Latin American countries, and UK in Poland and other small Eastern European countries such as Lithuania. An alternative, closer to home, that can still deliver significant cost efficiencies. The apparent increasing trend of nearshoring indicates your organization should look to incorporate this.
Advantages and Disadvantages of nearshoring
Advantages – Following are the reasons, companies should consider nearshoring:
Time and geographic proximity
Time zone and physical proximity provides a major advantage over a lot of distant locations. The ability to provide real time services, which provides employees to work during standard business hours. This helps reduce attrition as compared to the countries who are working during night shifts, or graveyard. Time and geographic proximity also enable much more collaborative operating model. Communication and team interaction are much easier, particularly when dealing with issues, exceptions and shifting priorities.
As with geographic proximity, the similarity in culture enables the integration of teams. Countries within proximity have similar business culture. The culture by and large and social customs are also closely aligned, making team interactions seamless. Work style and communication differences across regions are much easier to navigate. Business rules, operating instructions, and even schedules are better aligned.
One of the most important criteria to consider is the quality of talent pool. The functional scope of centers in the region goes beyond transactional processes, and includes high value activities: software design, development, testing and deployment.
Disadvantages – Following are the reasons, companies should not consider nearshoring:
Higher costs than offshoring: It is possible that contracting a nearshore partner will involve higher costs than an offshore partner.
Fewer providers: When choosing a nearshoring partner to work with you need to consider the possibility that finding one might be quite hard, simply because there are fewer options on the market.
What is Best for me?
Nearshoring, offshoring and inshoring concepts derive from outsourcing. So how to decide on the best possible strategy amongst all? This is the real problem most of the decision makers are facing, especially for the ones who are considering outsourcing for the first time.
Several best methods & practices have developed over the past two decades to mitigate risks and enhance the results of offshore and outsourced initiatives. Many of these practices are related to business processes. Process maturity models like CMMi and Six-sigma measure not only the quality of processes that outsourcing vendors employ, but also how well companies monitor their processes, measure key metrics and how they continually improve these processes.
The ideal vendor should have experience in projects and services that you want to outsource. Proven track record adds value with former similar customers. Should have trustworthy references and testimonials. The quality of talent and resources – for instance quality, education, experience and expertise. Irrespective of nearshore, offshore, inshore or outsource your partner vendor should be financially stable. Culture compatibility creates an edge for nearshoring and inshoring as compared to outsourcing and offshoring.
Final Points
Overall, there is an increase in both outsourcing and offshoring. The global financial crisis has compelled firms to investigate all alternatives for increasing efficiencies and reducing expenses. Bigger sections of companies are progressively comfortable outsourcing (as well as offshoring) as they recognize they are not fundamental.
At first, the distinction between offshoring, nearshoring, and onshoring may seem to be just the geographical gap. But in this digital world, when choosing which of these outsourcing methods to consider, geographic closeness should not be your main consideration. First, by incorporating fresh blood to your squad, you need to set your priorities directly and identify what you're attempting to accomplish. What are you waiting for? Is it the lowest current cost, the highest shock, or a balance of all?
Only then you have a definite view of your potential workers ' responsibilities, duties and abilities, can you decide which strategy to take.