Overview
Salesforce offers customer relationship management software and applications. As per the data, Salesforce is valued at around $26.49 billion in 2022. It is expected to increase by 14.4% by 2029. The Salesforce market share is increasing at a rapid pace because companies have been putting major emphasis on customer interactions and retention. Salesforce provides businesses with the tools they need to manage customer relationships effectively and also it is customizable. Salesforce customization helps companies get their Salesforce platforms customized according to their needs.
All these facts related to its market share growth highlight that Salesforce helps companies to improve their customer services and the overall performance of an organization. We believe the right Salesforce consulting partner can help you get the desired results for your organization. They can help you identify the problems that are affecting your organizational efficiency. And with the right customization and solutions, they can help you get the most out of your Salesforce investment.
Emorphis Technologies is a certified Salesforce partner, having various experts related to Salesforce products. You can partner with us to get the right Salesforce consultation and resolve all the productivity and performance issues within no time.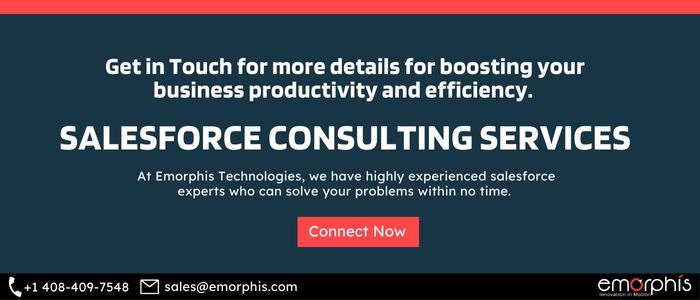 What are the predictions for growth in 2023?
Salesforce is the top customer relationship management software company in the world. As per the report, the company is among the top five fastest-growing enterprise software companies in history. As per the report the company is expecting to increase its revenue by US $31.8 billion in 2023.
This shows that the company is expecting 22% growth in the next year. In addition, the company is operating in a highly competitive environment. The growth of the company can also be affected by changing customer needs, frequent introduction of new products and services, and many more.
The data shows that the overall revenue of Salesforce increased by 25% in the financial year 2022. The main reason for this growth was the 23% increase in subscription, support, and other segments.
As per the report, the company witnessed the same trend in the first quarter of the financial year 2023. Overall, the reports predict that the revenue of the company will be around $31.8 billion in 2023.
What will be in trend in 2023 with Salesforce?
Salesforce has become the first choice of every company when it comes to managing customer databases. Furthermore, the company is continuously developing new tools to fulfill the user's demand most effectively. To date, the company comes up with multiple solutions, updates, new products, and many more.
Let's have a look at new trends that will enhance the operations of the companies in the future.
1. Slack First Customer 360
Salesforce acquired Slack Customer 360 in 2020 to enhance the efficiency of the platform. With the help of this acquisition, the company has improved its communication capabilities. In addition, the company has been using these tools to connect with other businesses. This will also help the company to work in an organized manner.
At the time of Covid 19, Salesforce benefitted a huge number of companies. With the help of this platform companies that are operating remotely can communicate, collaborate and attain business objectives efficiently. As a matter of fact, Salesforce and Slack's interfaces allow users to automate daily operations and make things more flexible. Sales representatives utilizing Slack have 15% faster sales cycles on average, and Salesforce and Slack give them the opportunity to collaborate on deals in real time and drive growth from anywhere.
2. Salesforce Flow Orchestrator
Another trend in the upcoming year will be the Flow Orchestrator. In recent years, companies have been facing various issues due to poor customer satisfaction, miscalculations, unnecessary delays, and many more. All these issues are responsible for affecting the overall company's performance. To deal with these issues, the company developed a Flow Orchestrator. The main aim of the Flow Orchestrator is to automate the workflows. With the help of a flow orchestrator, the company can perform multiple series of tasks to work effectively.
3. Hyperforce
Hyperforce is a platform designed by Salesforce to resolve storage-related issues. In addition, Hyperforce allows the easy and effective use of the public cloud. So that companies can fulfill their data storage needs. With the help of this application, data can be stored in a particular region to fulfill different compliances. Hyperforce focuses on deploying resources in the public cloud at a rapid pace. This helps to reduce the overall deployment times. The tasks that used to take months can now be completed within weeks. We can say that the platform plays an important role in improving the efficiency of a company.
4. Salesforce Einstein
Salesforce has developed Einstein to provide useful recommendations and effective insights to a company. With the help of Salesforce Einstein, companies can deliver personalized services. This platform ultimately enhances customer satisfaction in a company. The demand for Einstein is increasing day by day as it helps companies to analyze consumer behavior most effectively.
5. Health Cloud 2.0
Health Cloud 2.0 has transformed the healthcare industry in the most effective manner. It has been identified that the health cloud will be in trend for so many reasons. The following are the reasons:
Allow users to offer high-quality care to the patients.
Healthcare providers can manage dates related to vaccines and other tests.
Allow health providers to offer personalized treatment plans.
Enhance business productivity and operations associated with public health.
6. Blockchain Technology
We all have witnessed the effectiveness of blockchain in recent years. The technology will provide a huge number of benefits in the future as well. And it is expected that the US Blockchain Technology Market to grow at a compound annual growth rate (CAGR) of 85.9% from 2022 to 2030. In addition, the integration of Salesforce and blockchain helps users to exchange data in a hassle-free manner. With the help of this technology, users can resolve security concerns and gain the trust of consumers in the most effective manner.
If you are considering migrating to Salesforce check the details in our Comprehensive Guide to Salesforce Data Migration
What is the standard customization required in Salesforce in the future?
A Salesforce customization expert helps to add new features so that organizations can fulfill their needs most effectively. As per our experience, these customizations will also play an important role in the future. Some of the widely used customizations that will be crucial in the future are as follows:
a. Custom reports and dashboards
Custom dashboards help to provide a 360-degree view to the companies. Furthermore, custom reports allow companies to get better sales insights, productivity, and many more. Also, you can share this report for effective analysis as well as decision-making. With help of Salesforce, companies can make the report more visible and relevant. The customized dashboard will reflect all the necessary records including leads and many more.
b. Custom portals
With the help of custom portals, you can enhance the customer experience. In addition, it enhances the communication process between you and your partners. This makes custom portals a necessary customization feature for the future.
c. Customized views
Another common customization in Salesforce is custom views in UI. This customization can enhance customer experience. Because of this customization, you will not face any restrictions as it offers a huge number of functionalities including custom forms, list views, and many more.
d. Customized Email Template:
Customizing email templates in Salesforce can help you save time and create a more professional appearance for your correspondence with clients. By using a template, you can ensure that all of the important information includes in each message and that the layout is consistent. In addition, customizing your email templates allows you to add your own branding, including logos and color schemes. This can help your messages stand out in a crowded inbox and make it more likely that clients will remember your company. With so many benefits, there is no reason not to take advantage of Salesforce's customizable email templates.
e. Customized Page Layouts
Salesforce users can customize the content of record pages by using page layouts. Page layouts give users the ability to control which fields and tabs display over a particular record page. This gives users the flexibility to tailor record pages to their specific needs. For example, a user might want to create a page layout that only displays relevant information for a particular sales process. Or, a user might want to create a page layout that prominently displays key contact information. By using page layouts, Salesforce users can ensure that record pages contain the information that is most important to them.
f. Customized Fields, and Tabs
Salesforce custom fields let you add data that's specific to your business needs. It's without changing the underlying Salesforce database layout or org-wide defaults. You can also extend standard Salesforce objects with custom fields without having to create custom objects. For example, you can add custom fields to standard accounts or contacts or even to other custom objects. You can use tabs in Salesforce Classic to group related information together on a page layout so that users don't have to search for it. You can also use tabs in Lightning Experience to group related apps together in App Launcher. For example, you might want a tab for each functional area of your org: one tab for sales apps, one tab for service apps, and so on. Customizing your organization's tabs makes it easier for users to find what they're looking for.
Common Salesforce product customization to increase your organization's productivity
A. Salesforce Sales Cloud Customization
Setting up Salesforce Sales Cloud for your business is easy with the standard objects that can be customized to fit your needs. Leads, accounts, contacts, and opportunities can all be custom to provide the information you need to manage your sales process effectively. You can also add custom fields to capture data that is specific to your business. Salesforce Sales Cloud gives you the flexibility to tailor the system to meet your unique requirements. With the ability to customize, you can be sure that you have a system that will work best for your business.
Customization help businesses better understand their customers by providing insights into customer behavior and preferences. As a result, businesses can make more informed decisions about how to best serve their customers. Ultimately, Salesforce Sales Cloud customization helps businesses to be more efficient and productive, leading to increased profits. When it comes to setting up a system that works for you, customization is key!
B. Salesforce Service Cloud Customization
Salesforce Service Cloud is a highly customizable platform that can be tailored to fit the needs of any business. One of the great things about Service Cloud is that it comes with a standard object that can be customized to meet the specific needs of your business. For example, you can customize contacts, accounts, and cases to track the information that is most important to your business. You can also create custom fields to capture even more data about your customers and their interactions with your company. By taking advantage of the customization options in Service Cloud, you can create a CRM system that is perfectly suited to your business.
C. Salesforce Experience Cloud Customization
There are a number of things that you can customize within Salesforce Experience Cloud, depending on your business needs. One area that you can customize is the user interface, which can be tailored to match your company branding and colors. Another area that you can customize is the reports and analytics, which can be generated to track specific data points that are important to your business.
Additionally, you can also customize the workflows and processes within Salesforce Experience Cloud to match your company's unique way of doing things. By customizing Salesforce Experience Cloud to meet your specific business needs, you can ensure that it provides the maximum benefit and value for your company. Some areas that you may want to consider customizing include audience targeting, search basics, custom theme layout, knowledge management, and also chat functionality. By tailoring Salesforce Experience Cloud to fit your business like a glove, you can maximize its potential and get the most out of your investment.
Also, there is more customization for various Salesforce products one of them which is trending is the Salesforce Health Cloud panel. In Salesforce Health Cloud you can modify the color of page elements, add your healthcare or clinic logo, and enable keyboard shortcuts. Also, in Salesforce Health Cloud you can add knowledge widgets with which care coordinators can view articles and protocols from the footer of the console. All these points show that customizations can offer many benefits to a company. If you want to attain these benefits then connect with us right away.  
What are the benefits to businesses with customizations?
As per the report, 83% of consumers specified that personalization plays a very crucial role in their buying decisions. Just like consumers, organizations put major emphasis on applications that can be modified according to their needs. As a matter of fact, customizations help an organization attain desired results. With the help of customization, organizations can reduce the workload of the team. So that they can focus on other areas that are crucial for the company's growth.
Let's have a look at some of the major benefits of customization to businesses:
i) Integrates with pre-existing system
Salesforce can allow organizations to enhance employee productivity and sales. But how? Salesforce customization helps organizations to integrate cloud services like email. Gsuite, HubSpot, and many more. Hence, you can perform all the activities in a hassle-free way.
ii) Increase productivity and revenue
Salesforce is designed to provide maximum benefits to companies. With customizations, companies can get new features and functionality that can help them to attain desired results. We believe that certified Salesforce consultants can improve your company's performance and increase revenue in the most effective manner.
iii) Customization improves analytics
Without proper analytics, you cannot attain desired sales results. Furthermore, improper analytics affects the overall revenue of a company. In addition, the CRM must be able to track all the necessary activities of the sales team. Customization can enhance analytics which ultimately allows the sales team to make more informed decisions.
After going through all these benefits, you must be wondering how you can enhance the performance of your organization. As per our experience, we suggest you hire an experienced Salesforce consulting company.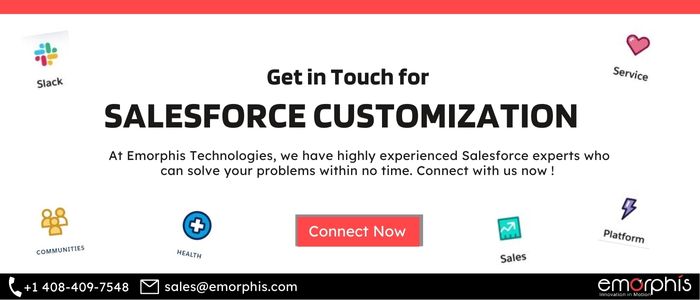 Why choose Emorphis Technologies for Salesforce customization?
After conducting this analysis, it is quite clear that the default features of Salesforce cannot fully handle all the essential activities in your organization. In fact, customization helps to enhance the capability of Salesforce by adding numerous effective features and functionalities. In addition, it is also necessary to understand that companies have unique needs which require additional features or resources. Therefore, it is crucial to focus on customization to attain desired business results.
A credible Salesforce consulting company can help you understand what type of customization is crucial for your business. At Emorphis Technologies we have a highly experienced Salesforce team that provides highly effective services. Our Salesforce experts know how Salesforce works and help you reap all the benefits within no time. With us, you can resolve the challenges faced by the marketing, sales, and support department. Our Salesforce consultants will help you identify which customization will provide huge benefits to your company. We know customization is the most important factor for companies who want to gain all the necessary benefits most effectively. If you are thinking about Salesforce customizations then connect with Emorphis Technologies to gain all the benefits.