Overview
Salesforce is a customer relationship management (CRM) software that helps businesses manage their customer data. Data migration is the process of transferring data from one system to another. Salesforce data migration is needed to transfer data from a business's old CRM system to Salesforce. The migration process can be time-consuming and challenging, but it's important to ensure that all customer data is transferred accurately and completely.
Let's check some of the benefits Salesforce CRM provides to various organizations.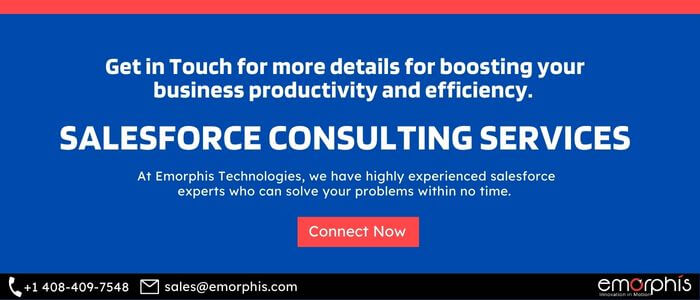 What are the benefits of Salesforce CRM?
Salesforce CRM software offers a huge number of benefits to consumers. In the current scenario, companies have adopted this platform to enhance performance. Also, as per data, consumers using the salesforce have observed 38% higher efficiency, 25% more revenue, and 35% greater satisfaction. Following are the benefits, let's discuss them to understand them in a better way:
Increase Sales by Utilizing Customer Information: Salesforce CRM tracks and analyzes consumer interactions. With the help of this feature, as a matter of fact, companies can understand the customer's needs most effectively. It also analyses data from emails or social media to offer you further insights.
Utilize Data analytics tools: Salesforce includes reporting tools that allow you to collect and also analyze information. In fact, with these insights, a company can respond to changing data within no time.
Lead management: Salesforce gives you access to the most recent contacts on the timeline. In light of this function, you can convert more leads most effectively.
Sync data from various applications: Salesforce reduces the need to open different programs by combining everything in a single place. Another thing is that you can import data from other applications into Salesforce. This functionality helps to improve the overall experience of the users.
Comparing Salesforce CRM with major CRMs
As per the evidence, Microsoft dynamics 365 is considered the top competitor of Salesforce CRM. Salesforce and Microsoft Dynamics 365 share many common features. In today's scenario, Salesforce has become a leader by holding 19.8% of the market share. On the other hand, Microsoft has a smaller market share between 3-4%. Both the software is well-designed to offer extensive features to the users. We believe that the salesforce is highly suitable for small companies as well as medium-sized companies. The reason is that the pricing is appropriate for a young company. With Salesforce, small companies can manage their customer base without spending huge amounts of money.
| | | |
| --- | --- | --- |
| | Salesforce | Microsoft Dynamics 365 |
| Average user rating | 4.2/5 | 3.6/5 |
| Pricing | $25 per month | $50 per month |
| Works best for | Small & medium companies | Large companies |
| Integration | Offer over 3000 apps on AppExchange | Do not have many integrations |
| Lead management | Yes | Yes |
| Sales forecasting | Yes | Yes |
| Analytics | Yes | Yes |
Key Statistics for Salesforce CRM
Companies like Amazon, Walmart, Toyota, American Express, and many more have been using Salesforce for a very long time. Salesforce globally has 150,000 plus customers across the world. In addition, companies that switch to Salesforce CRM see an average 25% increase in revenue. After switching to the salesforce, companies have also observed an increase in customer satisfaction of 35%. Another interesting fact is that Salesforce customers intend to integrate additional Salesforce clouds in 58% of cases like Salesforce health cloud, service cloud, financial cloud, marketing cloud, and more.
According to the most recent data, Salesforce CRM revenue is growing at a rate of 22% per year. All these facts and figures show that Salesforce has a long way to go. With the help of Salesforce, you can attain a competitive advantage.
If you want to get all these benefits then we suggest you hire a certified Salesforce consulting services company.
How you can switch to Salesforce?
Salesforce Data Migration helps.
CRM systems may face various issues after prolonged use. To deal with these issues companies focus on switching from one CRM to another. The process of data migration requires proper planning. To save time and any additional expense, the company should hire certified Salesforce consultants. Furthermore, Salesforce data migration aims to validate your data after it has been gathered into a single location to ensure complete data integrity. Salesforce is one of the top options for the data migration process. Because it is fast, efficient, and helps in constant growth.
Now, let's take a look at some of the major points to consider before switching CRMs:
Identify the type of information that needs to be transferred
Make a plan
Hire Salesforce data migration experts
Identify the objects you want to migrate
Develop a backup plan
Steps of Salesforce Data Migration
Salesforce data migration can be a very beneficial process, but only if done properly. According to recent research, only 36% of data migration projects stay within budget, and only 46% are completed on time. If you do not do it with full attention then you may also face these issues. In order to attain a smooth data migration procedure, we suggest you hire data migration experts. To better understand it, now let's look at best practices.
1. Determine which data you want to migrate
Before you can begin migrating your data from one environment to another, it is crucial to understand what you want to transfer. Some major points to note in this phase are also as follows:
Create a backup to save your company's crucial information. In this way, you also easily restore the original data
Identify the scope and timeframe of the data migration
Create a plan to understand how to manage data before and after the migration
2. Make a data template
In this phase, you have to create an excel template for each object. It is important to understand that these objects also have a necessary relationship with each other. Furthermore, these objects dictate the order of data migration.
3. Fill out your templates
The third step is to populate the template with the necessary information. Before inserting any information, it is crucial to verify it to avoid any mistakes or confusion. Initially you should Load one record, verify the results, then load all records.
4. Prepare your system for migration
In this phase, you should give the custom field the unique ID to make it easily accessible. This will help you to create custom reports which will also ultimately help in data verification.
5. Verify the results
Once the data has been transferred to Salesforce, you must make sure that it has been transferred correctly. Check the results, reports, and fields to verify the platform for all the data which is transferred.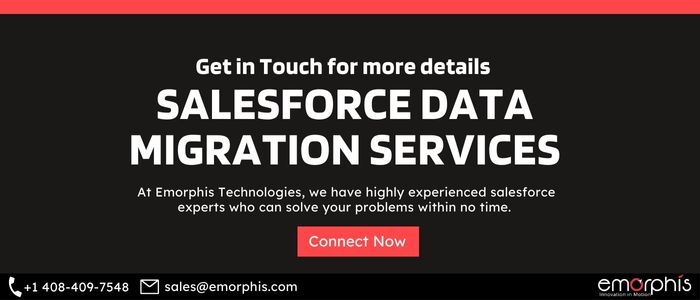 Why choose Emorphis Technologies for Salesforce Data Migration?
Advantages with Emorphis Technologies
At Emorphis Technologies, we ensure that the Salesforce data migration process is smooth and error-free. We all know that moving data from one system to another is not only expensive but also time-consuming. At Emorphis Technologies, our Salesforce data migration experts use highly useful tools and techniques to focus on the successful Salesforce data migration process.
Our experts use the best Salesforce data migration practices to minimize risks and ensure data integrity by removing errors. Our certified salesforce consultants are available to offer full assistance at each step. If you are thinking about Salesforce data migration then do contact us.
FAQ's on Salesforce Data Migration
How do I migrate data in Salesforce?
Migrating data into Salesforce is a relatively straightforward process. The first step is to create a backup of the data that you plan to migrate using an ETL (Extract, Transform, and Load) tool that can be used to transfer the data from your source system into Salesforce. You'll also need to identify which objects will have migrated records and check for any API limits that may need to be met. Once your data is prepared for migration, you can use a combination of Bulk API, REST API, and/or SOAP API calls (depending on your setup) to load your records into Salesforce.
Does Salesforce support data migration?
Yes, Salesforce supports data migration through its range of APIs. Depending on the size and complexity of your dataset, you can use Bulk API, REST API or SOAP API calls to transfer your information. Additionally, Salesforce offers several third-party tools which provide additional features such as customizable processes and support for large datasets.
How long does Salesforce Data Migration take?
The amount of time required for a successful Salesforce Data Migration depends on several factors including the size and complexity of the dataset being transferred, the source and destination systems used during transfer as well as any performance limitations on either end.
How do I test Data Migration in Salesforce?
Data migration testing ensures accuracy and integrity between source and destination systems during the process itself as well as after its completion. Before starting any tests there should already be some sort of design document detailing how certain scenarios should react when encountered during transfer allowing tester(s) to accurately measure results against pre-determined expectations/criteria set forth by the design document itself while ensuring all functionality remains intact upon completion (if applicable).