Introduction
Salesforce is one of the leading and #1 CRM (Customer Relationship Management) platforms in the world. As a matter of fact, the salesforce platform has to be customized most often in accordance with business objectives for a better experience. For this reason, salesforce developers and admin constantly hustle to customize and develop the platform according to the business needs. It's important to realize, that there are Salesforce Chrome Extensions that help you save time, get things done more in less time, and make you more productive. In effect, these Salesforce Google Chrome Extensions make it simpler to add and modify custom items in the CRM.
So, here we are presenting you the top most popular and useful Salesforce Chrome Extensions that ease your day-to-day work life and help in improving your Salesforce experience. Henceforth, these Salesforce chrome plugins manage your Salesforce account, and data more easily and efficiently. Also, it streamlines your work process, improves your Salesforce skills, and helps you to be productive like never before.

Top 10 Salesforce Chrome Extensions
We highly recommend you check out these Salesforce Chrome Extensions to speed up your work process and also ease your day-to-day work. Altogether boost your productivity and efficiency with these 10 Salesforce Chrome Extensions.
1. Salesforce Inspector

Source: GitHub
Users: 300,000+
Rating: ★★★★★ 5.0
Category: Developer Tools
Want To Add: Click Here
Salesforce Inspector is a must-have Salesforce Chrome Extension. It helps Salesforce developers, users, and admins to inspect the metadata directly from the Salesforce UI. Also, helps in improving the productivity of Salesforce development, configuration, and integration work.
Features:
From a record detail page, edit page, or Visualforce page, you can easily access field data.
Even if data is not visible on the page layout, you have the capability to easily examine and edit all data for a record.
Quickly export and import data from Salesforce. Data can be copied to and from Excel with ease. If you are already logged in with your browser, there is no need to log in again.
Check the current limit consumption.
Easy access to the user records.
Note: It's possible that Salesforce Inspector won't function once you enable the My Domain functionality in Salesforce until you reload your browser (or delete the "sid" cookie for the old Salesforce domain).
2. Salesforce Advanced Code Searcher

Source: Chrome Store
Users: 50,000+
Rating: ★★★★ 4.7
Category: Developer Tools
Want To Add: Click Here
Salesforce Advanced Code Searcher is a free Salesforce Google Extensions that helps Salesforce admins and developers to find code components very easily and also quickly. This helps in boosting work productivity.
Features:
Search Salesforce instances – Apex Classes, Apex Triggers, Visualforce Pages, Visualforce Components, Lighting Component easily.
The string search will help you find code directly.
You can browse and download your organization's code coverage.
Allows you to use the Lightning Linter tab to lint the lightning code.
Run PMD on the code you're using. Additionally, let users access the record's child information.
NOTE: Salesforce's REST API is used to accomplish the above functionalities.
3. OrGanizer for Salesforce

Source: OrGanizer
Users: 50,000+
Rating: ★★★★★ 4.9
Category: Developer Tools
Want To Add: Click Here
It can be difficult to utilize Salesforce CRM smoothly if you use Salesforce and are not familiar with the interface. In this instance, the Salesforce ORGanizer Extension can be used, which offers a user-friendly design and also rapid access to the most vital and important functionalities that make your work easier. You can identify Salesforce tabs on your browser using this Google Salesforce Extensions.
Features:
Save the accounts you use most frequently: login URL, username, password, and landing page.
Get the complete login URL for other browsers, or log in to an account on a new tab, window, or window in incognito mode.
You may quickly identify which tab belongs to which ORG by altering an ORG tab's title.
You may rapidly access your most often used standard Salesforce links, conduct a worldwide search, access a specific relative link, or sign in to another ORG, with the Quick Links feature.
To manage special links, create your own personal ORG's quick link library.
Use the Quick Console located inside of your Salesforce tab to get quick access to features like executing anonymous, description manager, and queries.
4. Salesforce DevTools

Source: Chrome Store
Users: 30,000+
Rating: ★★★★ 4.6
Category: Developer Tools
Want To Add: Click Here
A strong and best Salesforce Chrome Extensions called Salesforce DevTools enables you to quickly see and edit Salesforce data, create and modify Salesforce fields, and also do a lot more. Query Editor, Fields Definition, ERDs, Page Layout, and more features are part of these robust Devtools.
Features:
A generator for Salesforce data modal (ERDs). Also, a generator for SOQL and Apex code.
Quick and easy access to any object's new record page, list page, and object setting page.
You can quickly check the object field and its usage.
The Salesforce object detail page displays the field's API name.
Exporting List View Definition, Objects Definition, Objects Fields, and Objects Page Layout Definition to an Excel file.
Classic users can leverage the benefit of mass edit, mass delete, and mass clone benefits.
Note: Salesforce DevTools collects the following: web history, location, IP address, region, and GPS coordinates.
5. Cirrus Insight

Source: Cirrus Insight
Users: 20,000+
Rating: ★★★★ 4.0
Category: Productivity
Want To Add: Click Here
Utilize Cirrus Insight, the best Salesforce Extension for Chrome, to increase efficiency within your company, because it enables you to add specialized email tools to your inbox. That gives the team members a comprehensive view of the consumer, which improves team collaboration.
Features:
Help you conquer email with the following: Tracking Emails and Attachments, Schedule meetings, making email templates, and setting follow-up reminders.
Schedule an email to be sent later in Cirrus Insight. Also, view and manage contact and account information.
Flight Plans drip campaigns and reminders.
Synchronize your calendar and emails with Salesforce.
Every email in Gmail will have Salesforce intelligence displayed next to it. Directly from your mailbox, you can create, edit and also update leads, contacts, accounts, opportunities, cases, tasks, and more (even custom objects).
Note: Cirrus Insight collects the following: name, address, email address, age or identification number, and Personal communications.
6. Salesforce Mass Editor

Source: Xgeek
Users: 10,000+
Rating: ★★★★ 4.3
Category: Productivity
Want To Add: Click Here
Salesforce Mass Editor is the best Chrome Extension for Salesforce admins and developers. Salesforce Mass Editor provides the ability to change, update, and process bulk data very easily. With the help of this extension, you can also update hundreds or thousands of data in a go, very easily and efficiently without any issues. This proves to be a must-have Salesforce Chrome Extension.
Features:
Support for both Lightning and Classic.
Insert, Clone, Update, Create, and Delete bulk data on any list view.
Any section anywhere, mass copy and paste from Excel with multiple rows and cells of data.
Able to design or create custom metadata types.
Records data exported to CSV file.
Note: You must enable the custom domain if your Salesforce company or organization uses a custom domain.
7. Salesforce.com Quick Login As

Source: GitHub
Users: 10,000+
Rating: ★★★★ 4.5
Category: Developer Tools
Want To Add: Click Here
Have you ever needed to use a device without the Salesforce Desktop Client to access Salesforce? Without access to your computer, you might need to log in using your iPad at a friend's residence. However, using this Salesforce Login Chrome Extension is a quick and easy way to manually sign up or log in. This Salesforce Chrome extension is for both Admins and Developers alike and it allows you to log in quickly and easily as any user in your organization.
Features:
Compatible with Classic and Lightning both.
Well with a pop-up feature from which you obtained the member/user listing page, you can log in as a different user on any page.
Any user you choose will log you in as that user and keep you on the page you were on before.
It will return you to the original page you were on when you logged out or log in with a different user.
From the user listing page, you have the choice of switching to a different view.
Note: This version will automatically update and is the preferred way to install it unless you plan to make modifications to the source.
8. Clearbit for Salesforce Lite

Source: Clearbit
Users: 10,000+
Rating: ★★★★ 4.6
Category: Productivity
Want To Add: Click Here
You can view a complete profile of a person or business on every Salesforce record with Clearbit for Salesforce Lite, as a matter of fact up to two hours a day of manual work, research, and data input could be saved by doing this. In fact, this Google Chrome Salesforce Extension should be used by anyone looking for a quick and trustworthy way to acquire a deeper understanding and insights into their data. Using this Salesforce Chrome Extension can help you grow your business with better data.
Features:
With more than 85 actionable data points, you have the ability to turn any email or domain name into a full prospect and company profile.
It allows you to gain access to all of your data (such as email lists), and it continually updates as new information enters the system.
Know everything about your contacts, leads, and prospects without having to search for it; all the information you could possibly need is instantly available.
Leads can be divided depending on any attribute.
Without leaving Salesforce, find new contacts.
Compatible with Salesforce Lightning and all Salesforce Standard Editions.

Source: Summerlin
Users: 6000+ users
Rating: ★★★★ 4.5
Category: Productivity 
Want To Add: Click Here
Useful Chrome Extension for managing records. Salesforce Navigator also works best for new users or those who aren't yet ready for Lightning. Helps in getting the Salesforce page and data as quickly, just have to type in what you need to do.
Features:
Enter the name of the desired salesforce page in the pop-up dialogue box to navigate to that page specifically.
List records, search for records and pages, manage existing records, also create new ones, easy login, and more.
Compatible with Lightning and Classic.
Easily access object customization, or go directly to a setup page.
Single interface to do everything from creating records, making lists, and deleting.
Note: For this extension to function if you have a custom instance domain name, you might have to make a CSP Trusted Site Definition for your Classic domain URL.
10. Boostr For Salesforce

Source: Chrome Store
Users: 5000+
Rating: ★★★★★ 4.8
Category: Productivity
Want To Add: Click Here
To ensure that everyone is performing at their best, it is essential to understand the strengths, limitations, and also workflow habits of your team. And this Chrome Extension, Boostr helps to speed up and boost productivity.
Features:
Ability to check while adding items to a change set. Filtering by type when adding to a change set is another option.
Displaying everything of a certain kind on a single page. Additionally, a checkbox was added to the table header in the administrator area so that all items in that segment may be checked or unchecked.
While changing a fieldset, display the application programming interface (API) name next to field names.
Using Pascal's case while creating new objects and fields for the API. Additionally, it aids in stopping the setup region sidebar's placeholder text from filling in.
Indicate the number of selected fields on the page for tracking field history.
Ability to create additional fields while automatically unchecking all page designs.
Convert Salesforce IDs using the popup menu of the app.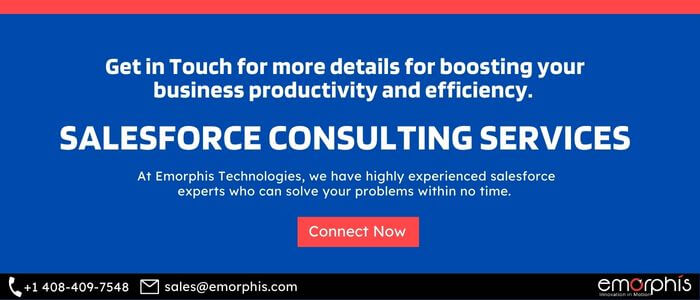 Wrapping Up
The Salesforce Chrome Extensions we described above are widely used and helpful. We at Emorphis Technologies, a salesforce consulting service provider use them frequently for Salesforce admin or development tasks to save time, as a matter of fact, It's a fantastic approach to make working with Salesforce a lot simpler and more effective.
Please let us know if you find these Salesforce Chrome Extensions useful. Also, comment below if you use any additional Salesforce Extensions regularly to increase your work productivity.
Likewise, get in touch with us if you need Salesforce development. As an authorized and trusted Salesforce Consulting Partner, we offer Salesforce Customization Services Salesforce Integration Services, and much more.
Explore our Salesforce Consulting Services to learn more about how we can help businesses to boost their organization's productivity by assisting them in choosing the right technology and also solutions for their business.