Overview
Salesforce Lightning is a component-based framework for app development. It simplifies the process for users with no programming experience. The components in the Lightning framework enable the quick creation of advanced apps without code. Lightning allows for faster app creation, providing exciting and engaging experiences. Salesforce Lightning provides powerful tools and features that simplify the process of application development, such as custom components, the Lightning App Builder, and debugging tools. By using these features, Salesforce developers can create applications quickly and efficiently, allowing them to focus on delivering innovative solutions rather than spending time on complex coding tasks. It also allows you to complete all the integrations in a limited amount of time. Furthermore, it offers a client-server framework that enhances the application development process in the most effective manner.
Salesforce is an intelligent CRM platform that enhances the capability of the sales team. Lightning is a revolutionary Salesforce platform that has been completely redesigned to maximize sales productivity and provide next-level performance. The intuitive user interface, lightning-fast processing speeds, and unique features make it easier than ever to power your business with the latest technology. With Lightning, you'll be able to take your sales goals higher than ever before. It has been identified that companies that have shifted to Lightning have gained various advantages. If your company has been using Salesforce then you may have heard about Salesforce Lightning.
However, you may be thinking why Salesforce Lightning has become so popular among businesses. Let's find out.
Salesforce Lightning includes various tools and technologies that help you to enhance business performance. The modern and capable user interface of Salesforce Lightning empowers the sales team to sell effectively and enhance the customer experience in the most effective manner. Let's find out the benefits a business gets by using Salesforce Lightning.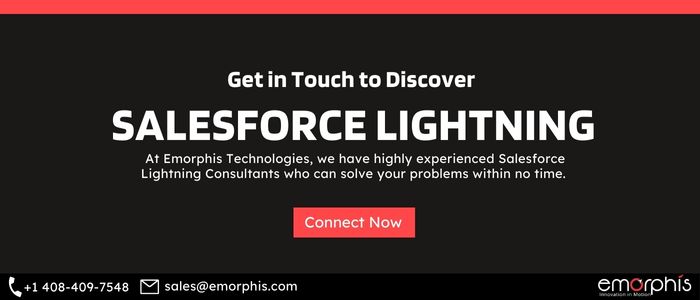 Top benefits of Salesforce Lightning for business
Some organizations are still hesitant to make a switch to Salesforce Lightning. The reason is that they are still confused about the benefits offered by Salesforce Lightning. A study revealed that organizations that have transitioned to Salesforce Lightning have observed that productivity increased by up to 25 percent. Salesforce Lightning is a highly advanced and effective platform that enhances business performance.
1. Salesforce Lightning helps automate the sales process.
Salesforce Lightning comprises many effective features. These features help sales representatives to manage the overall sales process. Salesforce Lightning offers more than 150 features that help sales representatives to fulfill their needs most effectively. Each feature is focused on making the sales process more efficient and enhancing overall business performance. The main feature that helps sales representatives is the 'Sales Path'. This feature automatically designs your sales pipeline. In case you face any issues, the sales path will allow you to understand what steps need to be taken to make the sales process more effective.
2. Supports rapid app development, allowing users to quickly create custom applications for their unique needs
With this app, it becomes easier to build applications. By using Salesforce Lightning, you can create mobile as well as desktop applications and also customize pages in the lightning experience. This helps to build high-quality applications without investing any additional time. In addition, Salesforce Lightning offers various built-in components so that you can select the suitable one as per your needs.
3. Provides integration with Einstein AI, providing powerful insights into customer data and advanced analytics capabilities
Einstein integration has come up with all the crucial features that can improve business performance. In addition, Einstein's opportunity insight and Einstein's forecasting are the upgraded features of lightning. With the help of these features, users can track the customer behavior journey. This allows them to customize different things and offer a high-quality service. Another important thing is that Einstein recommends people, groups, and objects to the users. In this way, you can attain the necessary goals within no time.
Check with details on the transition from Classic to Lightning.
4. Increased efficiency and productivity
It has been identified that Salesforce Lightning allows users to build customized applications. With the help of these customized applications users can fulfill the necessary business requirements. In addition, Salesforce Lightning offers a wide range of features that can be used to automate tasks and processes. This helps to improve productivity and saves time. Another major benefit of Salesforce Lightning is that it helps you integrate it with other applications. This reduces manual efforts and makes the processes smoother and more hassle-free.
5. Integrates with third-party services to support a wide range of functions
Salesforce Lightning has all the necessary features that are essential to enhance business performance. But to fulfill the ever-changing requirements, Salesforce allows users to integrate third-party components. Hence, you can easily integrate third-party components and fulfill the business needs within no time.
6. Analytics and Reporting
Businesses can take advantage of features like Salesforce Einstein. This feature offers predictive analysis so businesses can perform better and make necessary changes to attain desired results. With the help of lightning, users can create custom reports and dashboards. Also, companies can understand the sales data and make the right decisions.
7. Advance with improved user experience
Lightning offers a more intuitive and efficient interface so that users can find all the relevant information within no time. This helps them to focus more on selling and solving customer issues. In addition, the UI framework in lightning allows businesses to build efficient applications that can improve user experience. This means that the company has the flexibility to revamp processes and features to deal with the changes most effectively. All these things allow a company to improve user experience.
8. Modern interface that increases productivity
Salesforce Lightning offers a streamlined and modern interface that increases productivity. Furthermore, the interface is designed to keep in mind that the users can find the necessary tools and information. Another important point to note is that it is mobile-friendly so users can access it from anywhere. The user interface is highly robust and flexible. The intelligent interface allows users to accurately check performance goals and attain desired results.
Check our Guide to Salesforce Data Migration
9. Identify high-quality leads
Every company is unique but all companies want to find, sell and retain customers. Salesforce Lightning has the tools you require to grow your sales pipeline and make more sales. It understands the requirements and identifies the possible leads. It contains all the data related to sales choice, behavior, interactions, and many more. By using this data, the platform filters the high-quality leads. In this way, you can save time and also increase the chances to convert those leads into sales. In addition, Salesforce Einstein is another top feature that allows you to predict future trends. This feature also helps to increase the productivity of the sales team, enhance services, improve sales, and many more.
10. Tracks sales activities to obtain a better understanding of current performance levels
With the help of Salesforce Lightning, you can understand what is happening in your sales pipeline. In addition, a business owner can use the dashboard to analyze the performance of team members. You can also measure sales success by measuring different metrics. Furthermore, lightning has activity tracking tools that help to track sales activity in the most effective manner. Lightning voice is another feature that allows sales representatives to make or receive calls. We can say that Salesforce Lightning can make the sales process smoother which in turn enhances the business performance.
Conclusion
After analyzing all the information, we can say that Salesforce Lightning is an important tool for every business. If you are using Salesforce Lightning then you get many benefits and eliminate possible errors. We have also witnessed that Salesforce Lightning gives you all the necessary features so that your team can work efficiently.
Emorphis Technologies has highly experienced Salesforce app developers who can help you provide high-quality services within no time. Our certified Salesforce developers will offer full assistance at each step so that you can clarify your doubts and reap all the necessary benefits of Salesforce Lightning.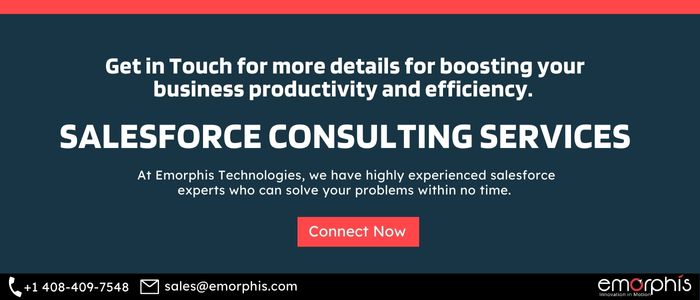 In order to leverage this technology, you should hire a credible Salesforce consulting services provider. An experienced Salesforce consulting service provider company will help you with the implementation, integration, customization, and many more. If you are still confused about the benefits or role of Salesforce Lightning you can connect with us. We will make sure that you will understand what is right for your business. With us, you can achieve a competitive advantage and attain your business goals in no time.
Connect with our Salesforce Consultants now!