Overview
An Electronic Health Record (EHR) is a systematized digital format collection of patients' electronically-stored health information. These documents can be distributed across various healthcare environments. Records are distributed via network-connected enterprise-wide data systems, data networks, and exchanges. EHRs might embrace a range of information as well as demographics, medical record, medication and allergies, laboratory reports, radiology footage, important signs, personal statistics like age and weight, and request info. Providers today with help of healthcare software development companies use patient record information to enhance quality results through their care management programs. The combination of various kinds of clinical information from the health records of the system has helped clinicians identify and stratify chronically ill patients.
EHR systems are intended to correctly store information and capture a patient's condition over time. It eliminates the need to monitor past paper medical records of a patient and helps to ensure that information is precise and legible. It can decrease the danger of data replication as there is only one modifiable file, which implies that the file is more likely to be up-to-date and reduces the danger of lost documentation. As these systems mature, the market for EHR software is growing and the consolidation of health systems is continuing.
Now it becomes apparent that there is a powerful need to find scalable, sustainable, and appropriate health information technology for healthcare procedures of all dimensions and scopes.

Comparing Electronic Health Record (EHR) Vendors
EHR technology forms the basis for the activities of medical practice. Patient care is motivated by the capacity to comprehend and also contribute to the patient's experience. It is with both acute care and long-term disease and injury care. EHR platforms assist organizations operate smoothly. Also its create value from the organization they perform from check-in through billing and income capture.
Comparing EHR systems and software is a daunting task. Because of a combination of public incentives and the overall trend towards moving everything online, most healthcare environments now use Electronic Health Record software. There are so many choices available in the market. Big and small; it can be confusing to arrive at a decision.
Now, here are the main distinctions among different software. This is to assist you to assess the best scheme to satisfy your requirements. Key points are mentioned below.
1. Medical billing
The medical billing software that is included in or can be embedded with the EHR system. It is crucial to the practice's success. Without the capacity to correctly code and bill for rendered services. The activities will grind to a halt and profits will not be realized. To bill patients and payers or insurance, you should pick an EHR with an inner billing module.
2. Documentation and clinical workflow
These tasks are regarded as some of the most significant elements of patient care. And are therefore crucial in choosing the suitable EHR implementation. Make sure that the Electronic Health Record solution you select enables both physicians and administrative employees, to integrate their job and activities into the clinical record.
Evaluate present best practice workflows and documentation styles for a clinical setting. Not every EHR will support all workflows and documentation styles. Although, it is possible to configure and customize a system to fit the needs of a practice. The functionality assurances are not enough when creating an environment for success with an EHR application.
Also, prioritizing the creation of each patient in your new system is important. While preserving crucial history and billing data. Current and future reporting requirements highly value the continuity of data. In fact, it contributes to value-based patient care.
3. Data Migration Strategy
It's imperative if you're replacing an EHR and also your practice has data to migrate to a new clinical system. Without including the historical data in the new platform. A lot of problems, errors, and also additional costs can be accrued. Here, you need EHR data migration experts which can help you with successful transfer. Using HL7 CDA format, SQL queries, and/or proprietary import features, full documents can be sent. Highly does not recommend to implement an EHR that does not allow the export, connection or integration, and import of clinical data.
4. Hardware compatibility
Given how essential the hardware is to clinical activities and effective workflow. It is worth considering when comparing Electronic Health Record systems. Keep in mind the following questions to guarantee that you select an EHR. That it is consistent with the manner you currently operate. Also, the methods you might want to work on in the future.
5. Deployment Environment
Electronic Health Record deployment can be in two different ways. They are on their premises, hosted by the client or accessed via a web-based cloud connection. As a matter of fact, both works likewise but come with distinctive pros and cons. Check out our points on the Type of EHR system.
6. Patient health management
This is a key aspect of EHR software that should also be accountable when evaluating new platforms. If the clinic engages in or has any plans to start using patient information. In fact, to enhance care for patient populations. Then consideration should be given to an EHR, which has the same characteristics.
It is also essential if the organization is involved in an Accountable Care Organization. Or else any other quality and utilization-related partnership.
7. Cost of acquisition & maintenance
According to one of Accenture's recent studies findings, 93% of healthcare firms are actively changing and deploying digital solutions. However, the return on investment for healthcare software development is a crucial component of digital transformation in healthcare.
At this stage in the maturation of EHR technology. The best way to justify the cost is to determine how much more effective, well-connected, well-positioned, and competitive it is. Hence, it is imperative you check the key points on budget and calculate the future ROI while choosing an EHR system.
You can check more details on ROI by reading How Software Development for Healthcare Can Boost ROI?
8. EHR-certified
Certification is based on a variety of EHR incentive programs. It is from individual payers to government organizations. Certification is a distinction provided to EHR suppliers. Who has products that fulfill a range of functionality, safety, and also healthcare interoperability requirements? Certification does not in and of itself create a successful partnership.
9. Interoperability with the external environment
This characteristic relates to the capacity to share clinical content with external agencies, organizations, and hospitals. Clinical, economic, and demographic information may be shared with others. Through a multitude of technological tasks. From extensive interfacing to using safe email. An EHR that involves the capacity to share data is essential to generating an extensive longitudinal patient record. A longitudinal record is a record that compiles and tracks the entire history of a patient, rather than relying on single encounters. In fact, it can reduce expenses, boost patient adherence, and restrict the potential for mistakes.
EHR Systems incorporate some elements of healthcare interoperability into their systems. This may include connecting to a local or regional Health Information Exchange (HIE) and joining a clinically integrated network (CIN).
All significant elements to consider when assessing a new Electronic Health Record system are the transition from primary care to specialist.
10. Staff engagement
Beyond the structural and technical goals of an Electronic Health Record assessment. It is essential to ensure that clinical resources and employees involves and also are ready to shift. A lot of processes and workflows within an organization will change as a result of a new system. Some of these modifications will be for the better, but some modifications will inevitably be met with opposition.
What to do then? Build a team of consultants from all fields of a clinical setting to help in the assessment process. Let each resource evaluate the technology and functionality objectively to ensure that it meets the needs of the representative group of employees.
Most EHR vendors give training services to assist smooth the adoption process, so make sure you ask about them. Some will come at an extra price. So we suggest reading a review of implementation procedures with each seller to see if extra paid training classes are worth the price.
11. Selecting and adopting EHR
You must have an EHR implementation partner evaluate the functions and usability of on-site installation at your clinical location before making any EHR comparisons. Allow clinical professionals to utilize the program in a mock context. It may fall under the purview of typical clinical operations' established workflow.
The contracting procedure becomes a challenging step to guarantee a sound and profitable investment after a chosen EHR partner has been identified. Utilizing professionals in the negotiation and procurement fields is crucial. This will help in determining the cost of the given software and services. To maintain financial stability, an EHR contract should be carefully structured. And also profit as well as to ensure all systems are running without issue or inappropriate downtime.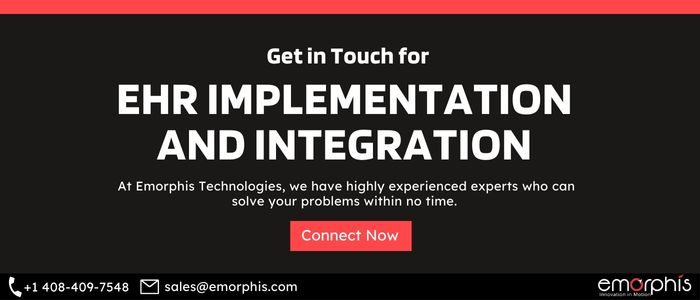 Conclusion
Comparing the EHR vendors is a complex task but can be helpful with a healthcare software development and consulting partner. Also, this will help in attaining a complete plan for implementation, customization, integration, and training services as well. It is important to invest the time and resources in the front to ensure that all resources get training and are familiar with the system.
Get more information from our healthcare industry experts before deciding which EHR system to integrate or implement. Connect with Emorphis Technologies as your EHR integration partner.