Overview
Salesforce Financial Services Cloud is a CRM especially designed for financial service companies. With the help of this platform, companies can solve most of their problems in the most effective manner. The main aim of this platform is to offer real-time access to data and identify customer preferences.
According to the evidence, Companies like Accenture, Deloitte, Yodlee, ASI, and Informatica have been using the salesforce for a very long time. As per the data, 82% of financial service cloud customers are located in the United States. A huge number of companies are using the salesforce financial service cloud because it improves customer experience and enhances operational efficiency. If you want to give your customers an exceptional experience then use the salesforce financial service cloud. In order to understand all technicalities of the salesforce financial service cloud, you can contact us.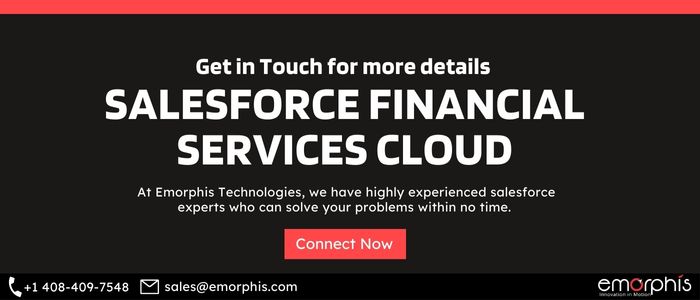 Who uses Salesforce Financial Services Cloud?
The financial service cloud is designed to support various operations of financial organizations. With the help of this platform wealth management firms, banks, and many more can offer personalized services within no time. This platform is used by financial companies to give personalized advice to clients. By using this platform financial companies can earn customer loyalty in the long run.
Features of Salesforce Financial Service Cloud
Increased Customer Engagement
One of the major benefits of the salesforce financial cloud is that it helps to provide real-time customer insights. Furthermore, automation and artificial intelligence have also enhanced the overall capability of this platform. Also, this platform provides credible insights which allow companies to gain customer loyalty.
Tracking of leads
It is crucial to have a close eye on leads and referrals. With the help of the salesforce financial service cloud, companies can track leads most effectively. The platform offers different tools that allow companies to track leads. From lead creation to conversion, the team can update everything in the most effective manner.
Schedule meeting with lightning scheduler
The lightning scheduler is a very useful feature offered by the salesforce financial cloud. With the help of this feature, your clients can request appointments for a financial consultation. The ultimate aim of this feature is to provide a personalized experience. This feature helps to book appointments in-person or via phone or video calls.
Einstein AI
With the help of this feature, clients can achieve their financial goals in the most effective manner. This feature allows you to identify clients who are facing difficulties in meeting their financial goals. Financial institutions usually face difficulties in understanding customer preferences or increased competition. In order to cater to this salesforce has introduced this feature. By using this feature, financial institutions can get smart and instant recommendations to enhance their overall services.
Salesforce surveys
This feature allows you to create customized surveys for your customers. The main purpose of these surveys is to understand whether the customer is satisfied with the services or not. Also, the overall results can help you to improve services and attain customer loyalty. You can also add different types of questions including the customer satisfaction score and many more.
How can you grow your business with Financial Services Cloud?
Salesforce financial service cloud helps you to offer personalized advice to clients. With the help of personalized service, you can gain customer loyalty. This platform helps to provide a 360-degree view of the client's profile. The salesforce financial service cloud helps you to stay ahead of your competitors. As a result, you can understand who your customers are, what products they prefer, and how they attain their financial goals. This platform offers effective data which allows you to offer highly personalized services.
Salesforce Financial service cloud focuses on the following things:
Offer a 360-degree view of clients
Automate the daily operation
Offer customized services
Manage client's financial operation in a smooth manner
If you want to enhance your operations then implement the salesforce financial service cloud. As per our experience, we advise you to hire a certified salesforce consulting company. With a credible partner, you can attain the desired result without facing any other difficulties.
What is the cost of Salesforce Financial Services Cloud?
Salesforce offers four different editions of the financial service cloud in order to fulfill the demands of different clients. The range starts from $225 and goes up to $450 US dollars. The minimum price range of this platform is for the enterprise edition. On the other hand, the maximum price range is for an unlimited edition which offers more features and customization options. You can decide on the edition as per your company's requirements. 
How can Financial Services Cloud assist me in complying with fiduciary laws?
Salesforce financial service cloud has a tool known as salesforce shield. Salesforce shield is a tool that focuses on monitoring apps, encrypting sensitive data, and offering other compliance features. This helps financial advisors, banking institutions, and others to follow regulatory compliances in the most effective manner. With the help of this platform, you can easily keep track of each activity. Furthermore, you can also understand your client's needs and maintain a long-term association. 
Data is highly secured as the salesforce financial service cloud offers effective compliance features. In addition, this platform gives access to premier security features including field audit trail, platform encryption, and many more to protect clients' data at any cost.
How can I transfer my current data to Financial Services Cloud?
The process of moving data from one platform to another is a complex process. That is why we recommend hiring a trustworthy salesforce financial service cloud expert. In addition, salesforce offers useful resources for data integration. As per the data, integrating data from the existing system to the salesforce financial cloud may require time as well as skills.
As per evidence you have to focus on a few things when uploading data to the salesforce financial service cloud.
Maintain a consistent naming convention to avoid any confusion.
Do not upload financial transaction data as it can override fields. If you do that, it may affect other fields and affect the overall process. You have to understand that this can be done automatically by the financial service cloud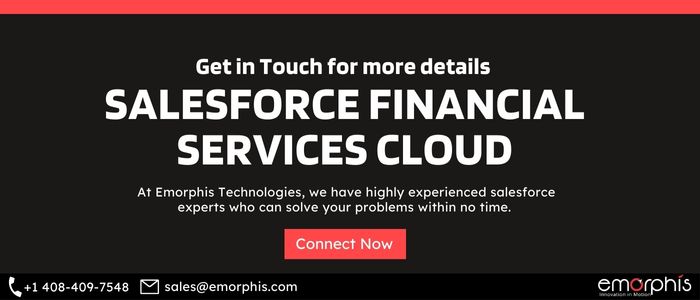 Connect with us for more
Now you may understand that this process is quite complex. That is why we suggest you hire a salesforce consulting services company.
If you're looking to hire salesforce consultants for your finance business, there are a few things you should keep in mind. First, salesforce consultants should have a deep understanding of the salesforce platform and its various features. They should also be well-versed in Salesforce financial services cloud. Finally, salesforce consultants should be able to provide customized solutions that meet your specific needs.
For your CRM needs, you may want to consider hiring a salesforce consulting company. While salesforce offers a great deal of customization and support, it can be difficult to navigate without the help of an expert. Learn about achieving business goals and boosting productivity with help of Salesforce Customization Services.
A salesforce consulting services company like Emorphis Technologies can provide valuable assistance in choosing the right salesforce products for your company, customizing salesforce to meet your specific needs, and providing training and support to ensure that you get the most out of your Salesforce investment. In addition, a salesforce consulting company can also offer valuable insights into salesforce financial services cloud and other salesforce products that can help your business save money and improve efficiency.
Contact our salesforce consultant today to learn more about how they can help your business.