Overview
The consumer is the king. This applies to the healthcare industry too. Over a decade now, healthcare has seen almost everything from changing patient demographics, rising healthcare costs, customer expectations, complex healthcare ecosystems, and whatnot. In this article, we will catch up with various healthcare challenges. Learn further to check how Redoxengine or Redox integration helps in overcoming the present challenges and provides healthcare interoperability. And also helps healthcare organizations, products, and various other stakeholders to see healthcare transition, performance improvement, and better financial operations in addition to better and quicker care delivery.
We have already talked about how healthcare app trends and digitalization are transforming healthcare in our previous blogs. Moreover, the digital transformation led to a process that needed mergers and acquisitions of the various health systems, horizontal and vertical. However, these technology tools couldn't work together considering the data silos and compliances. Hence, this is where clinical data integration is essential to connect and convert data from multiple sources into a single view.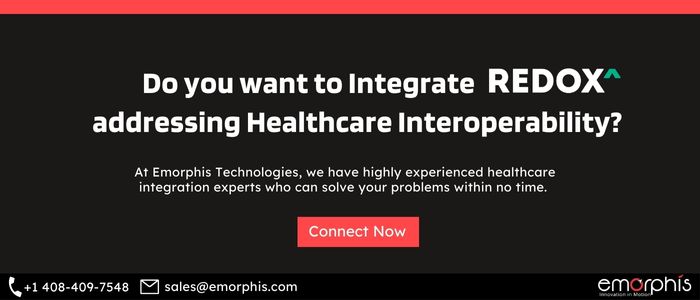 At Present
The Healthcare sector struggles with health integration platforms due to the unstructured data, and hence the massive demand for EHR and EMR platforms is on the rise. As healthcare providers are looking for enhanced care delivery, they are integrating with known EHRs such as Allscripts, Epic, Meditech, etc., to name a few. Skyquestt reports that the Healthcare IT Integration market is projected to reach USD 6,950.27 Million by 2027, at a CAGR of 11.75% over the forecast period (2020 – 2027).
The current healthcare integration scenario deals with EHRs combined with upgraded health technologies such as telehealth, mobile health, etc. Despite various updated technological tools and platforms, the interoperability of health information systems is challenging. There is no single health system that identifies and covers all the administrative, clinical, technical, and also laboratory needs of any healthcare utility. To add to this, integrating multiple healthcare stakeholders on a single platform is, again, a drawback. As the healthcare industry is highly information-intensive and touches various delivery points- patient records, medical diagnoses, physician records, insurance, also payments, etc., there is a greater need for integration that supports healthcare interoperability.
Healthcare Interoperability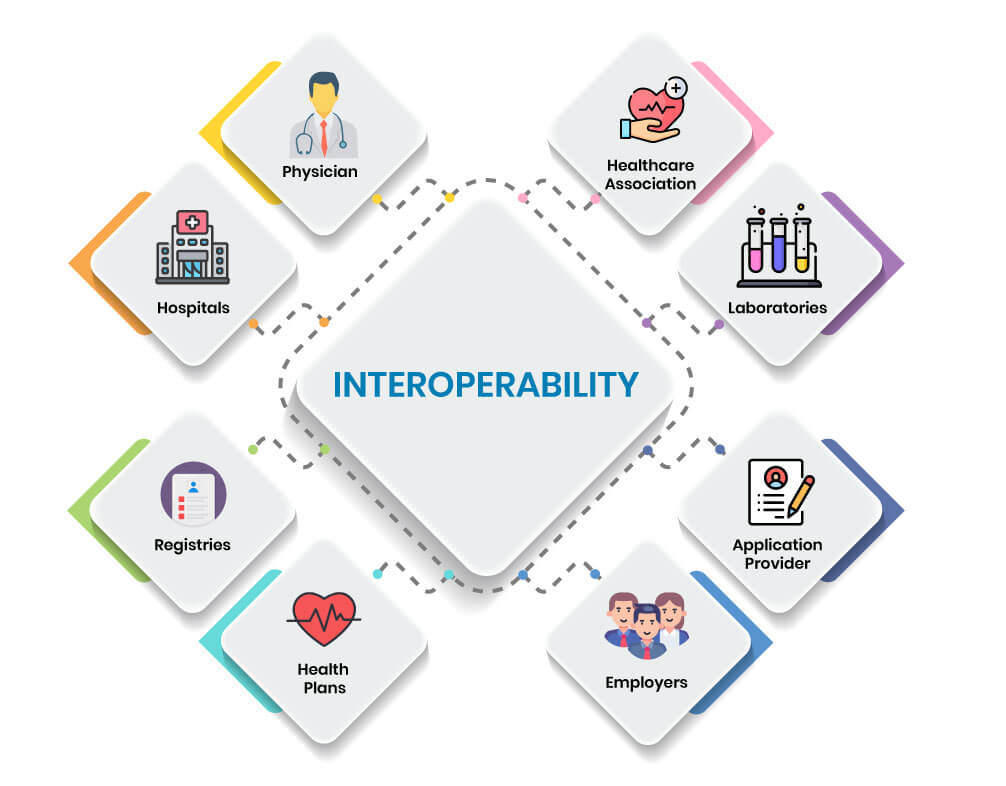 As a matter of fact, healthcare interoperability is complex. It has to be embraced strategically and consciously. In fact, it is a method that allows healthcare systems to connect & share, infer & integrate, and collaborate to use diverse applications, information systems, and connected devices. Interoperability assists systems from across regions, and also organizational boundaries to seamlessly optimize patient care through different levels:
Foundational or Base level that ensures data interconnectivity
The Structural and Operational level explains the data exchange format within an organization. FHIR & HL7 standards support structural level.
Semantic level for standardized coding to provide meaningful data exchange. For example, any format of data- medical imaging, diagnosis image, x-ray reports, etc is interpreted well due to the semantic interoperability level.
The organizational level that facilitates timely and secured data exchange within the organization
Interoperability is a vital concept that assists in:
Improving the quality of healthcare by providing real-time increased accessibility for doctors, patients, and other care teams.
Securing patient data as interoperability leverages a HIPAA-compliant environment.
Reduced healthcare costs because of streamlined care delivery
Reduced or no labor-intensive tasks.
Increased healthcare efficiency as interoperability streamlines collaboration.
Now, we know the importance of healthcare interoperability. However, it has its challenges. Let us examine and understand the barriers to healthcare data or information sharing.
The Challenges
Need for solid coordination between care teams, regulators, and healthcare stakeholders.
Modernization and legacy system migration to extract data from older systems.
Need for high custom data and technology so that while the systems are on the update, the data keeps moving in the background.
Budget constraint is yet another challenge as interoperability requires expert technical resources.
To navigate through these challenges, it is essential to rigorously structure and prepare data. Adopting the API first approach is another method to steer through the obstacles.
But doesn't it sound like too many things to do to obtain interoperability?
Let us take a use case to understand this better.
Scenario
A large healthcare establishment has acquired various clinics from remote locations across a region. Every clinic uses its own EHR and EMR system but is not sharing the data. To bring all the entities on a unified platform and ensure interoperability, integration is the key. Following are the ways to achieve it:
Building data interpretation for individual EHR, and EMR, establishing the connection. Through this, one clinic connects with the other. However, this is a cost-intensive method as individual EHR requires a separate developer. Also, it is time-consuming as you need to implement protocols for individual clinic EHR systems.
To provide an intermediate layer that connects all the EHR systems. This is where REDOX integration comes into the picture. Redox is the fastest way to scale your healthcare integration.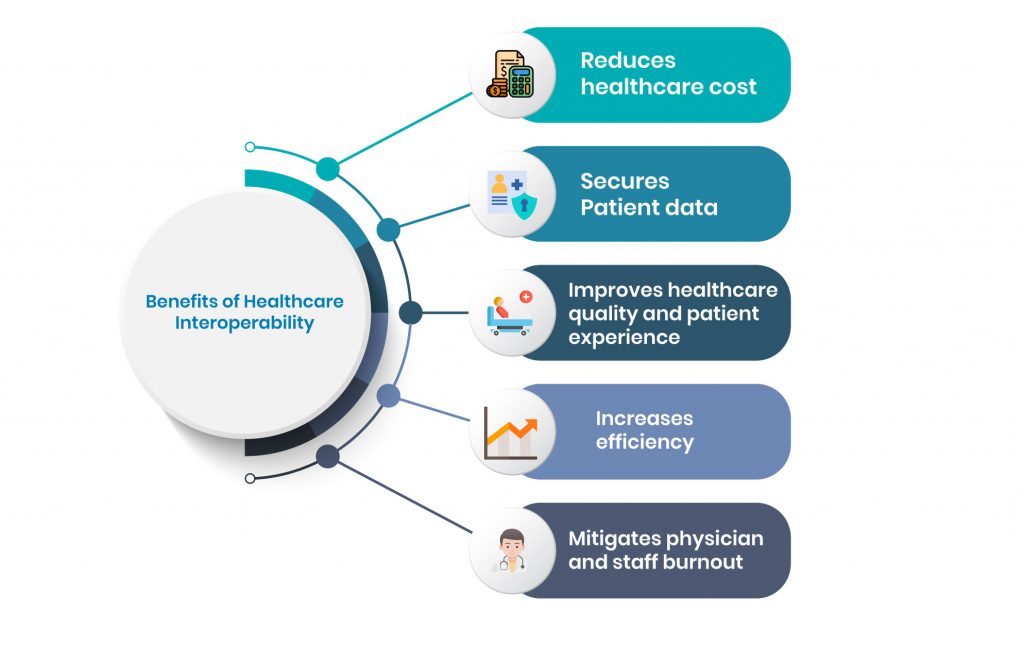 What is Redox? Why is it the talk of the town?
If you are from the healthcare industry, Redox is the buzzword these days that you might consistently come across. Let us just simplify for you to understand Redoxengine better. In fact, if you are to integrate EHR or EMR systems from multiple facilities, here are the basic steps that ideally need to be followed:
Extracting data from the hospital or clinic EMR and EHR.
Pushing back the new data to the EMR and EHR.
Creating and defining rules to govern how this data flows through the system.
Ensuring correct data mapping (for multiple formats-imaging data, images, reports, and others).
Creating a notification and monitoring system for data alerts.
Doesn't this sound like a messier integration?
That's where Redox or redoxengine, an industry-leading platform for interoperability, helps. As a matter of fact, Redox integration provides a sole, secure API endpoint that associates, connects, and integrates provider EHRs with various healthcare services and products.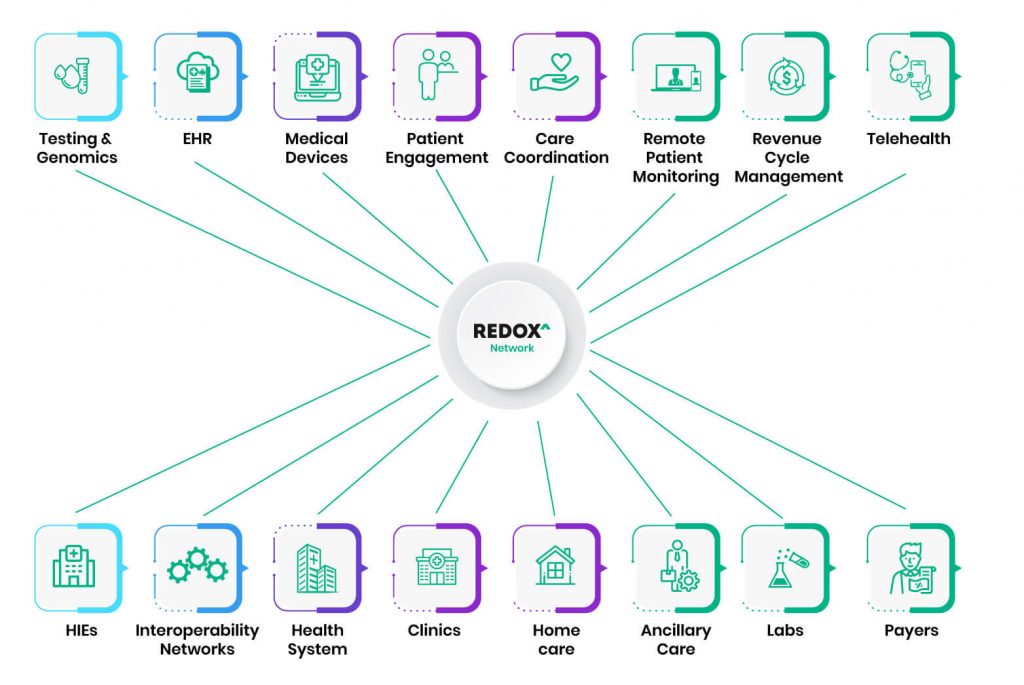 Electronic Health Records or EHR are the heart and soul of the healthcare ecosystem as it stores all the crucial clinical data. Now, there are healthcare solutions like telemedicine and m-health apps that connect patients and care delivery teams. But for doctors to provide remote or virtual care through telemedicine or e-prescribing, it is essential to have all the patient clinical data, including medical imaging, in a single place for better diagnosis and care. This is possible if the clinical data is accessible through the telemedicine platform.
This is where Redoxengine assists in EHR integration to harness clinical & business data to provide new insights, gain experience and improve care. Redox combines a full suite of APIs and an integration-as-a-service platform for healthcare data exchange with just one connection.
Now, let us understand the functions of Redox.
How Does Redox Integration Work?
The Healthcare ecosystem combines healthcare providers and an interoperability network that utilize various healthcare software systems, which need to be interconnected.
Redox API is an integration engine developed to read or write to any FHIR endpoint, HL7v2 message, CCDA Document, imaging & CSV, or other document formats. These are then translated to JSON and represented as a single API interaction. With a single Redox API, you can connect applications to various systems without thinking much about the quantity.  
The Redox Platform lets organizations connect and network with a wide variety of healthcare-related data through a steady, standardized, REST-inspired API. Our platform is based on our truly-standardized data model format. It uses HTTPS communication with JSON to allow users to securely and conveniently build the next generation of innovative healthcare applications.
For example, different EHRs have different reading & writing notes. In a typical integration, the development team has to figure out the format, API calls, kind of secure connections, individual protocols, etc. But in the case of Redox, all you have to do is integrate the API, and the redox platform takes care of the rest.
One of the best benefits of Redox is that it connects with around 80+ EHRs and more than 1000 healthcare organizations. It is convenient to say that you think of any known EHR, and redoxengine has the read and writes capability for it.  
Redox Integration Features
With Redox health, in fact, it is just a single connection to any platform and it enables interoperability between legacy systems, EHRs, and any other cloud-based applications. There is a wide range of data standards and communication preferences available in the centralized architecture. Redox healthcare integration provides solutions for almost the entire continuum of care by offering workflows for software platforms. Let us understand the working of Redox workflows:
Telehealth: When the healthcare provider schedules a virtual appointment in EHR, Redox passes this appointment to the telehealth vendor who generates an encounter summary & code that is sent back to the EHR. Through this workflow, Redox connects the telehealth platform with EHR. 
Patient Engagement Solutions: The Redox workflow for Patient Engagement solutions supports better care team experience, medication compliance, and also post-operative recovery programs. When a patient is discharged, a discharge notification is triggered by Redox to the patient engagement solution. All the activities like exercise, progress, medication and compliance notes, etc are recorded in Redox. It then writes a code back to the EHR, and the post-discharge progress is recorded or viewed by the care provider.
Remote Patient Monitoring Software: This is one exciting workflow that generates and provides clinical information when the patient is far from/ outside the hospital. A provider has recommended a medical device for a patient. The patient then orders the device, and the order is received by the manufacturer. The order is shipped and received at the patient end. When the patient starts using the device, the manufacturer gets the readings and associated patient data and sends this information to Redox. Redox then writes to the EHR, and the provider can track patient data right from a remote location.  
Redox Features
In the Redox health network, all the data exchange travels through a transformation process to ensure system compatibility (sender and receiver system).
Redox provides a convenient dashboard for the developers to track data transactions, errors, testing, and also documentation.
It is completely vendor supportive, which means you can read and write for almost every EHR, PMS (Patient Monitoring System).
A consistent JSON schema to normalize HL7, FHIR, X12, and CDA.
Includes more than 23 data models that facilitate healthcare workflows.
The data on Demand feature of Redox is a pre-built integration structure that reduces the technical burden of handling a volume of messages.
The single sign-in feature of Redox makes it convenient for providers to launch products from within EHR.
EHR Integration and Interoperability Challenges Addressed by Redox
Whether you are using Epic, Allscripts, Cerner, or any know EHR solution, there are technical challenges involved.
These are:
Standardization of information.
Higher integration costs.
Privacy and security challenges.
Outdated/ legacy system use.
Multiple medical records.
Unique patient identifier.
Human Errors.
Missing data or information.
Interface discrepancy.
Patient Id errors.
Furthermore, the known EHRs follow their workflows and store clinical data in different formats. As a matter of fact, it is not made to connect with any healthcare software. This means it causes interoperability issues and poses higher security and also data privacy risks.
Hence, to save time and provide you with the most accessible and affordable way of healthcare integration, Redox provides a single-purpose API that establishes links between all the popular EHRs, customized EHRs, and healthcare software.
Therefore, regardless of the EHR in use, Redox makes it possible to design and deploy web or mobile health applications for your healthcare facility.
How does Redox Work?
Let's discuss the Redox integration with some well-known EHR platforms and how it works.
Allscripts EHR
Redox connects healthcare software or any other application to your AllScripts EHR using HL7, Allscripts's proprietary API, and FHIR® API for the read and writing of healthcare data. The healthcare integration service providers or vendors like Emorphis Technologies standardize EHR connection into a JSON API, and the customers are ready to receive a product with full features and functionality.
Epic EHR
In fact, Epic EHR is widely used to support patient care, which includes registering and appointment scheduling; clinical systems for care providers and doctors; systems for healthcare technicians, technologists, pharmacists, and radiologists; and also insurance & medical billing systems for patients. These systems require a lot of control, and also two-way communication. As a matter of fact, for Epic EHR, Redox's cloud interoperability API has team up with Epic's proprietary API for connecting healthcare data. In fact, Redox provides the fastest Epic EHR integration.
Cerner EHR
Cerner Millenium and Cerner Sorian are two proprietary EHR applications by Cerner. Redox assists in integrating cloud applications for patient-centric payment, orthopedic supplies, oncology, surgery, and also point-of-care test data to the Cerner EHR platform.

Also, you can check out the tens of thousands of businesses that are already linked to the Redox network.
Redox platform integration works on a standardized data model.
It uses JSON with HTTPS communication allowing users to build secure and convenient healthcare applications.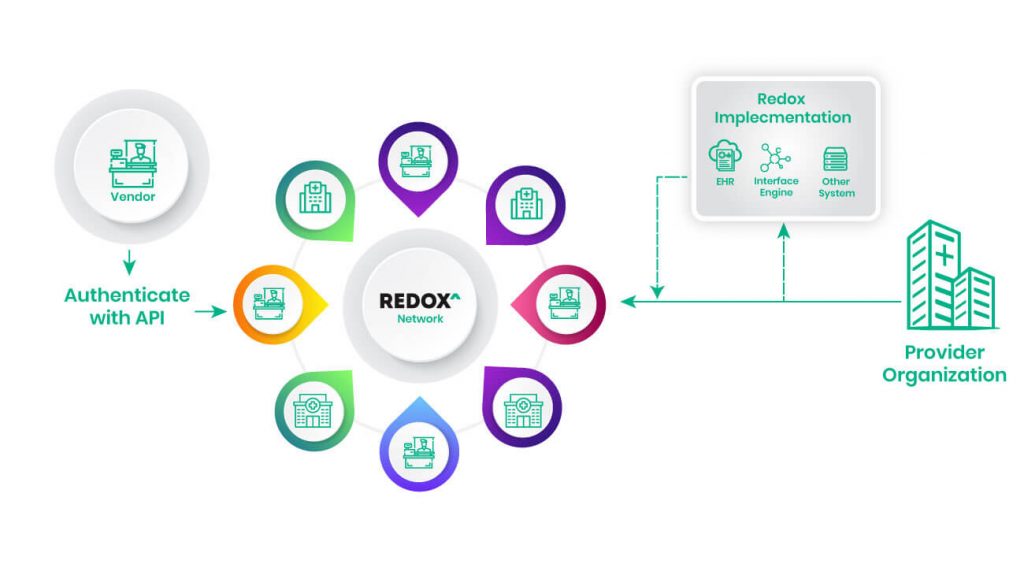 Integration through includes:
Interoperability resources/communication methods like HIPAA-eligible services, Web Services, MLLP, SFTP, XDR, XDS.b, FHIR works, healthlake, AWS, etc.
Redox administrative console.
Healthcare adapter library that provides connectors to numerous vendors and standards like HL7v2, CDA, X12, FHIR, and Vendor APIs.
Redox engine that assists in standardizing, filtering & routing messages.
Redox network, which includes more than 100 digital solutions, 85+ EHRs, and 65+ HIE/HIN and public health solutions.
Connectivity Management.
Standardization or translation layer.
If you are a healthcare establishment looking for interoperability, getting into the Redox ecosystem is the best decision. As a matter of fact, integration through Redox requires minimum development as the technical mapping is already in place with well-known EHR providers, HIEs, and the industry's leading healthcare cloud technology solutions.
The provider ecosystem of Redox includes Hospitals, Academic Medical Centers, Specialty Clinics & Hospitals, Clinical community centers, Care Facilities, Home Health Agencies, and more.
The vendor ecosystem of Redox includes Telemedicine, Care Coordination, Population Health, precision medicine, e-clinical solutions, remote monitoring, and more.
Data Flow in Redox
Let us understand the data flow in Redox as we progress to know it's working.
Redox is an API layer with an integration engine that can read or write and translate any message to JSON. These messages could be HL7v2 messages, CCDA or CSV format, FHIR endpoint, or other document formats.
Redox integration engine exposes the entire transaction as a single API interaction.
With Redox there is no tension about VPN management or multiple verification credentials. As there is just one VPN to maintain for all the solutions connections.
Technology vendors, they can establish connectivity to on-premise systems to operate seamlessly on the cloud. For providers, the integration team works in collaboration with the provider IT team to maintain a single connection.
Let's check out more as we move forward, let's comprehend the data movement in Redox to ensure its effectiveness.
Redox integration ensures the health data is compatible with receiving system through the transformation process. For every organization, there is a unique data specification. Which is conveniently translated through the Redox data model, creating a node. Furthermore, this node with organization-specific data builds a specific configuration to enable the transition.
The data translation or normalization or standardization is through a redox engine. As a matter of fact, that responds to queries, events, and subscriptions.
Integration through Redox offers an additional concept layer for EHRs that powers traditional or legacy workflow queries, which were impossible to address.
Redox integration enables 'subscribe and receive' workflows through web services and interfaces. As soon as any critical update or information is received in a health system. The subscription workflow assists in receiving information from across the customer base.
Integrating through Redox provides you with healthcare data at the right time. Whenever a query or data is demanded, Redox receives the query from the application. Then the "API pass through" standardizes the message and translates it into a synchronous response. Further, the Redox engine queries the source system to identify new data, decodes HL7 into JSON specification, and posts it back to the application's call-back URL.
Redox APIs use standardized JSON data models- event-based and query-based.
Event-based data model: Whenever a user takes any action on the EHR platform like patient registration, appointment booking, remote session scheduling, etc, a message is triggered. This message is then pushed to established real-time data transmission.
Query-based data model: In the query-based model, the clinical data stored in EHRs is drawn through request, and the data is then translated and sent to the application on demand.
How to Set Up for Redox integration?
To start with, you need to sign up with redox to get a set of developer credentials, API key, and API Secret from Redox. Once the developer begins, it is provided with connectivity to a sandbox environment representing the EHR (which needs to be connected with the healthcare software). At the same time, the developers also receive the collection of workflows to configure the environment concerning Redox API credentials. Once the environment variable is set up, it publishes a message to Redox sandbox EHR to test the connection.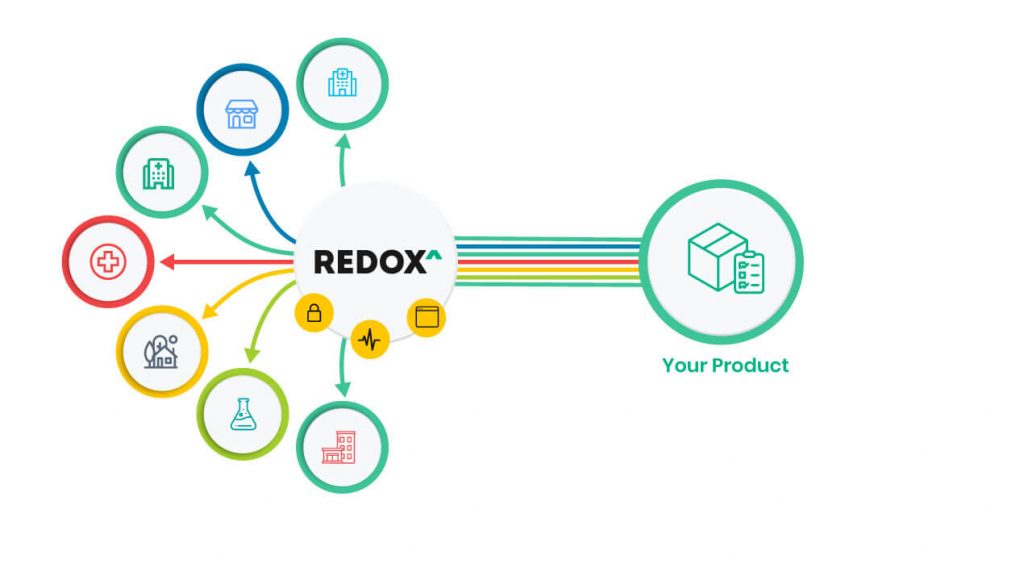 For testing, a simple clinical data request is sent to redox. This request/message can be viewed on the Redox admin console, which represents that the message is been received. And from here, the messages are sent to numerous health systems and EHR responses.
Supported Integrations with Redox
A healthcare scenario witnesses multiple use cases. Each use case requires integration with applications and a unified view for seamless healthcare delivery. However, sometimes mandate-supported and non-supported integrations become crucial factors for interoperability.
Let's discuss the required general integrations for the most common healthcare use cases.
Use Case
Integration Required
Patient Registration details
– FHIR API query
– PDQ Webhook
Patient clinical record view
– Medical record query
– XDR/XCA query
– FHIR API query
Appoints booking and viewing
– Storing messages (HL7v2 events)
– Appointment scheduling and booking API query
– Appointment API polling for notifications
Manage appointment
– Calendar- API for available slots
– Scheduling- HL7v2 events for sending messages
– API posting for booked appointments
For the above use cases, the FHIR API query is the mandate-supported integration. The other lists are non-support integrations but are essential. Redox integration takes care of all these and makes the integration process more manageable. Healthcare providers work with many healthcare products and solutions vendors. Thus they require interoperability to deliver better healthcare. What could be better than redox integration as a single API covers all the required integration capabilities.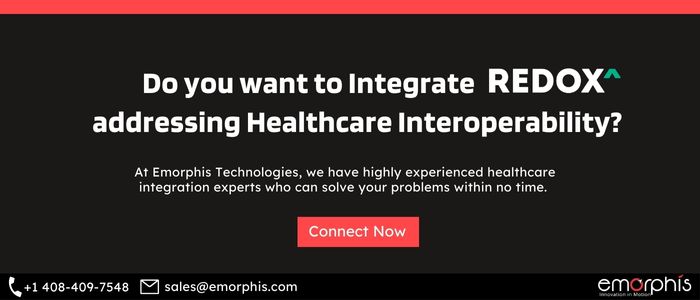 Cost of Integration
Healthcare software and application integration with EHR involves integration design, standardization and normalization, data migration, and monitoring. It also requires continuous maintenance and support, considering the crucial volume of data involved. The entire integration process thus costs a lot, given the various resources and licenses needed at each step.
With Redox integration, you can save on integration costs by up to 50% and can also reduce development hours by more than 65%. Redoxengine has a flat platform access fee and has a standard and premium subscription. The Premium subscription allows customization, and hence the cost depends on the custom requirements.
The redox engine pricing varies depending on the size and complexity of the system. Ultimately, the price of a redox engine is a significant investment.
Check the latest pricing here.
The Way Forward
If you are looking for integration with EHR that endows with bidirectional data exchange in real-time with digital transformation enablement, Redox integration is the word.
All you need is to connect once, and it immediately scales the next-gen innovative healthcare solutions. Similar to how the movers and packers make your shifting convenient, as a matter of fact, Redox integration makes it suitable for the healthcare ecosystem. If you are a healthcare provider looking to integrate cloud healthcare applications, Emorphis Technologies can assist. Get in touch for Redox integration services. Interoperability is the key when opting for Redox integration. It supports all the healthcare standards such as HL7, FHIR, DICOM, and C-CAD, and facilitates care transactions. With expertise in integration through redox, we can help integrate digital health solutions and payers with your EHR.