The working of an enterprise can be defined as one legal entity with the right to do business independently. It is primarily a large-scale business organization in the public and private sectors. With technology, these large enterprises do look out into various aspects when it comes down to making an informed decision on whether they will be adding something new in terms of their digital strategy; one area where this has become increasingly popular is with regard to enterprise mobile app development or enterprise application development. Also, enterprise mobile application development or enterprise app benefits the organization to gain ROI for the business. How does it help? Read further to know the benefits, types, and costs of an enterprise solution and mobile application development.
Overview
As a matter of fact, an enterprise can be categorized according to its size, niche, and business purpose, such as multinational organizations, SMBs, government organizations, etc. The most common criterion to define an enterprise is its number of employees. Micro-enterprise has less than ten employees, SMEs (Small and Medium Enterprise) have less than 250 employees, and Large Enterprise has more than 250 employees.
What differentiates these enterprises is that the employees in a large-scale and SMB setting need a tremendous amount of information from multiple departments such as finance & accounting, marketing, sales, purchasing, invoice, human resources, and service. The data from all these departments can be handled through specific resources under the job role, such as sales personnel, human resource executive, finance person, etc. To sum it up, an enterprise is a collection of a large number of resources and departments interconnected.
Almost every business process is digitized; hence, every business enterprise, large or small, is entering a connected world with all its resources like customers, vendors, and employees. An enterprise has multiple departments such as finance & accounting, marketing, sales, human resources, and service. Communication, scheduling, supply, delivery, and moreover decision-making are some of the key areas where today's organization has various pain points. Today, enterprise mobile app development or enterprise app do provide mobility to enhance and address these pain areas. However, managing an enterprise with more than 250 is not easy; thus, the enterprise uses various scalable cross-platform applications for its day-to-day management and facilitates business needs.
What is Enterprise Application?
As we are now aware of what an enterprise is and also know that technology can push for digital transformation, we can dive into what is an Enterprise application and further its benefits and cost? 
An enterprise application is a tool that assists various business functions in working together to boost productivity and optimize business processes. The enterprise application aims to integrate core business functions/ processes: marketing, sales, procurement, inventory, customer relationship, and services. The enterprise applications system controls and moderates all business processes by getting deployed on the cloud across a variety of platforms & networks.  Cloud computing services provide organizations with several opportunities to undertake digital transformation and alter how they employ information technology.
Enterprise application software is developed to enhance the Enterprise's productivity, efficiency and profit by supporting business logic. Also, enterprise applications are about display, manipulation, storage of massive data & enterprise automation at large.
Why A Business Needs Enterprise Application Development?
Numerous tasks are required to run any business. Today's digitalized customer world needs seamless, efficient & quick service, customer satisfaction, and increased employee engagement.
It is where businesses need enterprise mobile applications to make themselves viable, efficient, and competitive. Let's discuss how enterprise application development benefits your business:
1. Productivity
Enterprise apps facilitate mobility at the workplace enabling better collaboration and coordination for project management. This enterprise mobile application allows seamless interdepartmental and customer communication, making the processes faster and streamlined. The most attractive benefit of customized enterprise applications is improved productivity. This leads to increased productivity and brings flexibility to the system.
2. Cost-Effective
An enterprise functions well when it stays connected to the latest digital transformations. It means the enterprise apps should integrate with various emerging technologies such as IoT, Artificial Intelligence, Big data, etc to add value to the business. An enterprise application development company can help you design the app and integrate advancements to bring in automation, thereby saving huge costs on individual app development.
3. Automation and centralized control
Any business is full of repetitive and mundane tasks that employees might avoid and miss on deadlines making them less efficient. This is where automation through enterprise apps comes in, where the jobs are automated, and employees can shift their focus on the priority and core tasks. This helps in attaining incorporation and further helps in the production or supply chain.
4. Save Time & Effort
Feature-rich enterprise apps can make retrieving and sharing data convenient with cloud technology. Enterprise apps make data available anytime and on any device, saving employees time and effort.
To explain further, enterprise mobile app development has become increasingly popular in recent years, as businesses look for ways to improve workplace efficiency and productivity. enterprise application development can help to make data retrieval and sharing more convenient, through cloud technology. With enterprise apps, employees can access data from any device, at any time. This can save a lot of time and effort, as employees don't need to be in the office to retrieve data or files. enterprise apps can also help to improve collaboration, as team members can share data and work on projects together from any location. As enterprise mobile app development continues to evolve, we can expect even more conveniences and benefits for businesses and employees alike.
5. Security & Real-time data analysis
Enterprise applications have multi-factor authentication (user authentication) for securing sensitive data. This ensures enterprises of data security while sharing. Enterprise manages various functions and hundreds of stakeholders. The real-time analysis enables efficient data processing and decision-making. Further data sharing to all is easy.
6. Cloud Storage
Storing data in the cloud makes data accessible from anywhere. The push notification feature of the enterprise application gives reminders of the task, upcoming events & updates, even when employees are not using the application. Apart from this  instant messaging feature, the application keeps the connected organization with employees &other related /associated persons.

What Are Various Types of Enterprise Applications?
Business Intelligence
Business Intelligence (BI), works as it pulls data from data sources and allows you to run queries that draw out insight from these sources. The market is dynamic, and BI enables the enterprise to assess the situation and forecast, indicating business progress. This gives an edge over competitors. Business Intelligence apps use charts, graphs, and tables to help businesses make correct decisions. It is part of the toolkit of the industries such as construction, recruitment, healthcare & IT.
Customer Relationship Management (CRM)
The CRM application gives an idea about where you are with your clients. It pulls out the customer contact information and details of when and how you were in touch with your client. CRM keeps the enterprise team aware of all stages of client communication. It indicates that the team knows when they interact with clients/customers via phone, email, and social media. Now each enterprise with CRM has increased revenue and automation.
As a matter of fact, CRM application development and implementation are essential for today's businesses that want to optimize their customer relationships. A CRM solution can help businesses keep track of customer data, manage sales and marketing activities, and automate customer service tasks. However, developing and implementing a CRM system can be a challenge, and it is important to partner with an experienced development team. Also, enterprise businesses can particularly benefit from CRM integration, as it can help them better manage their customer relationships. By integrating their CRM system with other business applications, enterprises can gain a better understanding of their customers and build more efficient processes.
Click on the link here to read on to check why investing in salesforce integration services will transform your business.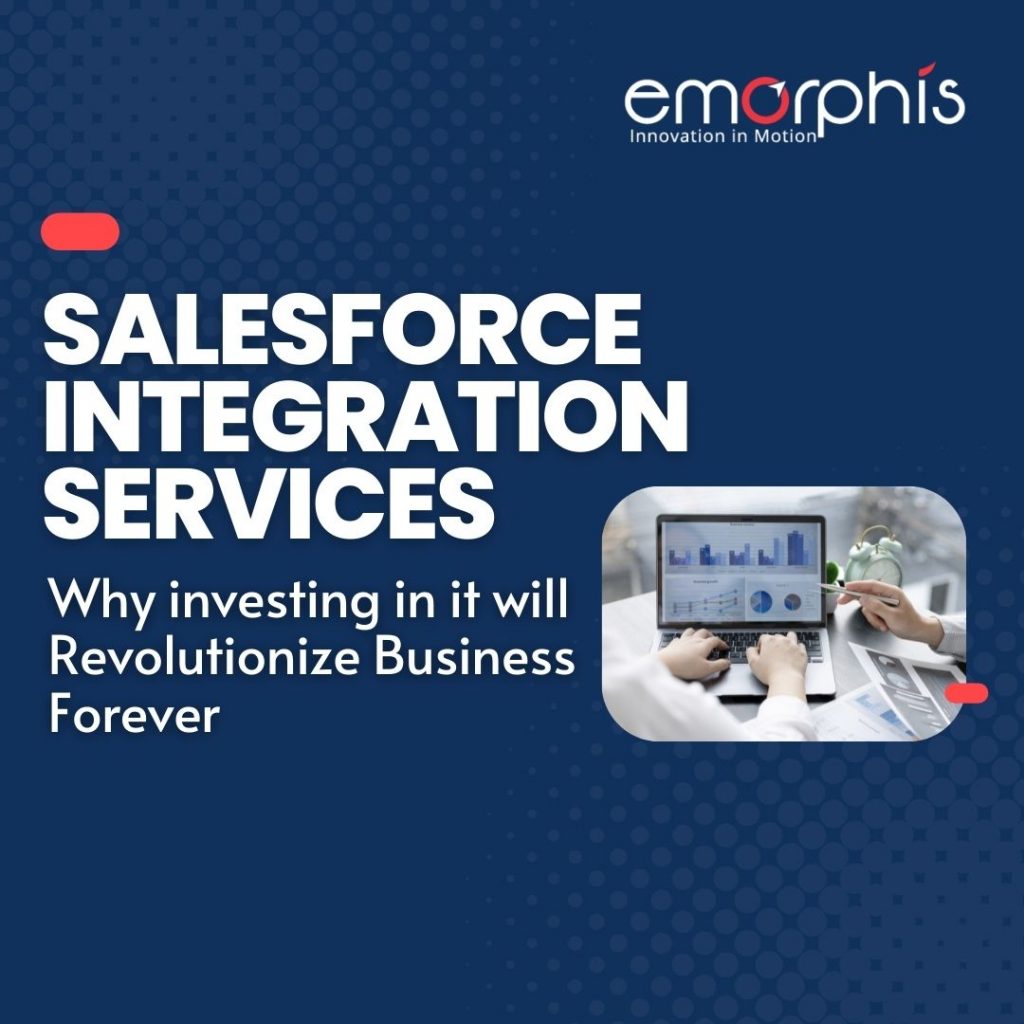 Treasury Management System
As the name suggests, the Treasury Management System (TMS) gives an idea about money in the organization. It helps track and predict cash flow, debt management, mitigate FX risk, and free money for investment. 
Enterprise resource planning (ERP)
ERP is the heart and brain of current enterprises. It mitigates errors and creates an amalgamation of data. Enterprise resource planning software solution consists of numerous modules; each module digitalizes a different business segment. Such as accounting, customer service, business process, order and hr management, e-commerce, etc. ERP helps an enterprise plan its resources by merging all processes required to run the enterprise. An ERP application can combine planning, inventory purchasing, sales, and marketing.
As a matter of fact, Enterprise resource planning is a business process management software that integrates all the essential processes of an organization as explained above. Enterprise resource planning systems are designed to streamline enterprise-wide operations and reduce costs by automating repetitive tasks and centralizing data. In recent years, enterprise mobile app development has emerged as a popular way to extend the capabilities of ERP systems. It includes customer relationship management, field service management, enterprise content management, and enterprise asset management. Enterprise app development platforms offer enterprise developers the tools they need to quickly build and deploy enterprise apps. With the right enterprise application development platform in place, organizations can reap the benefits of enterprise mobile app development while minimizing the risks.
Human Resource Management (HRM)
When managing more than 250 employees for your enterprise, it becomes difficult to get good candidates. An enterprise is not all about hiring employees. It also contains their payrolls, management, planning, performance, reporting, etc. The task automated with HRM is recruitment, payroll, workforce management, performance management, and employee training & management. The HRM applications like Oracle, Workday, and SAP allow a business to manage these things with ease.
Supply Chain Management (SCM)
Every enterprise that is into manufacturing needs to manage storage, shipping, procurement, etc., although different people from different departments take care of these things. Still, for multi-location enterprises, it is impossible to do without having an application by their side. The Supply Chain Management application helps ensure a stable supply flow for continuity in production and delivery.
Marketing Automation
Marketing is a crucial aspect of a business. There are various marketing methods like an ad campaign, email marketing, tracking, etc. With the Marketing automation application, you can create an automatic lead generation funnel to help them gather email addresses and send a demo. Marketing automation tools can also assist in scheduling marketing content for social media promotion.
As a matter of fact and to explain further, today mobile apps are essential in the modern business landscape. Not only do they provide a convenient way for customers to interact with your brand. Also, it offers a wealth of data that can be used to improve marketing efforts. However, developing and maintaining a robust enterprise app can be a daunting task. This is where marketing automation comes in. By automating key marketing tasks, such as customer segmentation and campaign management, marketing automation can help enterprise marketers focus on more strategic tasks, such as developing new creative assets and analyzing customer data. In addition, by integrating with other enterprise systems, marketing automation can help streamline processes and create a more coordinated approach to digital transformation. As a result, marketing automation is an essential tool for enterprise marketers looking to make the most of enterprise mobile app development.
How Much Does Enterprise Application Development Cost?
The enterprise must recruit various IT experts to develop an error-free, efficient application, which is a financially cumbersome proposition. The cost of application development varies depending upon the enterprise's business requirements, type of functionalities, tech stack, and app complexity. The average cost estimate is around $25,000 to $70,000 for small or medium enterprise applications. The large enterprise application is complex and further needs planning for integrating various functions and features. Thus the best option is to get an enterprise app development company as a partner and evaluate to access the various needs for enterprise application development or integration. Also, the experience of the partner will help attain the best options in a quick timeline. You can reduce the enterprise application development cost by outsourcing software product development to vendors like Emorphis Technologies, which has the experience and expertise to develop enterprise apps.
ROI With Enterprise Application
Any business or organization looking to increase their enterprise applications should do so with the assurance that they will see a return on their investment. ROI, or return on investment, is a metric used to evaluate the performance of an investment. In order to maximize ROI, businesses should focus on increasing efficiency, lowering costs, and improving customer satisfaction.
Any company or enterprise that wants to keep up with the competition and maintain a good ROI should consider enterprise app development. Enterprise apps offer many benefits that can help to improve productivity, streamline workflows, and improve customer service. For example, enterprise mobile apps can be used to access data and applications remotely, providing employees with the flexibility to work from anywhere. As a result, enterprise mobile app development is a wise investment for any company that wants to stay ahead of the competition. ROI is assured as enterprise application offers:
New revenue opportunities
Accelerated time-to-market for products and services
Penetration of new market
Increased customer engagement
Enabling rapid response to customer demands
Conclusion
Enterprise app development is the process of developing software applications for businesses and other organizations. Enterprise apps are designed to improve business productivity, communication, and collaboration. Also, Enterprise app development can help businesses save time and money, increase efficiency, and improve their competitiveness.
If you want to transform your business and boost efficiency through enterprise apps, Emorphis Technologies is your right enterprise application development partner. We develop an application that automates enterprise business, handles technical challenges, reduces the cost of operation, enhances profit, and multiplies ROI. There are many reasons to choose us for enterprise app development. We have a proven track record of developing enterprise mobile apps that drive business results.
At Emorphis Technologies' we have the experience and expertise to develop custom enterprise applications that meet your specific needs. Our team includes designers, analysts, and developers who partner with you for the best resource planning and development of the best enterprise apps. We also offer enterprise and software consulting services to help you get the most out of your investment. In addition, we offer enterprise support and maintenance services to keep your app running smoothly. Contact us today to learn more about how we can help you achieve your enterprise goals.
Connect with us to get expert advice on enterprise solutions!