Overview
The technology gap in the healthcare industry is reducing because of healthcare app development. It has also been identified that mobile apps have allowed people to manage health, promote healthy living, and have easy access to all the essential information. As per the research, the value of healthcare will be around $56 billion in 2020. The market size is expected to grow by 30% from 2021 to 2030. According to projections, the US market for mobile health apps would increase by US$5.139 billion by 2026. People have grown more proactive when it comes to health issues as a result of the USA's constantly shifting lifestyle.
Additionally, 54% Of Adults in the US are using wearable devices to monitor blood pressure, sleep patterns, sugar levels, and many more. Also, These statistics show the use of the application among the people who have now got a handful of benefits to access healthcare on the go. Let's check some of the benefits of healthcare applications.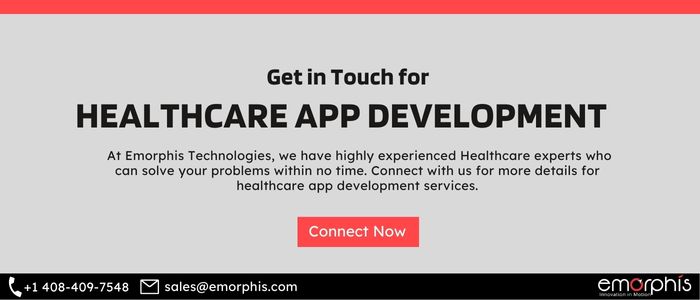 Benefits of Healthcare App
A. Enhances patient engagement
In the current times, quality care has become a very important thing for patients. Furthermore, healthcare apps allow the patient to access information related to prescriptions, appointments, and many more. Healthcare professionals often face difficulties in connecting with patients. The advent of healthcare apps has resolved this issue. Also, the relationship between providers and patients has improved most effectively. In addition, mobile health app allows healthcare providers to monitor patients' health virtually.
B. Timely care even in remote locations
Healthcare apps have become highly suitable for remote locations. As a matter of fact, people living in remote locations can connect with their doctors without visiting hospitals. Also, with the help of mobile healthcare apps, doctors can offer effective guidance within no time. Furthermore, regular visits to clinics could be avoided with the help of healthcare apps. Hence, high-quality care can be offered by providers even in remote areas.
C. Secure payment process
With the help of healthcare apps, patients can easily pay their healthcare bills without any issues. Also, highly secured payment gateways encourage users to make online payments most effectively
D. Real-time monitoring
IoT-connected healthcare applications offer real-time monitoring that allows doctors to gather crucial information. With the help of this data, doctors can make informed decisions. Quick access to data also allows providers to offer great services to patients. As per the evidence, the IoT healthcare market is increasing rapidly. It is expected to reach $292.83 billion by 2030. In addition, IoT collaborates with medical apps to offer exceptional care to patients.
E. Improves accuracy of diagnosis
With the help of healthcare apps, doctors can access a patient's history within no time. Also, the risk of misdiagnosis can be reduced to a larger extent. Furthermore, the healthcare apps record patients' information accurately so providers can give the right prescription without any delay. Even if the patient goes from one healthcare to another, the data can be easily extracted by the providers.
Now, let's check some of the types of applications which are benefiting the above features.
Types of Healthcare Apps
Healthcare apps have become highly crucial for people all over the world. As per the data around 51,370 apps are available on the app store. As a matter of fact, to develop a healthcare app, it is necessary to understand what are the different categories to differentiate the apps. Let's have a look at different types of healthcare apps.
Telemedicine app
Covid19 outbreak has increased the need for online consultation. Hence there is a trend in telemedicine app development and telehealth app development. Healthcare providers all around the world have understood the potential of online consultation. Also, telemedicine has become very important for healthcare providers as it can offer high-quality services in remote areas. In addition, telemedicine is cost-effective, time-saving, and improves healthcare outcomes. With the help of an amalgamation of technologies making avail of various features. Today telemedicine app development solutions have various features like appointment scheduling, chat, video call, and payment gateway integration which has helped healthcare professionals maintain quality and offer effective medical care to their patients.
Hospital Apps
General hospital apps help hospitals to promote their services most effectively. This type of app includes all the necessary detail about hospitals including a list of doctors, different types of services, and many more.
Main features of a general hospital app:
Hospitals can use general hospital apps as a promotional tool
Helps patients to check the list of doctors available in a hospital
Provides information about the services offered by a hospital
Patients can check the waiting time of an urgent care unit
Health Lifestyle App
After covid people become highly conscious about their health. In order to maintain a healthy lifestyle people are using different types of lifestyle apps. As per the evidence, the health and wellness apps market is growing at a rapid pace. These apps are estimated to be valued at around US$1.6 billion. With the help of these apps, you can monitor several steps taken during a walk, calorie count, sugar intake control, and many more. These are some of the habits that patients try to improve. In addition, healthy lifestyle apps also include different categories like monitoring apps, fitness tracking apps, exercise guides, and many more.
Main features of a lifestyle app:
Gives Push notifications to remind things
Recommend diets
Regular check-up reminders
Diagnosis assistance apps
With the help of this app, patients can access different records. In addition, it helps a patient to check lab test results, electronic charts, and many more. These apps also help to check or book appointments so that patients can take maximum benefits of the services. These apps offer various benefits like online consultation, report generation, and many more. One of the major benefits of this app is that patients living in remote areas do not have to travel to the hospital to get medical reports.
Main features of Diagnosis assistance apps:
Patients can easily access their reports
Easy access to Lab test results report
Contains all records of the patient's history
Reminder apps
Medication adherence is one of the important things for chronic disease management. In addition, there are various factors that affect the treatment cycles of a patient suffering from chronic diseases. Factors like improper understanding of medications, decision to stop the medication, forgetting to take medicines, and many more. These types of apps have become highly useful as it reminds patients about the dose timings, quantity, reminders, warning related to medicine, history, and many more. For instance, the patient suffering from diabetes can track their sugar level, manage it through medicines and check the results anytime.
Main features of Reminder apps:
Track and record patients' history
Automatic reminders and notifications
Can be connected to other gadgets
Remote patient monitoring apps
As per the data, Remote patient monitoring apps are highly beneficial and economical for healthcare organizations. Research has also specified that remote monitoring reduces the chances of errors and strengthens the relationship between providers and patients. Furthermore, patients can check the availability of a doctor and connect with him via audio or video calls.
Main features of Remote patient monitoring apps:
Online communication between providers and patients
Real-time patient health and lifestyle tracking
Patient data security
Home healthcare apps
Home healthcare is a rapidly growing industry, as more and more people are choosing to receive care in the comfort of their own homes. Also, home healthcare apps can play a crucial role in providing quality care, by allowing patients and caregivers to track appointments, medication schedules, and vital signs. In addition, home healthcare apps can provide educational resources, such as videos and articles on disease management. With the help of home healthcare app development, patients can receive the high-quality care they need to live comfortably at home.
Trending Technologies in Healthcare
At the outset of 2023, we can see many of the trending technologies getting implemented in healthcare app development. In recent times some of them have been in trend for a while as they have helped in improving patient experience, engagement, and care management. Let's check some of the trending technologies in healthcare that will impact healthcare app development improvising or creating new features.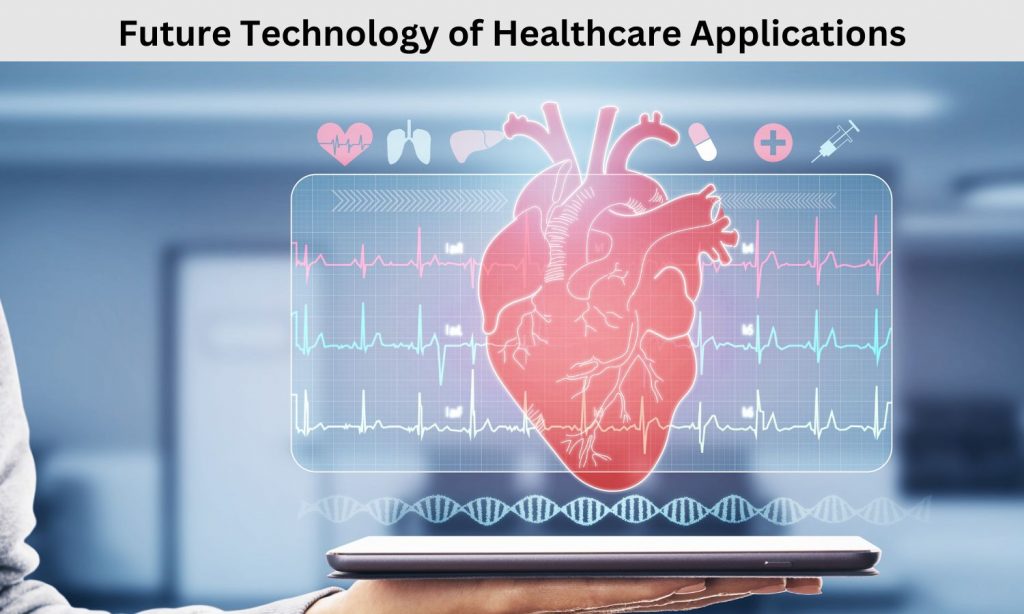 Big data
As per the data, the market size of big data is expected to reach $234. 6 billion by 2026. The health industry produces a huge amount of data regularly. So, big data is crucial as it includes all the necessary details regarding patients. There are different types of healthcare domains that are using big data to enhance services. In addition, big data can provide a huge number of benefits including enhancing the quality of services, removing medication mistakes, and many more. With the help of big data, healthcare organizations can get effective insights into clinical data. As a result, healthcare organizations can offer effective treatment and improve their services in the most effective manner.
AI & ML
Artificial intelligence has the ability to enhance overall healthcare services. In the upcoming years, the healthcare system will have to deal with a huge number of patients. The effective management of these patients will require a proactive approach and highly efficient technology. As per the report, artificial intelligence improves care outcomes and efficiency of care delivery. In addition, artificial intelligence has become highly crucial as it helps to improve staff morale, improve retention and enhance the overall day-to-day life of healthcare providers. Artificial intelligence is important as it can reduce the gap between healthcare professionals and patients. On the other hand, high treatment costs and ineffective management of huge datasets are also the prime reason that influences the adoption of artificial intelligence.
Internet of things (IoT)
As per the data, the IoT market is expected to reach $292.83 billion by 2030. The technology is widely useful for healthcare organizations as it helps to connect two different devices and smoothly transfer data. Also, the technology offers continuous information which can be used to improve healthcare services. Hence, remote patient monitoring apps and medical device applications or wearable app development are some of the trending healthcare app development with IoT technology. In addition, IoT devices like fitness trackers can help patients to track heart rates, step counts, and many more. With the help of these IoT devices, medical practitioners can connect with their patients. We can say that IoT-based healthcare applications have the potential to improve healthcare services.
Cloud computing
Cloud computing is another trending technology that offers various benefits including secure information access, storage, and effective management of a huge amount of healthcare data. In the current scenario, cloud computing has been used to cut costs and enhance the quality of care. Additionally, the cloud offers convenient anytime anywhere access to apps and resources. Also, healthcare organizations can access patient records, and medications by integrating EHR systems and EMR with cloud-based mobile applications.
Now, let's have a look at the process of healthcare application development
Healthcare App Development Process
It is necessary to understand that healthcare app development is a complex procedure and requires maximum attention as well as proper planning. A highly useful medical app may have the potential to resolve the issues faced by patients, providers, nurses, administrators, lab technicians, and many more. Let's have a look at the process of healthcare app development:
1. Identification of paint points
Before taking any steps, it is necessary to identify what problems you are going to solve with a healthcare app solution. Furthermore, it is necessary to conduct thorough research to understand who are your competitors, your target audiences and expenses, and many more. If you are designing a medical app for patients then it should be able to solve a particular issue that they are experiencing for a very long time. If you understand the major requirements then you will be able to develop highly useful and efficient applications for the users.
2. Spotting Users
Are you looking to develop an application for medical practitioners or patients? It is necessary to understand that healthcare mobile application development becomes successful when you involve user input in it. In this phase, you should connect with the end user to understand the specific need and goals. As per our experience, you can also connect with a medical app developer to make this process hassle-free and successful.
3. Features
Healthcare app development is crucial for addressing a gap or solving a particular issue faced by patients or healthcare providers. Hence, here comes the features list finalization and in some cases, you may need an integrated healthcare solution. It is necessary to understand the features required from the patient's point of view. With this approach, you can create highly efficient healthcare apps.
4. Healthcare app integrations
Healthcare app integrations should be done only after considering all the integration needed. In order to understand this component, healthcare app developers should constantly communicate with healthcare providers as well as patients. To connect a third-party application, you should connect with a healthcare app development company.   
5. Develop the framework
Healthcare app developers must make sure that the UI/UX design of the application is user-friendly. In addition, a responsive and empathetic design is needed to develop an efficient healthcare app. The use of a user interface for each type of user has to be robust and in trend with the frequent features required such as appointment booking, health records view, and vital stats on the go.
6. Code the design
In this phase, healthcare app developers set a specific deadline to code the design. The programmers create various modules and work accordingly. Healthcare app development has become an increasingly popular area of focus for coders and developers. There are a number of different coding languages that can be used to develop healthcare apps, but the most popular ones are Objective C and Swift. These two languages are used to create native iOS apps, which means they are specifically designed for use on iPhones and iPads. On the other hand, we also have an android studio for android application development. Healthcare app developers today mostly prefer hybrid app development technologies such as React Native, Xamarin, and Flutter app development.
7. Data Privacy, Compliance, and regulations
With the rise of mobile health technologies, there is a growing demand for apps that can help patients manage their health and wellness. From fitness tracking to medical appointments, there are a variety of ways that healthcare apps can improve the lives of patients. In order to meet this demand, healthcare app developers must have a strong understanding of coding and software development. In addition, they must be familiar with data privacy concerns, complaints, and regulations such as HIPAA
8. Beta Testing
Beta testing is an essential step in healthcare app development. By releasing a beta version of an app, developers can get feedback from users on potential bugs or areas of improvement before the app is made available to the general public. In addition, beta testing can help to ensure that an app is compatible with the latest versions of iOS or Android. As healthcare app development becomes increasingly complex, beta testing can help to ensure that apps are ready for launch before they reach a wider audience. Ultimately, by taking the time to beta test an app, developers can save time and money in the long run.
In this phase, the application is put through rigorous testing to evaluate its efficiency, reliability, usability, functionality, and other factors. In addition, it also helps to understand whether the application is HIPAA compliant or not.
9. Support
Medical app developers should offer continuous support to users. The company must make sure that users are not facing any issues with the application. The service providers must solve issues that can arise at any point during operations and deliver timely updates. We suggest you hire a highly experienced healthcare mobile app development company that can offer you full support at each stage.
How much does it cost to create a healthcare app?
The final cost of developing a healthcare solution depends on numerous features. In addition, the cost may range from approximately $100,000 to $500,000 to develop a mobile healthcare application. In order to develop a highly efficient healthcare app you should connect with an experienced healthcare app development company. By connecting with the right app development partner, you can attain your goals within a specified timeframe and budget.
How healthcare integration with various solutions can enhance healthcare app development?
A healthcare provider's activities can become disorganized and inefficient without integration. Furthermore, Integrated healthcare solutions greatly enhance clinical outcomes and assist providers to deliver high-quality care. Application integration reduces data repetition and redundancy. In addition, it helps you manage, maintain, and keep all of your apps up to date. EHR integration with healthcare apps allows you to quickly track, store, and gather all patient-related data on a single platform.
In addition, integration with wearable technology helps the healthcare sector by giving patients and clinicians direct access to their electronic health records, patient history, and many more. Additionally, a variety of tools can be used to monitor someone's health, including those that measure blood pressure, heart rate, and glucose levels. If we integrate wearable devices with EHR systems then many issues can be solved in the most effective manner. Wearable devices allow remote monitoring of patients and help in virtual care. This data can be easily recorded in electronic health record systems to offer high-quality care to patients. Some of the major advantages of connected healthcare devices are as follows:
Early detection of major healthcare events
Patients can monitor their different healthcare outcomes
Saves time and money for different healthcare facilities
Enables medical professionals to make knowledgeable judgments
Now, the important thing is to understand that integration can enhance the efficiency of healthcare app development. As per our knowledge, we suggest you hire a certified medical app development company to reap all the benefits in the most effective manner. With a highly credible medical app development company, you can attain a competitive advantage within no time.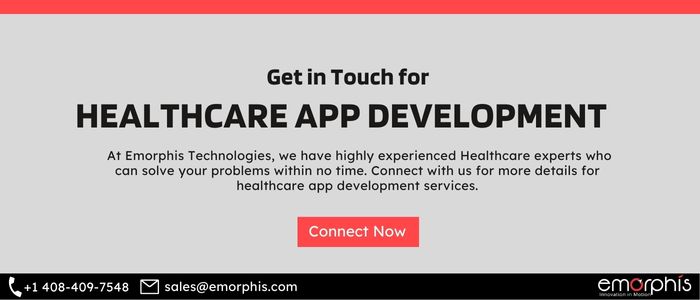 Why choose Emorphis Technologies for healthcare app development?
Mobile health applications have revolutionized the healthcare sector. Only with the help of healthcare mobile app development was this change made feasible. The creation of good mobile health applications with feature-rich technology is a continuing goal for mobile app developers. The design of healthcare apps can be challenging because it necessitates a certain level of knowledge to produce the intended outcomes. Our medical app developers at Emorphis Technologies offer thorough assistance quickly.  
We provide healthcare app development services. The healthcare apps designed by our medical app developers can assist you in lowering costs, expanding coverage, increasing accessibility, reducing wait times, and improving patient involvement and outcomes. By completing a wide range of projects in almost every domain, including healthcare, Emorphis Technologies has gained significant experience. If you need healthcare software development, get in touch, and we will point you in the direction of top-tier software solutions.