Introduction
In the present scenario, the main objective of every healthcare organization is to offer better healthcare facilities remotely which is possible through telehealth app development.
Knowingly or unknowingly, COVID-19 has been a boon for the telehealth sector as even those people who can't access better healthcare can now have access to it.
In other words, the pandemic has pushed healthcare service providers to realign their settings to incorporate virtual care solutions such as telehealth and telemedicine.
Henceforth, the future of healthcare is going 'digital.' Equally, both patients and doctors can stay in touch by simplifying complex healthcare procedures.
So, the given article will focus to answer the following questions:
Why so sudden inflation in the popularity of telehealth development?
What are features in telehealth apps that every healthcare app developer must know?
What will be the key benefits that define the power of the telehealth app?
Let's see!
What is a Telehealth app?
In simple terms, telehealth is the use of digital technologies to offer remote healthcare services, health education, and information services through remote technologies.
Now, what is the role of telehealth applications?
Actually, they play a dominant role in bringing patients and doctors together in a digital environment through remote tools to improve access to healthcare anytime and anywhere.
Using the telehealth app, patients have to wait only three minutes to connect with their physicians. In contrast to it, patients have to wait hours in the sitting room in hospitals to get a consult from the doctors.
Why build a Telemedicine app and Telehealth app?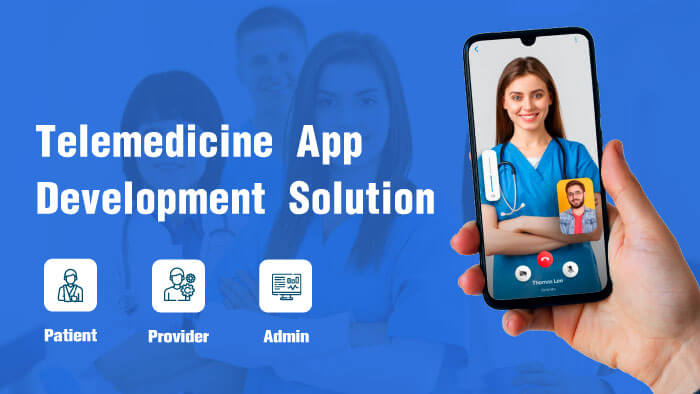 Three factors are determined as benefits of telehealth and telemedicine which is helping in demand both for development of telemedicine and telehealth apps to a large extent.
A. Impact of COVID-19
The COVID-19 pandemic has disrupted the healthcare sector. In that event, healthcare providers found potential in telemedicine and telehealth software development to fight such turbulent times. How?
Firstly, it works on a digital platform to inspire better engagement, and create a two-way relationship between patients and doctors.
Secondly, they work on a 'care anywhere' model that enables the delivery of healthcare services even to the remotest area across the globe.
B. Reduces Cost of Healthcare Services
With telehealth services, doctors with private practices will no longer need working space. Moreover, the use of telehealth apps led to a reduction of more than 90% of maintenance costs.
As a matter of fact, these two healthcare software application development has helped in achieving the benefits of serving more patients in times of need. Also, other benefits such as reduction of overall cost per patient have boosted the application development solutions in healthcare. Moreover, these benefits have also triggered various integrations and development including pharmacy app development, insurance check integration, EHR/EMR integration, remote patient monitoring solutions, nursing or care management solutions, wearable app development, and medical devices integration have been in trend and will be in the future.
Another point to support, even customers are accepting it as they longer have to wait in queues to avail healthcare facilities. It is just a click away to access the services of reputed healthcare professionals.
C. Efficient Time Management
Thanks to telemedicine apps and telehealth apps, healthcare professionals suffer less burnout and depression. How?
The answer is: The presence of push notifications and appointment schedules helps health physicians to better manage their workload and, also maintain an effective work-life balance.
How does the Telehealth app work?
When someone thinks about telehealth, two deployment methods come to the mind of healthcare professionals that patients can avail themselves:
a) Patient Portals
In the first place, patients can use the given portal to have a discussion with their healthcare providers. In addition, they can ask health-related questions, set appointments, and even refill medical prescriptions online.
Likewise, these portals are highly secured and allow storing and sharing medical records only through a specific user name and password.
b) Virtual Appointments
It is another application that uses teleconsultation where doctors and patients can communicate through audio/video conference. Not to mention, there is no need for an in-office consultation, and patients receive medical advice at a faster pace.
What are the key features of the Telehealth app?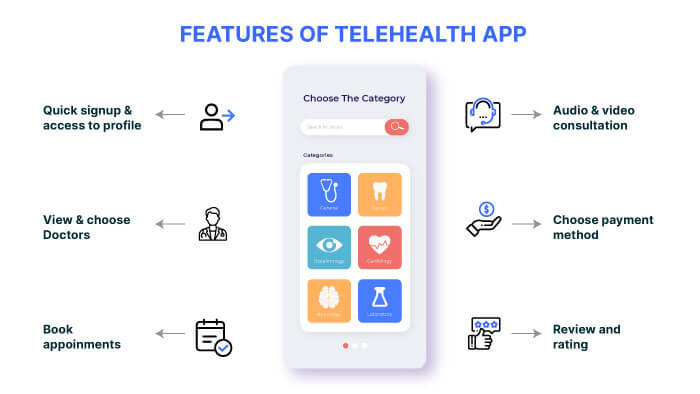 In general, every app contains certain basic elements. However, certain specific features make the telehealth app look different from other healthcare software solutions.
Further, we will explain the features based on end-users (doctors and patients).
Telehealth App Features for Patients
i. Patient Registration
It is the first step and should be kept as simple as possible. By all means; it should ask for minimum personal details and must protect it through two-factor authentication (such as SMS or phone verification).
ii. Calendar Integration
As a matter of fact, it is a crucial feature that must combine with push notifications. In doing so, there is a sigh of relief among the patient. Now, they can remember all future appointments at the same time and reschedule if needed with physicians through their telehealth app.
iii. Patient Profile
In this section, all the crucial information about the health of an individual, their insurance policy, and medical history gets fed into the system. It helps doctors to make an easy diagnosis which is equally important.
iv. Geolocations
At present, US medical regulations have made it compulsory that patients must connect with the location of the physicians within the same state via a telemedicine app or telehealth app. For instance, it can connect with Google Maps to accurately locate a user's location.
v. Search & Filters
With search functionality, patients can seek information in the shortest time. In the case of filters, patients can use it to navigate the app at a faster pace while sorting out vast information available in it.
vi. Payment
It varies from app to app, but a telehealth and telemedicine app development company must include several payment options (credit card, employer coverage, medical insurance plans, etc.) within the given app.
What are the steps to creating a telehealth app?
How does telehealth powers the healthcare industry?
What is the cost associated with the telehealth app?
vii. Rating & Review
As can be seen, it is a crucial aspect for patients to provide a rating and review the services they availed from the doctor. So, a telehealth app must use an aggregator rating system. With it; the new user can easily find the best doctor that suits their needs.
To point out:
Above all, the design of the rating system must be for those patients receiving healthcare benefits from a particular clinic. So, it will prevent the system from getting rigged.
viii. Push Notification
As a matter of fact, it is a crucial feature of a telehealth and telemedicine app. At the same time, it reminds patients about their appointments and even refills prescriptions.
To point out:
It is essential to offer users control over the notification they are receiving. What's more, they must receive several alerts and explanations.
ix. Cloud-based Medical Record Storage
Obviously, it is the natural expansion of the cloud-based e-storage of the medical records of any patient. It includes crucial info such as medical data, communication history, and prescription.
As of now, the data storage is done in the cloud which prevents any data loss either through external (fire) or internal influences (online theft).
Telehealth App Features for Doctors
i. Doctor's Profile
Not only for patients, there is a profile page for doctors on the telehealth app also. Moreover, it contains information about doctors such as their specialization, address, education, and year of experience.
ii. Scheduling via Calendar
To put it differently, physicians can use telehealth apps to set their availability, accept consultation requests, and set times for remote consultations for patients with chronic illness history.
iii. Electronic Medical Records (EMR)
So, it is an essential feature for any doctor. Why? Its because EMR assures maintaining flexibility and easy accessibility to medical services for the doctors. Besides, every visit to the doctors' clinic by patients gets updated.
What's more, it permits the organization of all medical data of patients in one place that does two things. One, it reduces duplication of the records. Second, it reduces paperwork for the doctors.
iv. Prescription
Incidentally, it allows doctors to fill in the medical data about the patients digitally. It is beneficial in the sense that patients can re-issue prescriptions when suffering from any chronic illness.
In addition, patients can add their credentials to the pharmacists that, in turn, send them to the doctors who could avail them of required medicines easily.
v. Video Session Recording
In this section, doctors can record audio/video consultations to improve their service quality. For instance, where there is a dispute with patients, it can protect doctors from legal complications.
Few Must-Have Features to be Included in Telehealth App Development
a) HIPAA Compliant Solution
In a word, it is the most vital element for any telehealth app. It comes with a framework that protects the crucial data of the patients.
b) Clinical Documentation
For health services, clinical documentation is more important. In reality, it is proof of public health monitoring systems. Moreover, patients can fill it that automatically integrates with the EHR database which makes their treatment hassle-free.
c) Data Analysis & Interpretation
In essence, it helps in the creation of a database for medical history that not only benefits patients but also the community. Even more, physicians can consult other doctors to offer the best treatment to the patients.
d) End-to-End Chat
Surprisingly, the given feature rescue end-users in two cases. Firstly, if the internet connection is either patchy or low. Secondly, if there is a communication gap between the two sides.
What are the Steps in Creating a Telehealth App?
Below one, we describe step-by-step procedures that are essential in creating a telehealth app:
A. Research & Requirement Gathering
As a matter of fact, it is a foundation step that focuses on creating telehealth app development or telemedicine app development solutions that fit the user requirements. Here, goals are set by studying audience, competition, and market to gather vital data.
Moreover, the user will define the scope and priorities to decide the amount of time and money needed to build the first app version. Usually, it starts with the discovery phase where new products exist as just an idea.
B. Ideation & UX/UI Design
In this phase, ideas convert to prototypes. By the way, there is the development of user experience (UX) to interact the app with the end-users well. Besides, it comprises several stages:
Create user scenarios
Describe user persona
Create prototype or sketches
Developing visual design (UI)
Creating information infrastructure
By the end; a finished telehealth app with UI is ready to enter the next stage.
C. Agile Software Development
Basically, it is an industry-based approach that updates as per the ever-changing market and creates a new digital system. At the same time, testing is done to check frequent changes with the addition of new features to get a better result.
Importantly, it allows one to have full budget control and ensure the money is put to the best use to meet the needs and demands of the market.
D. Testing & Optimization
Before making any app live, it is crucial to test it again and again. It will ensure that the app will reach the end-users with ease. In addition, users can offer feedback that will help in bringing more improvement to the app.
What is the Immense Power that Comes with Telehealth?
If you are starting your healthcare startup and want to invest in telemedicine app development or telehealth app development; then it is the high time to contact a reputed healthcare software development company.
To put it differently, several benefits of telehealth factors make telehealth the best virtual option to improvise the healthcare business. Some of the benefits of telehealth are as follows:
a) Delivery of Best Quality Healthcare Services
Fuelled by digital tech, the virtual visit has become a new phenomenon. Nowadays, scheduling an appointment has become somewhat easy with shorter duration visits.
On the positive side; there is a clear integration of telehealth with electronic health records (EHR). In this way, comparing test results is quick with the generation of e-records.
b) Offers a Cost-Efficient Model for Delivery of Services
The first thing to remember, telehealth comes at an affordable price. It not only reduces the overhead cost per visit but also offers extended billable hours that help in making immense profits.
What's more, telehealth helps in slashing the prices of no-shows (such as traveling and schedule management) rates by 50%. Thus, there is a significant improvement in the quality of healthcare services.
c) Leveraging Current Technologies to Make Full Use of Them
In the long run, telehealth app development services are leveraging AI and IoT to easily connect medical equipment with the cloud platform. With this, there is an assurance among end-users to get real-time data, and the best quality remote healthcare.
Likewise, the use of wearables by both doctors and patients helps in tracking, collecting, and transmitting data to the cloud easily. Therefore, it becomes easy for patients with chronic conditions to manage their health.
d) Perfect Remote Monitoring through Chronic Care Management
Across the globe, there is a steep rise in people suffering from chronic diseases. Indeed, telehealth has an upper hand. How? Of course, it monitors the changing conditions of the patients in a better way, that too from their comfortable space.
Cost of Telehealth App Development
The telehealth app development cost and telemedicine app development cost relies on numerous factors that include features, development service provider, compliance level, and many more.
In case, the basic app will cost around $50,000 to $80,000 as per the above basic factors.
For further addition, if someone opts for a feature-rich telehealth software solution that comprises several functionalities; then the development cost comes to around $75,000 to $250,000.
By all means, the software development for healthcare apps like telemedicine application development and telehealth application development will take an average time of around 3 to 12 months. These healthcare software application development processes and features vary with the healthcare organization's priorities. Hence, most of the provider of application development solutions in healthcare offers customized healthcare application development services, so the cost of the same is higher. Let's understand more about the cost:
| | |
| --- | --- |
| Type | Average Cost (in US Dollars) |
| Local Development Agency | $250,000 |
| In-House Team | $170,000 |
| Outsourcing Team | $75,000 |
| Freelancers | $38,000 |
Table 1: Telemedicine App Cost by Type of Team
| | |
| --- | --- |
| Location | Average Cost (in US Dollars) |
| USA | $280,000 |
| UK | $180,000 |
| Australia | $160,000 |
| Europe | $150,000 |
| South Asia | $45,000 |
Table 2: Telemedicine App Cost by Team Location
Telehealth Today & Beyond
To summarize, telehealth is presenting a unique opportunity for healthcare service providers, and the benefits of telehealth are factors for even startups to provide the best health care to people regardless of their location.
Further, healthcare has already become a trillion-dollar business and not showing any sign of slowing down. More importantly, experts have predicted that the telehealth app development market will exceed $49 billion by 2023.
Emorphis Technologies is a renowned telehealth app development company that offers the best telehealth app development solution, Telemedicine app development, and healthcare software development to cater to the needs of healthcare organizations successfully.
You can also go through with details on Telemedicine app development.