What is Salesforce Chatter?
Salesforce offers a wide range of features to fulfill the needs of users in the most effective manner. With the help of Salesforce, users can focus on customization, loyalty management, account management, personalization, and many more. We know that communication is one of the most important aspects of any organization. As per Forbes, communication is one of the most important things to enhance your business and relationship with clients. That is why Salesforce has designed a platform known as Salesforce chatter which focuses on communication.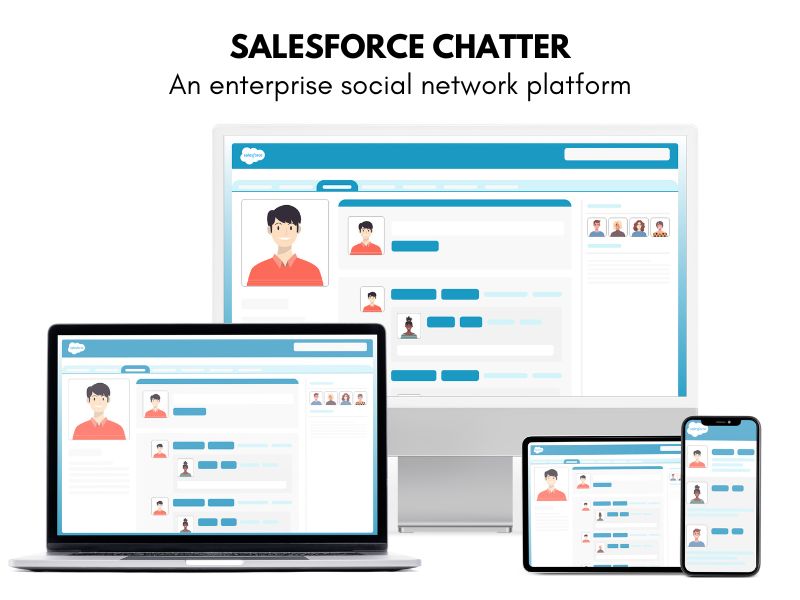 Chatter is an enterprise social network platform that connects every employee and eliminates communication barriers between departments. Salesforce chatter has been designed by the company to allow users to talk to each other, and share information and other documents in a secure manner. In the current scenario, chatter has become the priority of every company. But why? The features offered by chatter are useful enough to improve the communication between departments and also ensure that everyone is on the same page.
Connect with the experts who can harness the power of Salesforce for your business success. Check Salesforce consulting companies in USA.
Now let's check with some of the Salesforce chatter features to understand why it is preferred by a huge number of organizations.
Features of Salesforce Chatter
1. Chatter group
Chatter groups are designed for project members, teams, or overall business. You can classify people into different groups also. Furthermore, the group members can also share files and records from Salesforce. Chatter also allows you to invite others to interact and private group discussions can also be done most effectively. The person who creates the group is considered the owner of the group. The owner can add or remove the members according to the requirements.
2. Post status updates and questions
The platform acts like a forum that allows anyone in the organization to suggest new ideas or share insights. You can also share updates with coworkers. The platform utilizes your interest or activities to update content on activities, projects as well as products. Then it shares the updated information on your feed. This ultimately increases productivity or enhances the work quality of the individuals in the organizations.
3. Work together on sensitive projects
Salesforce chatter allows you to connect with your team in a safe and secure environment. In addition, people can collaborate and maintain sensitive information.
4. Actions and endorsements
Salesforce chatter allows users to focus on different tasks to manage work within the specified time frame. The users can update orders, create support cases, and many more. With chatter, you can do everything in the same feed and create custom actions. In addition, users can connect data and records in the internal system and track everything within no time.
5. Feeds, polls, and topics
The feed on chatter is somehow similar to Facebook. It allows users to post information or updates. You can also share videos, links, files, and many more. You can also create polls to know the viewpoint of others and make necessary decisions. In short, Chatter utilizes Salesforce activity to personalize your feed.
6. Email digests
Email digests summarize the latest information in chatter so that you will be able to know about all the crucial discussions. It also gives you an option of weekly or monthly update summaries so that you can instantly get all the information.
7. Chatter thanks
This feature allows users to send quick thanks to their colleagues. You can access this feature in the quick action panel. With the help of this feature, you can appreciate the work of your team members and other people in the organization.
8. Quick actions
Quick actions allow users to set up polls, transfer files, post updates, share links, and many more. All these things can be customized as per your needs. We can say that the Salesforce chatter offers many ways through which you can socialize and collaborate with other people in the organization.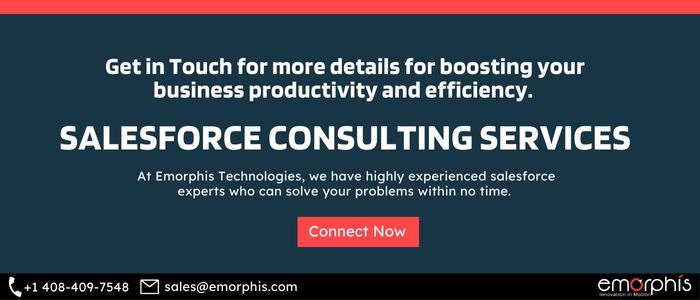 How do Salesforce Chatter features enhance your organization's collaboration and networking?
Salesforce chatter allows users to work together and share files, and updates. You can also follow people, information, and groups via chatter. It enables users to form secure networks, share files, and post updates while working together. The features of chatter are designed in such a way that improves networking. With the help of this platform, you can post interesting articles, videos, and content to others. Also, you can provide or receive feedback that enhances performance.
With the help of chatter, employees can connect and make strong relationships most effectively. In addition, salespeople can find new information, share updates, and check colleagues' statuses. If any organization has a social networking platform, then it becomes easy to connect with everyone and stay up to date. The platform offers an environment where everyone can share new concepts and ideas. In addition, teams can also brainstorm ideas that will enhance services.
In order to gain all the above benefits, it is necessary to have some information about Salesforce chatter integration. However, you can connect with a Salesforce consulting company to know how Salesforce chatter works and gain all the benefits within no time.
What are the steps for Salesforce Chatter integration?
To increase productivity and enhance the strategies you should focus on integrating Salesforce chatter. We encourage you to hire Salesforce consultants in order to reap all the benefits in the most effective manner.
Let's have a look at some of the steps to understand how to integrate Salesforce chatter in your organization:
Using the Salesforce apex data loader, export data from chatter to CSV files.
The next step is to store the chatter CSV data in the chatter business object. You should also make sure that business objects must include type, name, and fields.
In the third step, you should import CSV data in the new chatter business object
In this step you should focus on the following:
Use the data import wizard to perform a one-time import of CSV data, after creating a stored CSV import
Now you can import the chatter CSV file into the new Salesforce chatter business object
Then specify how columns from the CSV file are transferred to fields in the chatter business object
The final step is to display the Salesforce chatter in CSM, first, construct a search result widget and then add it to the dashboard
Now you have to understand that Salesforce chatter integration requires time as well as expertise. Hence, we suggest you hire Salesforce integration experts.
Learn more about Salesforce Integration services to transform your business.

How to increase engagement with Salesforce Chatter customization?
Now you have understood how Salesforce chatter works, it becomes important to understand how chatter helps to increase engagement in the most effective manner. It has been identified that Salesforce chatter offers many features to increase engagement and productivity. Let's have a look at some of the features to understand it in a better way:
A. Respond to a post
Salesforce chatter allows you to check who liked your post. You can check how many people have viewed your post. In this way, you can check all the activities related to your post
Chatter also allows you to share a post with followers and groups. Furthermore, you can also comment on a post, share a post from other people's feeds, and many more.
C. Edit, delete, and bookmark
Chatter also allows you to edit, delete or bookmark a post. All of this can be done through an action menu icon. So, you can post anything without any worries.
D. Mute a post
The app also has a feature that helps to mute any posts. If you mute a post then you will not receive any notifications when someone like, comments or bookmark a post.
E. Save and publish drafts
If you do not publish any post then it is automatically saved by Salesforce chatter within 7 seconds. This also allows you to view the post and make necessary changes or delete it at your convenience. You can add files, images, mentions, hashtags, and many more.
F. Follow people, groups, and records
Chatter allows you to follow 500 people and other things like accounts, work items, and many more. In addition, Salesforce follows many things for you so that you can make your connections.
G. Mentions
In order to get someone's attention you can comment or mention someone in the particular post. Mentions are used to get the attention of individuals as well as groups.
We can say that these features work together to increase engagement in an organization. Salesforce has customized this application in such a way that you can engage with everyone in the organization, post updates, eliminate unnecessary things, and many more.
Want to integrate Salesforce Chatter?
Emorphis Technologies can help you with Salesforce Chatter integration and customization. After analyzing all the points, we can say that Salesforce chatter can enhance productivity in the long term. Salesforce chatter offers many benefits to an organization. With the help of this application, you can reduce duplicate work, increase the efficiency of different departments, improve communication, and many more. The exclusive features of Salesforce chatter can increase efficiency and enhance the communication process. If you are already using Salesforce, then chatter can be a tool that can support your sales team in the most effective manner.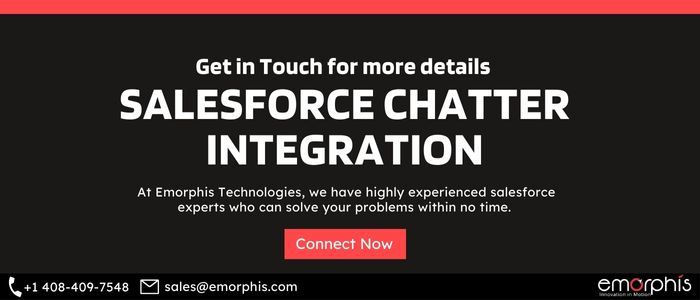 At Emorphis Technologies, we offer Salesforce chatter integration as well as Salesforce customization services. If you want to integrate Salesforce chatter with other apps like slack, Microsoft teams, and SharePoint then you can connect with us. Our certified Salesforce experts know how to transform your business and offer you the right path to success.
If you can integrate Salesforce chatter in the right way then you can reap all the necessary benefits. In order to get all the benefits of Salesforce chatter you should hire an experienced Salesforce expert.