Better health outcomes, patient-centric care, and affordable cost. This trio is the aim for healthcare entities- the healthcare systems, healthcare providers, the recipients, and Medicare. When it comes to maximizing healthcare transformation efforts, care management is the key. It is clear that care management solution trends will enhance healthcare delivery. You might have come across care management in our previous blogs – Care Management Software Solution Development and its Benefits, which spoke about digital transformation in healthcare, but what exactly is it? You might also wonder how it is better than the other digital health initiatives.
Overview
Care management is a set of healthcare activities that improves patient care by integrating care systems such that there is a reduced need for medical services and helps patients & caregivers in managing health conditions. This is all achieved by engagement through phone, in-person interactions, online meetings, and also automated reminders. This is especially effective for patients with chronic conditions, acute care, particular risk factors, and condition management.
Care Management effectively reduces hospital visits as it assists in the careful coordination of the healthcare provider team involved in managing patients. Care Management solution involves primary care providers, physicians, clinicians, behavioral health experts, patients, and also their caregivers or family members.
As a matter of fact, Care Management is a system that records patients involved across a range of health and ailment. It covers routine check-ups, wellness exam reminders, routine runs, interim case management, and also chronic conditions management.
The Global care management solution market, according to precedence research is estimated at USD 14.92 BILLION IN 2022. With a yearly growth rate of 11.4% from 2022 to 2030. A global care management market will be worth around USD 35.44 billion by 2030. Growth attributing factors are increased prevalence of the chronic disorder, growing especially in the elderly population. Thus, it requires high-quality care for elderly patients, which emphasizes the importance of care management solutions in the global market.
Furthermore, the investments made by the government of developed and developing regions for the expansion of the healthcare sector are providing lucrative opportunities for the growth and development of the worldwide care management solutions market.
Care Management Solution -Trends & Predictions
As the pandemic is curving down, society is opening up resulting in in-person appointments compared to telehealth. However, pandemic-induced innovation in care management software, Patients record, workflow tasks, and schedules are streamlined and secured with ease. Care management solution trends continue to grow & expand shifting consumer tech adaptation and facing value-based healthcare economics driving trends for care management beyond telehealth. In fact, shifting care delivery models to a virtual space combined with rapid medication & vaccination distribution has given a surge to care management solutions.
Let's check out what's in the care management store for the future that would continue to deliver quality and affordable care.
1. Multichannel care management
In 2020, Telehealth growth was exponential, opening new horizons and possibilities for care management. Virtual care as a subset of telehealth may grow by 22% CAGR leading to $20 billion by 2027. Care management with a focus on longitudinal monitoring and digital tools with virtual and RPM tools is critical when a chronic patient at risk cannot access the typical route of care. AHA (American Heart Association) defines RPM as a subset of telehealth. RPM with technology, aggregates and interprets physiological patients' data helping improve the effectiveness of care management. 
Get in touch for Healthcare App Development services
2. Access to high-quality health content
The sudden shift in care delivery comes with a slight amount of distrust or concern in patients. Hence, providers need to focus on providing access to trustworthy and evidence-based content for the patients. Care management solutions will reflect patients' lived experiences for clinicians to provide accurate, clear, and also accessible health information that builds trust with patients. More than the right digital health technology, care management has grown into a more full-fledged experience for patients.
3. Care management efficacy
The trend is automating workflow and applying IDP (Intelligent Document Processing). Applying Intelligent automation technology, assisted and non-assisted automated activity to streamline administrative aspects of care management, such as pulling patients' lists, creating reminders, confirming appointments, and sending reports to multiple care management teams and members.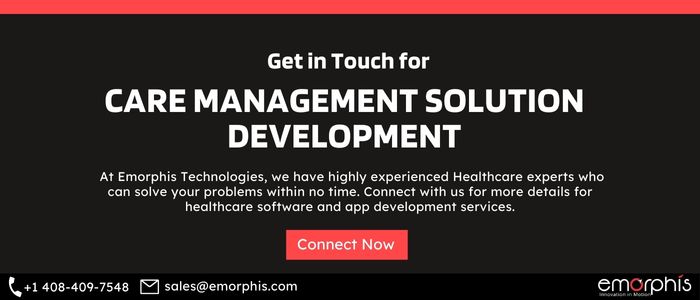 4. AI to boost care management success
Health risks are extremely complex and are driven by a lot of factors, much beyond physical & mental health. For example, a diabetic patient with a low income cannot access fully sustainable medical care. Hence AI-powered technology identifies high-risk patients and tries to assist with additional factors contributing to care. AI-powered care management solutions provide a holistic view of patient care delivery. Not only does this offer a patient view, but it also assists in self-learning. Whenever a new patient record is entered, AI adapts its risk details, and the recommendation engine provides effective outcomes for better care. With this, we can see that the care management solution trends will improve healthcare delivery.
5. Machine Learning Algorithms
The most effective trend for care management to watch for is machine learning in healthcare. MI algorithms can organize and prioritize patients based on evaluating complex variables such as hospital admission, patient history, social determinants, medications, etc. MI in care management enables caregivers to identify patients at greater risk and provide extensive care.
6. Broader use of care management
A trend to look for is home health and hospice in Care Management. Hospice & advanced care management has been in the system for some time now, but now the entire business model is making a shift. Progressive care management groups and providers are tapping into the chronic care management journey by offering a seamless continuum of care at home.  Home health is now becoming more holistic and personalized. In fact, the pandemic impact has shifted patients' concerns from the skilled nursing facility to adequate home health care support for post-acute & long-term care.
Care Management Software Solution
Big Data, IoT, AI, and IoMT play an important role in Care Management solutions. These technologies provide solution patterns from gathered data. Let us examine how connecting these technologies has become the number one goal of Care Management Solutions.
Accenture states that clinical AI applications can create$150 billion of annual savings for the US health economy by 2022 
Statistics report that Global AI is estimated to expand at a CAGR OF 41.8% FROM 2021-2028. 
Deloitte estimates the IoMT market to be USD 151.1 BILLION by the end of 2022. 
Zeon states that Global Big Data analytics in care management solutions will be USD 68.03 billion by 2024. 
Read here How do digital solutions help in enhancing care delivery?
These technologies have changed care management and the people involved in care.
IoT – Internet of Things
Has improved the survival of people, especially the elder group. IoT helps track the overall performance of patients and helps take corrective measures to care management staff. Hospitals with multiple IOT-enabled devices have become digitized healthcare management hospitals by intelligently connecting devices & systems for focused conceptualized decisions. By harnessing the power of drone technology, care management is setting a higher standard for itself. This also assists in faster sample collection from remote areas, ensuring a timely supply of medicines, emergency supplies, life-saving drugs, and whatnot. As a matter of fact, IoT-based drone technology is a real-time saver.
Check out our insights on A Guide For Internet Of Things Application Development And Its Future Trends
Big Data
Big Data is bringing a revolutionary shift to care management. Through Big Data experts can collect, and analyze the data collected from various sources, otherwise originally complex. Big Data helps store volumes of data, which can be analyzed and recovered. also helps modify existing data that care management can use. Big Data helps in making strategic decisions with accuracy. One of the best examples of big data is genome sequencing technology which requires faster processing of enormous amounts of data.
Artificial Intelligence
The human brain can work up to a certain level. AI provides sensible judgments with relevant information. This helps improve care management accuracy by giving ongoing support by monitoring patient progress. As patients are shifting to home-based care management, AI is at the core of providing a continuum of care.
Connecting Big Data, IoT, IoMT, and AI improves accuracy rate, also helps predictive analysis, and increases the efficiency of operation.
Read More: Future of Integrated Healthcare Systems with Emerging Technologies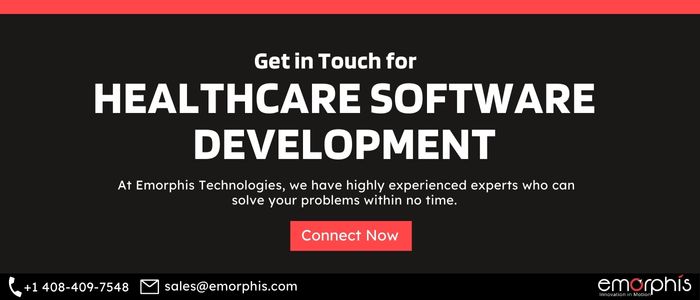 Conclusion
Care management is a solution that has widely helped vulnerable populations that are enrolled in care management programs. Because of the tools and technology, the care management delivery programs have been a huge success, despite having a section that couldn't afford care. However, its "lower-cost-better outcome" model has demonstrated a fascinating ROI and outcome. A lot of Medicare/health plan providers have dedicated 10% of their budget toward care management to drive improved cost and care efficiency.
Emorphis Technologies, being a care management software solution provider, we can advise how the above-mentioned trends can be a benefit to your healthcare system. Do you find any trend worth discussing or intriguing enough to try? We would love to hear from you.