Digital maturity in healthcare services is extremely critical given the amount of sensitive data involved. With the ongoing pandemic and several other epidemics threatening people's health globally. Healthcare systems worldwide had to adapt to new changes and act accordingly to deliver the best to their patients. Keeping care delivery and patient satisfaction as their priority, healthcare systems took to digital health technologies and develop digital solutions. And are now also providing the best with the help of these emerging technologies. The same is mHealth, data science, machine learning, and connected devices and wearables.
In the recent past, digital health technologies combined with the latest development in the healthcare sector. Healthcare providers have been able to commit to a focused approach toward patients which as a result builds trust in their patients and offers a better patient experience.
What are Digital Solutions?
Digital solutions, it is a popular term to describe any kind of solution that connects with the aid of technology. Now, when we talk about the healthcare sector, digital solutions like telemedicine app development solutions, pertain to the advancements and major tech-related developments in the field of healthcare. The same aid healthcare providers to focus on patient care, patient satisfaction, and conducting streamlined operations.  
These emerging technologies have aided healthcare professionals in great ways. As a matter of fact in providing state-of-the-art care to their patients. Also, keeping the idea of patient satisfaction and care delivery as their top priority.

How do digital solutions help in enhancing care delivery?
Digital solutions aid healthcare professionals in a greater way. By helping them perform streamlined operations, completely focus on patient care, and deliver the best to their patients. These solutions, when combined with the dependable and most modern pieces of new healthcare technology. It brings out the best in healthcare personnel, which in turn fosters patient trust.
Ways in which digital solutions have helped and will further help in the healthcare sector are listed below:
1. Centralized storage, access, and management of patient data
The centralization of patient data is one of the most evident advantages of using digital medical healthcare software. The information included in patient records, medical histories, doctor's instructions, and progress reports is essential to the effectiveness of a patient's medical care. Entering patient data manually requires time and is potentially error-prone. Paper-based document storage costs resources and physical space. It used to take time to search through file cabinets and verify each folder separately in order to obtain a patient's records.
On the contrary, a digital healthcare solution greatly reduces mistakes while streamlining the process of logging and classifying data. It facilitates easy and seamless access to patient data.
2. Easy access and sharing of data across platforms
With digital health technologies, information sharing has been easy with other healthcare providers. This is important in various situations, such as managing serious cases that call for outside perspectives and qualified medical advice. Or when an EMS or ambulance crew must provide ER staff with enough information before the patient is admitted.
It is no longer necessary to handle and receive real patient files in order to share patient information. Users of computers, laptops, and mobile devices may send and receive data online with the help of a digital healthcare solution. As a matter of fact, users can easily and quickly transmit files with only a few clicks, saving their precious time.
3. Provides for the continuity of patient care
Electronic health records substantially aid in the continuity of patient care (EHR). Having all the patient's details on one easily accessible platform, applications make it simple for healthcare professionals to access the patient's condition.
The patient's treatment plan can be changed by users as necessary. It is done by having access to and being able to go at other medical specialists' records, scans, prescriptions, diet plans, and notes. Direct collaboration with therapists and other healthcare professionals becomes more efficient and smoother, giving patients the finest medical experience.
4. Streamlined patient registration & scheduling process
You can simplify the booking procedure for your patients by using digital health technology like m-health or appointment booking apps. The majority of these systems have programmable scheduling capabilities that enable you to create client-facing scheduling programs.
You may display your work schedule to your patients, including your preferred times. Every time an appointment is successfully scheduled, the availability of your time slots is updated in real-time. By doing this, you can be sure that your patients choose a time that works for both of you. This feature reduces no-shows and avoids instances of double booking.
5. Scalability and interoperability
Having a data-collection system with the concept of scalability and interoperability helps minimize the need for data cleaning. And it enhances the data quality, keeping the algorithm intact. Interoperability is also of great help if the standard of interoperability is kept in mind. While the same setup with digital health technologies, which as a result facilitates the smooth exchange of patient data. By this, you would not only save a lot of time but also keep your data intact. Also, error-free, and virtually healthy.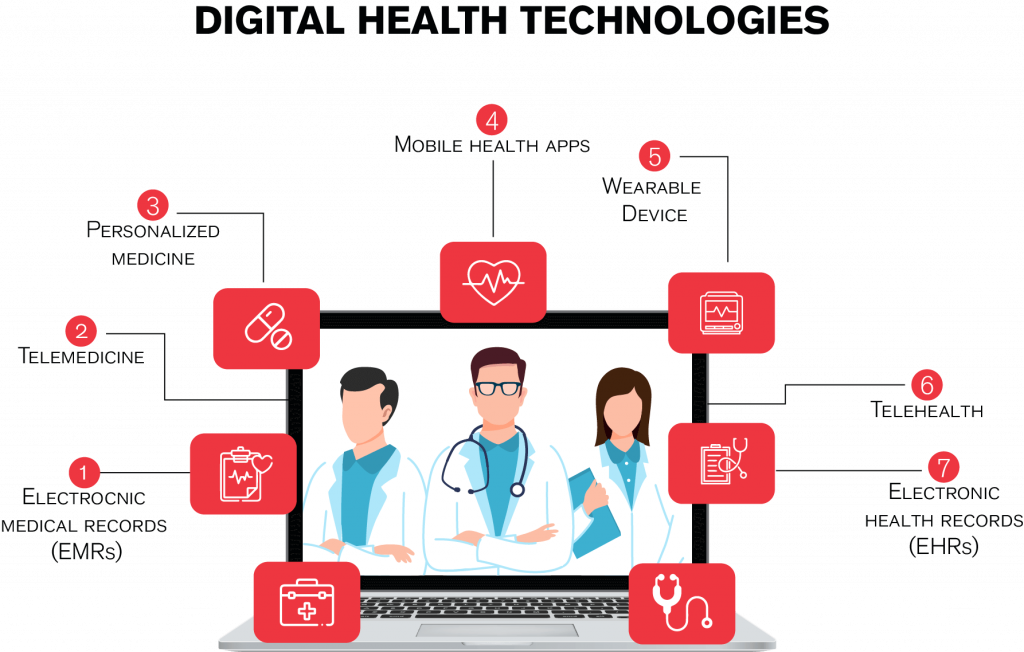 What is care delivery?
Care delivery is an umbrella term that refers to the use of digital methods to provide patients with a smooth user experience. Rather than using the traditional methods of face-to-face or in-person appointments. This term also refers to various other methods of care delivery. Such as telemedicine, e-health which is secure communications between patients and doctors, and online consultations. Also, mHealth is a distribution of medical services through mobile devices, remote home monitoring (RHM), and telementoring.
Why is care delivery crucial?
Now that the healthcare systems are adapting and transforming themselves into a completely digital forum. The focus on user experience, care delivery, and patient satisfaction is being in demand which in turn results in higher expectations from the patients.
This very idea of patient care is the utmost priority brings us to ponder on the question of the importance of care delivery and the need to keep improving it in a healthcare setup.
The provision of care delivery is that aspect of the health system that is most apparent to both the patients and the general public. The organization and facilitation of all services related to the diagnosis and treatment of disease, as well as the promotion, maintenance, and restoration of health, are the key areas of focus for a healthcare provider when it comes down to care delivery.
Additionally, it talks about the obligations of the healthcare system and how it fits into the larger public health system.
In any healthcare setup, the main idea of care delivery is proven to be very important. It is because it significantly reduces the workload the provider has to bear if there is a fault in patient care. This in turn leads to long-term care delivery to the same patient or to a few patients. Eventually results in the slow degeneration of trust in the services provided by that particular healthcare provider.
How to improve care delivery in a healthcare system?
As we know the importance of the concept of care delivery. And how it is crucial for any healthcare provider. It narrows down to the factor of keeping the idea fresh and up-to-date and not just implementing it and letting it be. Due to the drastic advancement in technology across sectors, and given the demand in the healthcare market. The improvements and the necessary minor changes give an upper hand when it comes to caring delivery.
Below listed are a few steps to improve care delivery in a healthcare system
A. Improvised access to care
The most crucial element for enhancing user experience and high-quality healthcare is access to care. To get the best outcomes, patients must have access to the appropriate care at the appropriate time. However, around 15% of people still lack health insurance, which limits their access to timely treatment. It disconnects them from primary care and compels them to rely on more expensive treatments.
A study found that although Americans only use preventative treatment at half the recommended rate. Underlying chronic illnesses in the country account for 75% of yearly health costs in the US. However, access to care does not only mean that patients get to meet their physicians regularly. But it also means improving how and where these patients are able to access care when they need it.
B. Enhanced patient engagement
Patients are said to be their best advocates, but this is only possible if they are rightly educated about it. This is possible with improvised patient engagement from the healthcare provider's side. Where the physicians or specialist doctors sit down with their patients and explain the concept of healthcare to their patients. However, this patient-doctor engagement shouldn't end just with the patient. But should be widely spread across, families, doctors, and other healthcare professionals. Also, insurance companies and social services are involved in the patient's healthcare process.
C. Collection of data and analysis of patient outcomes
Analyzing the current data to identify possibilities is the first step in raising the standard of delivery of care in a healthcare system. In order to find development opportunities, there comes a need to study both the patient population and the organizational activities. It then aids in creating a baseline for patient outcomes. The abundance of information accessible and IT-based solutions ideally allows for better patient-centered and linked treatment.
D. Connect, collaborate, and grow
Healthcare organizations should routinely research and study other organizations. Both locally and nationally if they are focused on raising the quality of treatment they provide. Return to the areas where there is room for development and learn from healthcare organizations that are leaders in those fields. Attend conferences, study the literature, conduct internet research, and keep an eye out for healthcare institutions that are succeeding in a particular region. Next, get in touch with a few chosen groups and learn from them.

Conclusion
Globally healthcare systems have gone online with the very idea of patient care, user experience, and patient satisfaction. To be at par with these global standards, the usage of emerging technologies is of great aid to all healthcare providers. These technologies have become an essential part of our systems. Which have seen to be of utmost aid and support in almost every aspect of healthcare and patient satisfaction. Not only do digital solutions facilitate improved care but also create better digital leadership and governance. Leveraging digital solutions at healthcare facilities manage flexibility and scalability. Implementing healthcare software solutions that assist intelligent, interoperable, automated, and intuitive care delivery. Some of them are Telehealth app development, EMR and EHR integration, and telemedicine.
Emorphis Technologies is a healthcare software development company, which serves healthcare providers, healthcare software vendors, healthcare product companies, payers, and home health providers. As in to integrate digital solutions into their care delivery process in order to improve patient outcomes. By providing a secure and efficient platform for sharing data between providers, we help reduce the risk of errors and improve coordination of care. Additionally, we provide tools for tracking patients' health records and managing appointments, such as telemedicine app development. Which can help reduce administrative burdens on healthcare staff. Ultimately, by integrating digital solutions healthcare organizations can create a process to be more efficient and improve the quality of care that patients receive. Also, boosting their ROI, click to check how software development for healthcare can boost ROI.