Overview
Tableau is a business intelligence tool that helps visually represent data in the form of graphs, and charts. On the other hand, Salesforce is one of the top customer relationship management software in the world. The Salesforce Tableau integration can offer a number of benefits to a company in the most effective manner. It has been identified that a company can get a huge number of benefits only when they analyze or read data insights. The integration of both these applications offers numerous benefits such as enhanced team communication, saving time, helping with data analysis, and many more. To reap all the benefits of Tableau and Salesforce integration you must make sure to connect with a Salesforce consulting company.
As per the data, 83% of CEOs want to make their organizations more data-driven. We all know that a data-driven organization can effectively utilize the data and in fact, make the right decisions at the right time. With the correct use of both these platforms an organization can improve employee productivity, innovate products, increase sales, improve customer satisfaction, and many more.
We believe that Tableau in Salesforce offers your company a competitive advantage. However, you must check out the benefits of Salesforce and Tableau integration.
Advantages of Salesforce Tableau integration
Salesforce and Tableau integration offers a number of advantages. Here are some of the main benefits of Salesforce and Tableau integration:
A. Improves data analysis and visualization
The integration of Salesforce and Tableau allows you to use the feature known as data visualization. Additionally, this feature allows you to visualize data in the form of a bar chart, pie chart, histogram, and many more. In fact, even a person with no technical background can easily understand what this data represents. The visual analysis at each step helps sales representatives to understand the data and make smart decisions. As a matter of fact, the intuitive interface of Tableau offers intelligent recommendations, insights, trends, and many more. We can also say that a sales team can attain desired results within the specified time frame by making use of Salesforce Tableau integration.
B. Enhance user experience
Salesforce Tableau integration helps organizations to become more data-driven which in turn improves customer experience. You can also get an analysis of different customer bases. The sales dashboard offers valuable insights so that you can attain desired results. By using these insights, you can understand what your customer wants and offer the right services.
C. Make the most of your work
Salesforce Tableau integration offers rich data which can be used by the sales department to understand customer requirements. In addition, the sales representatives do not have to switch between different platforms for data analysis. This allows the sales team to save time and get all the necessary insights on a single page.
The above image shows the sales performance data. In addition, it allows a team to understand sales data based on trends, regions, top products, and profit. All these parameters help in the easy understanding of data and save time.
D. Faster and better decision making
The data visualization feature helps a company to analyze the data and take decisions right away. The Tableau and Salesforce integration is useful as it offers data in the form of visual representation. Salesforce is already designed as an intelligent customer relationship management tool, but Tableau integration enhances its capability to a greater extent. Hence, users can easily analyze the data and resolve customer issues in the most effective manner.
Tableau helps you to utilize the rich customer data and offers analytics to the departments concerned. In fact, it becomes easy for everyone in the company to access the data and work efficiently. Whether it is the sales department, finance, or marketing, all of them can utilize the benefits of Salesforce Tableau integration.
F. Enhance market analytics strategies
Marketing teams usually feel pressure as they are accountable for increasing customer base and profitability. With the introduction of these tools, organizations can utilize data and make decisions quickly. The customer data is represented in an understandable format so that the marketing team can identify the latest trends and patterns.
Tips to consider before integrating Salesforce with anything
Integration has become a main priority for a huge number of organizations. The reason is that it offers great advantages including increased productivity, reduced cost, also enhanced operations and many more. The integration between Salesforce and your preferred application can make a powerful combination. By using this combination, and by utilizing these top 5 Salesforce Integration you can tackle various business issues in the most effective manner. To get all the benefits of Salesforce integration, consider a few things to ensure success. Before going through the steps for integration of Tableau in Salesforce, discover the priority checklist here:
1. Credential for signing in to Salesforce.com
You must have the right credentials so that you can easily sign in to the Salesforce account.
2. Identify how many times data needs to move between systems
At the time of integration, you have to find out how many times data is required to move between the systems.
3. Right version of APIs
The API enables the communication between data, applications, and devices, and having the appropriate API version is crucial for ensuring smooth interaction among different applications.
4. Review API limits
There are external systems that limit the amount of data transfer. So, the companies must have an idea about these restrictions to save themselves from any issues.
5. Make sure your data is clean, up-to-date, and validated
You must make sure that the data you are going to use further must be up to date. In addition, duplicate data can affect the integration process.
These are some of the common tips that a company must keep in mind before integrating Salesforce with business applications. You should know that there are various other parameters for successful integration. These technical or non-technical parameters can be effectively handled by a Salesforce integration company.
Challenges you may face while integration
In today's scenario, businesses use a wide range of applications to fulfill their needs and attain desired goals. In addition, a wide range of applications has been used by companies to solve issues and make operations more efficient. However, companies face issues when they integrate other business applications with Salesforce. That is why we recommend checking out this comprehensive guide on Salesforce integration services to ensure successful integration.
Integration is not an easy task as it requires expertise and technical knowledge. Let's have a look at some of the major challenges a company face while integrating software with Salesforce:
a. Duplicate records
The company must have a system that identifies duplicate records in order to make the integration successful. You can use external Ids at the time of importing custom objects, personal accounts as well data solutions. This external ID is a unique identifier that helps to deal with the duplicity issue.
b. Incomplete requirements
The initial step is to understand what exactly you want. In addition, analysis is required to identify whether the final results meet the expected outcomes or not. A company must understand that a project fails because of the reasons like incomplete details, poor communication, unmanageable changes, and many more. That is why we suggest a company opt for Salesforce integration services in order to gain maximum benefits.
c. Lack of in-house expertise
If your employees do not know how to use a new software then all the efforts will become useless. Companies often neglect the importance of training or mentoring which leads to disaster. In addition, a company must make sure to offer necessary training so that employees will be able to make the most out of the new system in the most effective manner. The lack of expertise will stop the employees from utilizing the full potential of the new software. Also, they will make many mistakes which will hamper overall productivity.
d. Right Salesforce integration partner
The right Salesforce integration partner helps you integrate Salesforce with other applications. Furthermore, an experienced Salesforce integration company uses the right tools, and techniques to give you exceptional results. If you hire a Salesforce integration company that does not have the experience then you may face various issues.
e. Salesforce integration strategy
As per our experience, we can say that Salesforce integration with other platforms could be challenging for a company. But, Salesforce integration allows a company to enhance its capability and use new functionalities to attain desired results. It is important to develop an excellent integration strategy with your Salesforce integration partner.
To deal with these Salesforce integration challenges like data security, duplicate data, data migration, and many more you have to hire an experienced and renowned Salesforce Integration Partner.
Check with the details on the role of salesforce integration services in transforming a business  
Salesforce Tableau Integration – How-To-Guide
Tableau is used to make the most effective use of Salesforce data. With the help of this integration, you can understand your customer's preferences and make the right product in the most effective manner. In addition, you can provide high-quality and up-to-date data to finance, marketing, sales, and other departments. To get all the benefits of this integration you must understand how to integrate Salesforce and Tableau.
Below is an example of a Tableau dashboard page that shows how you can convert your data into easy-to-understand charts, graphs, and many more. A company can create dashboards to understand the performance of a specific department such as sales, finance, and many more. You can create these dashboards to understand how a particular department is performing and understand what changes you might need to attain desired results.
Example of a Tableau dashboard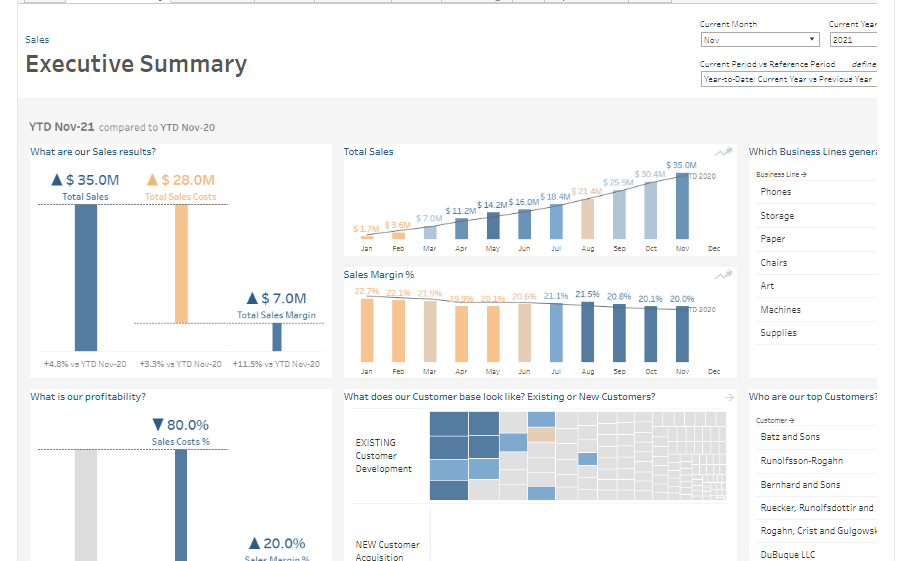 As you can see, this dashboard displays numerous attributes like total sales, number of active customers, new customers, profitability, sales margin, a business line that generates the most sales, and others.
It is easy to integrate Tableau views into Salesforce by using Tableau viz lightning web component. Tableau viz lightning component is available in Salesforce AppExchange. It has been identified that Tableau viz lightning components allow users to smoothly integrate Tableau into Salesforce. Tableau views can be embedded from the Tableau server, Tableau cloud as well as Tableau Public.
The lightning component offers in-built support so that you can configure the views as per your preferences on the Salesforce page. In addition, it provides filtering capabilities so that you can easily manage your data. The Tableau viz lightning component is compatible with every version of Tableau. To customize a Lightning page, you can easily add the Tableau viz lightning web component by dragging and dropping it onto the page and then providing the URL for the Tableau view.
You must understand that every company has different needs and the Tableau viz lightning component is not a perfect fit for all users' requirements. To make the most use of Salesforce and Tableau integration we suggest you connect with a Salesforce consulting company.
How to connect Salesforce to Tableau by using the built-in connector?
Salesforce is a highly customizable and versatile software that allows a company to gain many advantages. One of the significant advantages of Salesforce is that it is compatible with other business applications. In order to gain the advantages of this software you have to understand how to set up both the software together.
Have a look at these steps to understand it in a better way:
The in-built connector of Tableau allows you to connect with Salesforce in the most effective manner. One of the main things in integrating Salesforce with Tableau is to create a Salesforce account. This will allow you to connect your Salesforce data to Tableau.
Step 1. Establishing Tableau's Salesforce connector
Once you have created a Salesforce account, you need to download Tableau Desktop. Subsequently, this is the software that will allow you to visualize your Salesforce data in Tableau.
The image below is Tableau's connector list in which you go to the left column and select the 'more' option.
After clicking on this option, you will see a list of other options.
Now select 'Salesforce' from the options available in the list.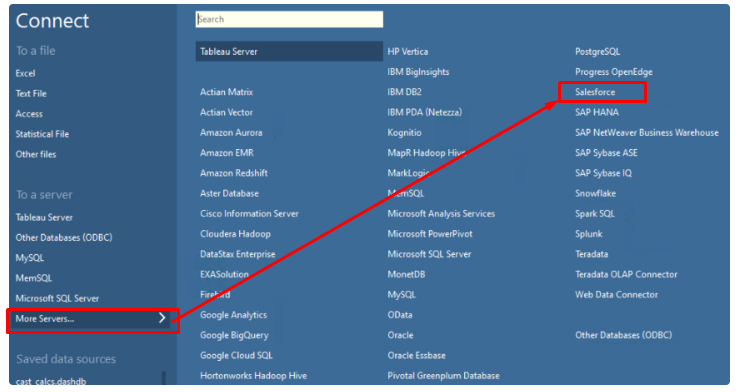 After connecting to Salesforce, you will need to log in to your Salesforce account. This is done by entering your Salesforce username and password.
Now in the pop-up menu use your login ID and password to login to Salesforce.
Step 2. Connecting up the data source
After the successful sign-in, you will see the data source page. Now select the data source and give a unique name to the database that will be used to fetch data. It is important to give a unique name to the database as it will allow the users to identify the database. You may either set up a standard connection and start the analysis by dragging predefined queries, objects, and visualizations into the canvas using Tableau, or you can set up a custom connection, choose the tables you want to analyze manually, and start the analysis that way.
From the Schema drop-down menu in the left column, choose the necessary schema. You may also use a text-based search to identify the necessary options. Similarly, locate the required table, select it, and then drag it onto the canvas.
Step 3. Incorporate the dashboard into Salesforce
After creating a dashboard for your users, you should make sure that it is integrated into their homepage for quick and convenient access. To do this, you will need to access an account and alter the view. Visit the homepage, then click "Edit Page" from the settings menu in the upper right corner of your screen.
Now you will see the component tab in the upper right corner of your screen. Search 'Tableau' on the search bar and find the Tableau visualization option under the custom–managed option. After logging in to your profile you will see the necessary objects on your main screen.
If everything is done in the right manner you will see this type of dashboard and objects on your screen.
By following these steps, you can successfully integrate Salesforce with Tableau. This will help to create visualizations that can provide insights into customer data and other business performance metrics. We know that the above procedure is somehow complex for the users and also requires technical assistance to avoid any failure. To make the Salesforce Tableau integration successful you have to hire a Salesforce integration partner.
Why must a company integrate Salesforce and Tableau?
If you have a doubt about integrating Salesforce with Tableau you have to consider the benefits that it offers in the long term. It has been identified that Tableau mainly focuses on analyzing the data and representing it in an understandable format. On the other hand, everybody knows that Salesforce focuses on managing customers in the most effective manner.
Furthermore, integrating Tableau with Salesforce allows a marketing manager to track the pipeline and understand the impact of each activity. Just like the marketing manager, the sales manager can identify the preferences of different buyers and make sure that the product and service offer maximum satisfaction. We can say this integration can play a very important role in allowing different departments to create their own dashboards and also keep track of each activity.
Because of the numerous benefits, we suggest you integrate Salesforce with Tableau. We believe that you can make a business more productive, efficient, and profitable with the help of this integration.
Final Thoughts On Salesforce Tableau Integration
Salesforce has transformed the concept of customer relationship management and Tableau in Salesforce has made sure that businesses stay competitive. As we have noticed in this blog Salesforce Tableau integration allows you to convert data into meaningful insights within no time. So, now you may have understood that Tableau allows you to understand the data and Salesforce helps to understand the customers. As a matter of fact, the combination of both these platforms can offer a competitive advantage to any company.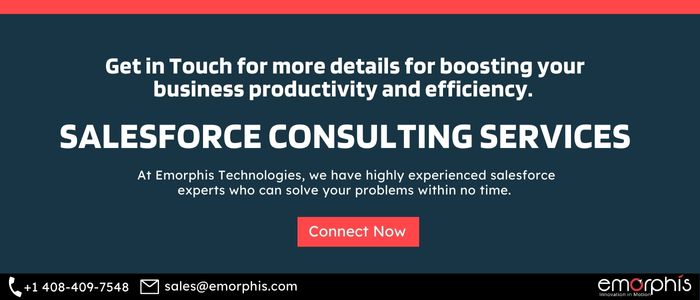 The correct use of this combination will allow users to eliminate the issues of data silos, inconsistent data, and many more. As per our experience, the integration requires technical expertise to save you from any uncertainty. Hence you must connect with a Salesforce integration service company to reap all the benefits in the most effective manner. Our experts are highly experienced and know how to deliver exceptional results. We believe in offering assistance so you cannot face any issues.
Emorphis Technologies is one of the highly reputed Salesforce consulting companies which has already served a huge number of clients all across the world. Our certified professionals help you with seamless third-party integrations so that you can save time as well as cost. Our 360-degree services include Salesforce integration, Salesforce implementation services, Salesforce app development services as well as support services. If you want to integrate Tableau with Salesforce you can contact us right away.