Introduction
Are you looking to maximize efficiency, revenue, and impact within your nonprofit organization? By leveraging the nonprofit trends and with Salesforce Nonprofit Cloud you can do just that.
The Salesforce Nonprofit Cloud is a powerful solution that gives nonprofit organizations the tools they need to effectively manage their data. Also, streamline processes and unlock new growth opportunities.
Nonprofit organizations can make a huge difference in their communities. But they face significant challenges in fundraising, generating revenue, and managing funds efficiently.
However, the Salesforce Nonprofit Cloud has generated a lot of excitement throughout the sector. It admits a data-driven approach to identifying key donors. Also, segmenting campaigns and fine-tuning analytics to maximize donations.
According to a report, The three departments utilize Salesforce to overcome the challenges:
Donor / Constituent Management (70%)
Fundraising (65%)
Program Management (62%)
Let's look at NPOs' (nonprofit organizations) emerging nonprofit trends. Answering, how you can leverage these trends with Salesforce Nonprofit Cloud.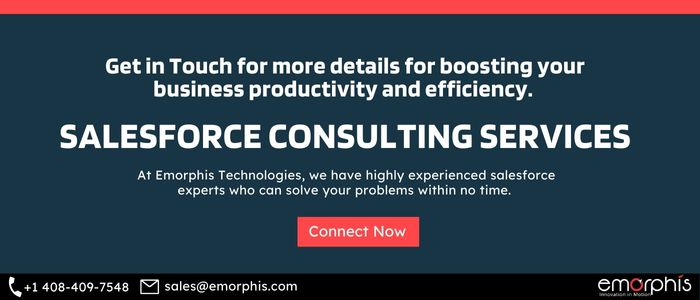 Top 10 Nonprofit Trends for 2023
The nonprofit industry is constantly evolving and adapting to changing times. With the advancement of technology and more people embracing digital channels, NPOs have seen a significant shift in their operations. To stay ahead of the curve, it's important to keep up with the latest nonprofit industry trends. Also, developments so you can plan for the future.
Now let's check the emerging nonprofit industry trends for the year 2023.
1. Communication
With an increasing awareness of the positive effect, charities can have on society. It is no surprise that nonprofit organizations have become one of the most rapidly growing sectors in many parts of the world. However, in order for these charities to remain successful, communication is paramount. As a force for good, it is important to take benefit of these trends in nonprofit organizations. It is to find innovative ways to present their message and reach their desired audience.
Whether through advertising campaigns, fundraising events, or more informal means such as social media. Effective communication is essential if nonprofits are going to develop and flourish. Although required financial backing is still necessary for effective operations. It is for conveying a powerful message that has become increasingly vital. It is so as competition has increased amongst nonprofits vying for public attention and support. All successful nonprofits now fully understand the importance of effective communication. In fact, addressing the right issues in an emotionally compelling way can truly be the epicenter of success.
2. Donor Retention
In 2023, the nonprofit world is beginning to innovate. This is to adapt technological upgradation, economic, and social trends. One of the key nonprofit trends will be the focus on donor retention. This will involve implementing strategies to better understand donators. Also, engage with them on a more personal level, and provide tangible feedback that shows how their contribution makes an impact.
Nonprofits must also consider potential incentive-based programs that award donors who donate consistently or at higher levels. As time progresses we may see a greater focus placed on donor feedback. It is to ensure that donators get access to meaningful data regarding how their donation is helping others. Investing effort into retaining current donors is crucial for organizational success in the coming years.
Navigate the complex world of CRM with the support of skilled Salesforce consulting companies in USA.
3. Leveraging the Power Of Social Media
This trend in nonprofit organizations is shaping up to be a year full of promising advancements in the use of social media platforms. This revolutionary tool gives nonprofit organizations an unprecedented opportunity. It is to reach a broad, diverse audience while streamlining its marketability.
Nonprofits can broadcast their message widely and quickly. As well as establish brand loyalty through both online and offline engagements. The power of these outlets also allows nonprofits to gain invaluable feedback. Mostly from their supporters and others in the social media realm. Furthermore, advanced analytics can provide vital insights into performance metrics. It is to help shape strategies for future growth.
4. Emphasis on Digital Fundraising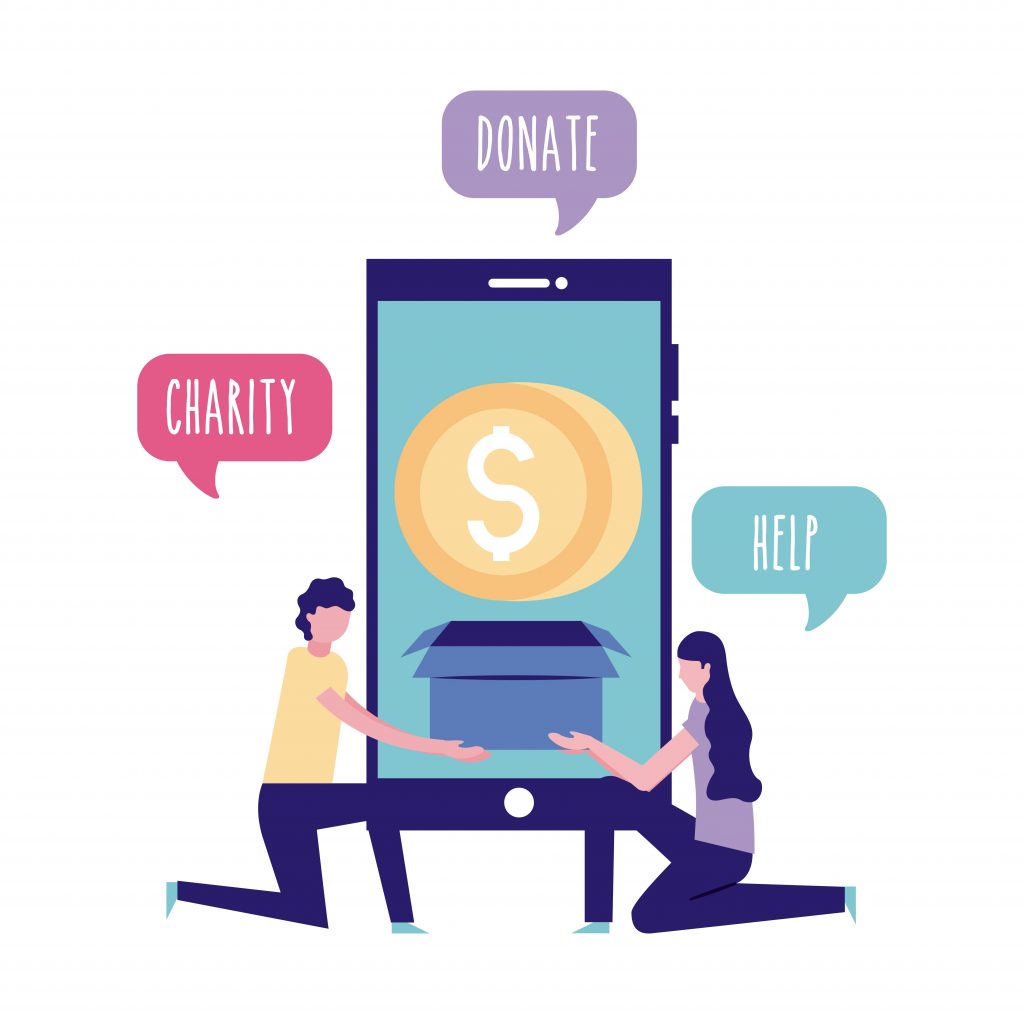 Traditional fundraising methods such as door-to-door canvassing or direct mail campaigns are becoming less effective. As a matter of fact, more people turn to digital channels for donations. Nonprofits need to invest in digital fundraising strategies. Crowdfunding campaigns, online donation portals, or text-to-give are some of the programs to maximize revenue potential.
5. Use of Data Analytics
Big data analytics services and AI have revolutionized how organizations make decisions. This is about their operations, marketing strategy, fundraising efforts, and others. It is by providing insights into customer behavior and preferences. Nonprofits can use data analytics tools to gain a better understanding of donor demographics. Also, identify opportunities for improvement in their operations, track campaign performance metrics, and more. This in turn will help them better serve their constituents and optimize their results.
6 . Adoption of Cloud Technology
Nonprofit trends that can't be overlooked are enabling cloud technology. It enables NPOs to store data securely offsite without investing in hardware or software licenses upfront. This allows them to save money, leveraging the benefits of having an efficient IT infrastructure setup.
Moreover, cloud computing services also enable remote working capabilities. So employees can collaborate no matter where they are located. It is a convenient feature, especially during times when physical meetings may not be feasible.
7. Emergence of Online Volunteering Opportunities
As more people look for ways to give back from home due to travel restrictions imposed during the pandemic COVID-19. Online volunteering opportunities have become increasingly popular among volunteers. This is for those who are not able to physically participate in volunteer activities. For example, due to either time constraints or geographic location.
These virtual volunteering opportunities allow volunteers from anywhere around the world to work remotely on tasks. Such as website design or content writing without ever having to leave their homes. This is making it easier than ever before for volunteers to work with nonprofits toward meaningful causes.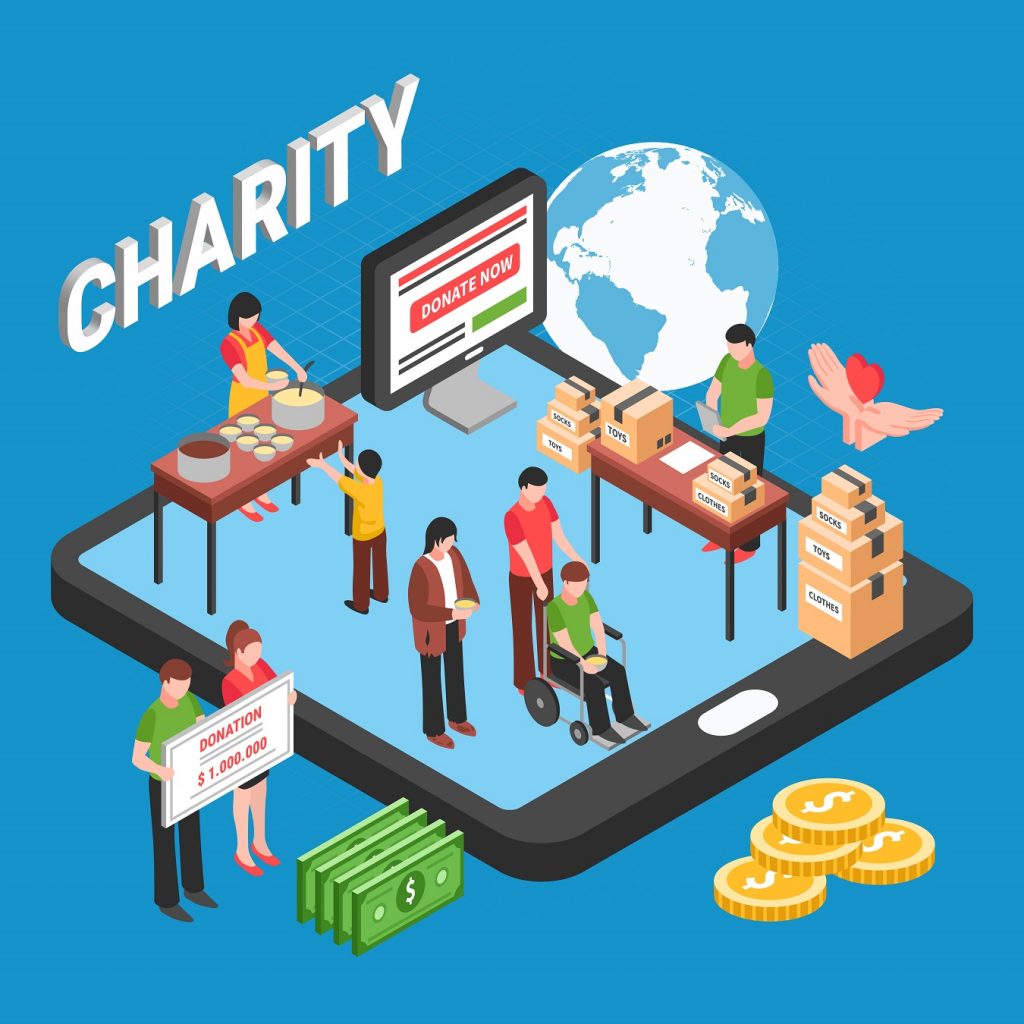 8. Flexible Giving Options
In the recent past, nonprofit organizations have seen great success in creating flexible giving options to encourage people to donate. These options include the ability to sign up for regular donations. Also, give back through loyalty cards, and even create one-time payments. Allowing donors the freedom to choose how they give has improved donation rates. It has been sparking renewed enthusiasm and excitement among donors. By understanding their needs and preferences, nonprofits are able to make more meaningful connections. Also, increasing their financial impact and reach. In summary, flexible giving options have demonstrated remarkable effects on nonprofit success for 2023.
9. Use Brand Reputation
As we look to the future, one key nonprofit industry trend is brand reputation. Nonprofits of 2023 have an incredible opportunity to use their organization's image, values, and ethos to create positive connections. By cultivating brand loyalty through a strong sense of purpose. And also, with a mission-oriented approach, nonprofits can create stable support. This is for their cause that goes beyond a single donation or occasional campaign.
It has become increasingly evident that developing a clear brand message and expanding it into the wider public eye is necessary. This is in order to better position NPOs as viable players in their chosen fields. Carefully crafted messaging that keeps current nonprofit trends in mind. And also, staying true to the core of the organization will drive the conversation forward in 2023 and beyond.
10. Flexible Work Environment
One of the biggest nonprofit industry trends expected to embrace in 2023 is a flexible work environment. An organization that can accommodate changes in how, when, and where employees work will be leading the pack. As it improves employee engagement and job satisfaction at all levels. Allowing greater flexibility encourages workers to take ownership of their own schedules. And thus collaborating with colleagues from different geographical locations and time zones more smoothly. This nonprofit industry trend also reduces office-related costs and enhances communication within the workplace. Ultimately allowing a nonprofit to maximize resources and better serve its mission statement.
Don't forget to check out this amazing blog: Top Salesforce apps for Nonprofit organizations
What is Salesforce Nonprofit Cloud?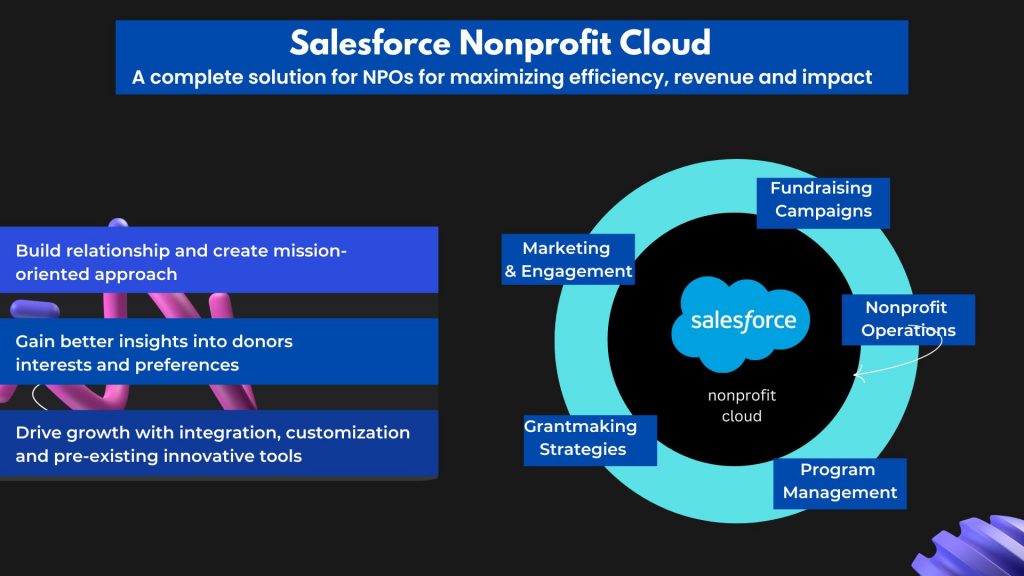 Salesforce Nonprofit Cloud empowers users to ensure all operations are transparently managed across a single system. It gives organizations better visibility and improved operations. So, they can reach their goals more effectively and efficiently.
Every feature and tool within the Nonprofit Cloud is designed to facilitate efficient communication and collaboration across various levels of an organization. Also, it helps maximize impact in terms of time, cost, and effort.
More specifically, this cloud enables organizations to change their processes. As a matter of fact, it is so that they need less staff, time, and cost for fundraising activities. Grant requests and automatic receipt reminders are some of them. And at the same time, the platform helps open up opportunities for better relationships with donors.
With access to analytics-based insights and customizable interlinked databases. Salesforce Nonprofit Cloud offers an enticing opportunity for nonprofits. This is to optimize their service delivery and deepen their understanding of their community.
Now, let's look at Salesforce Nonprofit Cloud, to attain the above trends in NPOs (nonprofit organizations)
How to leverage nonprofit trends with Salesforce Nonprofit Cloud?
A. Enhance Communication with Salesforce Nonprofit
The Salesforce Nonprofit Cloud enables organizations to communicate with donors more effectively. It allows nonprofits to quickly exchange messages with donors. While gaining better insights into their interests and preferences. The platform also provides access to email templates, content libraries, and automated campaigns. Which makes it easier for nonprofits to create personalized content and engage with donors in a timely manner.
Also, with Salesforce Chatter, nonprofits can enhance communication within the organization to increase efficiency and productivity.
B. Increase Donor Retention
With the Salesforce Nonprofit Cloud, organizations are able to track donor information such as giving history and contact information. This allows them to develop targeted campaigns. It can be based on donor interests and potential opportunities for growth. Also, it helps gain insight into why donors may be dropping off from donations or subscriptions. Furthermore, the platform offers tools that help nonprofits send out tailored messages and reminders. This can be scheduled when it's time for donors to renew their subscriptions or donations.
C. Power Of Social Media
Social media is one of the most powerful tools a nonprofit has at its disposal. Salesforce makes it easy for organizations to leverage this tool by integrating multiple social media platforms. This allows organizations to quickly post content across all platforms. And, without having to switch between them. This helps save time and effort while increasing engagement levels with their target audiences.
D. Digital Fundraising with Salesforce Nonprofit Cloud
With the Salesforce Nonprofit Cloud platform, organizations can set up digital fundraising campaigns quickly. How? It is by leveraging pre-existing payment gateways. Which reduces overhead costs associated with setting up new payment processing systems from scratch.
They can also create custom forms within the platform. This allows supporters to easily donate without any additional setup. Also, with Salesforce customization services nonprofit organizations can enhance business productivity and efficiency.
E. Data Analytics with Salesforce Nonprofit
With the Salesforce Nonprofit Cloud platform, you have access to powerful data analytics tools such as Einstein AI. This allows for analyzing large datasets quickly in order to uncover patterns and insights. This would otherwise be difficult using manual methods.
F. Adoption of Salesforce Nonprofit Cloud
With cloud-based solutions, nonprofits or NPOs are now able to access powerful software applications. Salesforce Nonprofit Cloud provides a comprehensive suite of cloud-based applications. That enables nonprofits to manage everything from donor relationships to volunteer management with ease.
G. Online Volunteering Opportunities
With more people relying on digital tools for communication and collaboration. There has been an increase in online volunteering opportunities. Salesforce Nonprofit Cloud helps facilitate these remote collaborations. This is by providing tools that enable volunteers and staff members alike to communicate. It in turn helps coordinate projects efficiently and easily across distances.
H. Flexible Giving Options with Nonprofit Cloud
Nonprofits can no longer rely solely on one-time donations for support. Instead, they must provide flexible giving options that make it easy for donors to give at their own pace. This includes monthly or recurring donations as well as planned gifts or bequests. With Salesforce Nonprofit Cloud, NPOs are able to easily create donation forms. That enables donors to give whenever and wherever they want. Thus making it easier for them to show their support for a nonprofit's mission over time.
I. Attract Customers with a Brand Reputation
With Salesforce, you can easily monitor how your organization is being perceived online and adjust your strategy accordingly. The platform includes tools like Engagement Plans and Customer 360. This allows tracking customer sentiment across multiple channels, helping identify any potential issues or opportunities. Also, it can set up automated alerts so as to know when key topics are trending.
J. Provide a Flexible Work Environment with Salesforce
Salesforce Nonprofit Cloud can provide remote access to critical data while maintaining secure access controls. You can also use features such as time tracking, project management, and task management tools. So that everyone has visibility into what tasks need to be completed. At any given time and who is responsible for them. This makes it easier for teams to collaborate effectively.
Want to set up Salesforce Nonprofit Cloud?
At Emorphis Technologies, we understand how important it is for nonprofit organizations to bring their operations into the cloud. Our Salesforce consultants can help you make the transition. Have a look at one of our NPSP case studies – NPSP Set up for Nonprofit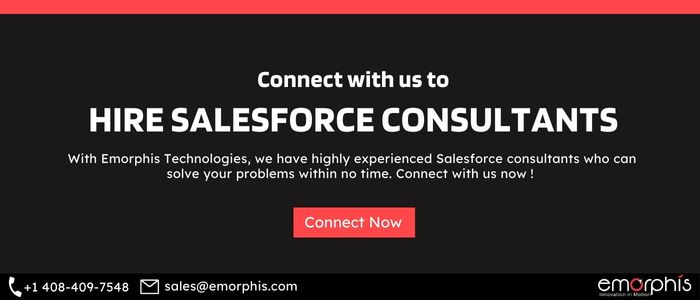 As one of the leading Salesforce Consultancy Services providers our team helps unlock limitless potential, and leverage nonprofit trends. And also enables you to access critical components like donor and volunteer management in highly efficient ways.
Contact us today to see how our Top Salesforce Consultants can work for your organization and open up new opportunities you never thought possible.
Last Thought on Nonprofit Trends
As new technologies emerge over time, nonprofits should pay close attention to these trends. So that they can effectively adjust their strategies accordingly. Taking advantage of these trends in NPOs (nonprofit organizations) helps to increase efficiency, and also reach new audiences. Also, engage current donors, generate new leads, and strengthen relationships with supporters. In fact, this ultimately helps to achieve greater success. The right combination of these nonprofit industry trends could mean big things for any NPOs or nonprofit organizations.
Now, take a look at the infographic: