In current times, the business world is seeing massive upheaval. Why? It's due to the CRM solution. Such is its power that CRM consulting services are in great demand.
Before proceeding forward, let's first understand what CRM is?
Customer Relationship Management or CRM are tools that help in building long-lasting relationships with clients. To achieve business success; it is crucial to manage and leverage information in the right manner. In such a scenario, CRM offers a perfect solution!
First of all, these systems are gaining immense popularity and are not showing any sign of a slowdown! In its support, revenue generation from the CRM software shall cross $800 billion by 2025.
Secondly, there is no slowing down in the demand for CRM, and every organization is opting for a reputed CRM consulting company. To support it, experts have predicted a whopping $128.97 billion worth of CRM globally by 2028.
So, the above-given facts clearly convey that CRM solutions are cost-saving options in the long run. Moreover, it has the caliber to change the working of any organization with minimal effort.
Hence, the given article will focus on several aspects that will showcase the prowess of CRM software in transforming the business fortune of several industries.
Let's discuss more of it!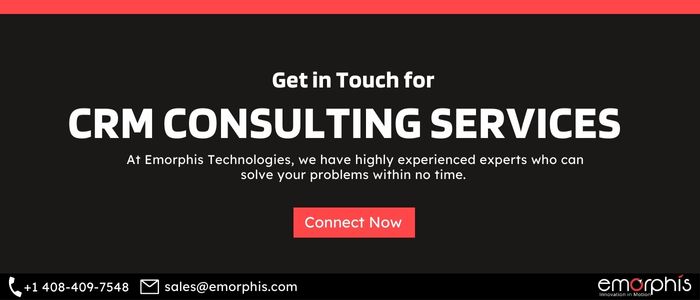 Overview of CRM Consulting Services
Technically speaking, CRM software comprises all customer-oriented technologies that improve customer relationship management to nurture an effective deal with the clients.
In addition, CRM consulting services providers also help an organization to develop a cordial relationship to stay connected with their clients through streamlining procedures and improved profitability.
CRM consulting services provide a comprehensive and integrative approach to CRM software development and CRM project management. A CRM consultancy also offers valuable CRM tools, industry-specific CRM expertise, and best practices for CRM software development.
CRM consulting services help organizations to develop, implement, and manage CRM software applications that are tailored to their specific business requirements. The consulting services also provide an objective, unbiased assessment of an organization's current CRM capabilities, processes, and organizational structure.
So, which CRM is best for you?
In addition, CRM consulting services offer a roadmap for future CRM implementation projects. As a result, CRM consulting services can play a pivotal role in helping organizations to achieve their desired levels of CRM success.
At present, there are several CRM software across the globe. Notable of being them includes Salesforce, ZOHO CRM, Hubspot, Zendesk, Insightly, etc.
However, out of them, why Salesforce is getting all attraction?
It's because Salesforce is a cloud-based CRM software solution that offers wide support to sales and marketing teams across the globe.
Even more, it comes with some exclusive features absent in other CRM software. And it comprises workflow creation, contact management, opportunity tracking, customer engagement tools, a mobile-ready dashboard, etc.
What are the various industry types in which CRM solution is necessary?
Every industry incorporates CRM in its business. In fact, every CRM consulting company is in great demand among several industries across the globe.
Likewise, CRM is changing the face of the global economy to a great extent. Let's look at some industries where the role of CRM is somewhat crucial.
A. Healthcare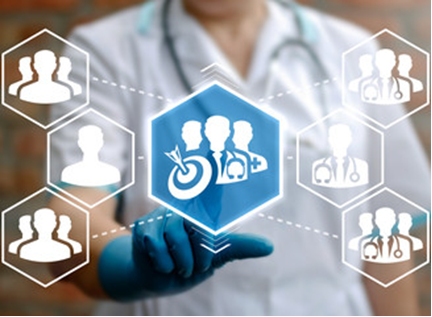 Above all, healthcare is one such sector where CRM becomes more prominent. So, what role does medical CRM plays?
As a matter of fact, it enables healthcare companies to arrange and optimize patient interactions, evaluate data, and automate the whole business procedure.
Today, healthcare startups are hiring consultants from reputed CRM consulting companies to micromanage the needs of the patients. It includes: managing schedules and appointments, sending a reminder to patients, etc. Furthermore, medical experts are ecstatic in forecasting the revenue of the global medical CRM market to be $9.6 billion by 2026.
CRM consulting services help healthcare organizations to effectively manage customer relationships. CRM systems are designed to capture and store customer data, and they provide tools for managing customer interactions. Also, a CRM consulting services company can help healthcare organizations to choose the right CRM system for instance Salesforce Health Cloud for their needs, and they can also help organizations to implement and use CRM systems effectively.
CRM consulting services can help organizations to improve patient satisfaction, increase operational efficiency, and reduce costs. In addition, CRM consulting services can help organizations to comply with regulatory requirements related to patient privacy and security. CRM systems are an essential tool for healthcare organizations, and CRM consulting services can help organizations to get the most out of their CRM investment.
Now, how CRM system aides the healthcare system? There are several ways CRM solution proves advantageous to the healthcare sector:
Offers perfect harmony for critical data across departments that comprises billing, lab, delivery, and supply.
Get access to valuable patient insights to evaluate the performance of the medical business.
Bring improvisation to personalize the patient experience by speeding-up communication with patients and automating customer service responses.
Reduce human error by automating most of the administrative procedures.
How healthcare process needs a CRM solution?
As said before, the goal of every healthcare provider is to offer the best quality health services to the patients. Moreover, improvising patient data results in a rising quality of care with an increasing satisfaction rate among the patients.
It is why hiring the best CRM consultants has become an accepted norm for hospitals across the globe. Therefore, the best way that healthcare services can benefit from CRM solutions is by procuring a comprehensive approach.
Here, the emphasis is on a planned information flow with effective communication to deliver the best healthcare services to the needy one.
B. FinTech
As the FinTech industry is large, there is ongoing fierce competition to occupy the vacant space. Several businesses such as banks, insurers, and capital markets now realize the importance of customer relationships.
That's why they are now contracting CRM consulting services to win their customers and move up the ladder in their business.
Mostly, FinTech organizations utilize two CRM software. Firstly, multi-purpose CRMs that focus on aligning workflow with financial procedures. Secondly, industry-specific CRMs use out-of-box functionality to streamline operational procedures.
Now, there are several benefits that FinTech industries can utilize from a reputed CRM consulting company in the USA. Some of them are:
Building a customer-centric culture by delivering consistent digital experience in real-time
Enhance productivity by minimizing repetitive procedures and offering services that meet customer expectations
Emphasize increasing efficiency of marketing efforts
Build customer loyalty through instant answers to client's issues
Foster an effective inter-departmental collaboration
How FinTech process Needs a CRM solution?
In actuality, a CRM for FinTech focuses on meeting the financial requirements of the companies to sell more and also build customer loyalty. Now, how does CRM works for FinTech?
For instance, CRM consulting company collects all the relevant information about the interaction between customers and companies and offers valuable insight to improve the functioning.
CRM is a crucial part of any business, but it is especially important for financial institutions. That's because managing customer relationships effectively is essential to success in the finance industry. And with the increasing complexity of financial products and regulations, having a good CRM system in place is more important than ever.
Fortunately, there are now a number of great CRM consulting services provider like Emorphis Technologies that specializes in helping financial institutions get the most out of their CRM systems. We have a deep understanding of the unique needs of the finance industry and can help you implement a CRM system that will help you better manage your customer relationships.
If you're looking to get ahead in the finance industry, investing in a good CRM system is a great place to start. And with the help of a good CRM consultant, you can be sure that your system will be tailored specifically to your business's needs.
Besides, FinTech companies can take the help of CRM advisory services to make all personalized contacts. Also, they can take the benefits of omnichannel to offer superior care and win applause from their customers.
C. Retail
During the COVID-19 pandemic, the retail sector was worst affected. In such a scenario, a CRM solution came to its rescue. As per the reports of McKinsey, e-commerce growth surged during a pandemic to a great extent, just like moving 10 years ahead!
What's more, the majority of the brands have become online which has made the online retail business a lovable one. Likewise, CRM consulting software is helping both e-commerce and retailers to manage customer interactions well.
In addition, several aspects make CRM software an integral part of the retail and e-commerce sector. They include:
Allowing to know the customers by presenting all information at the fingertips
A better understanding of the leads and keeping them flowing by offering key data insights and marketing automation
Focus on unifying customer support across all channels
Permits clients to see the functioning of their business
How Retail process needs a CRM solution?
For businesses today, getting success is possible only through a positive customer experience. In such a case, CRM plays a very crucial role.
With the help of CRM, retailers can know the needs of customers and prepare products that suit their demands successfully.
What's more, it precisely stores customer information so that retailers can predict future trends and make wise decisions.
In short, CRM solutions assist the retail sector to reduce expenditure, boosting firm performance, and enhancing customer loyalty.
In the retail industry, customer relationship management (CRM) is essential to success. By tracking and managing customer data, retailers can provide a personalized shopping experience that builds loyalty and encourage customers to return.
However, managing customer data can be a complex and time-consuming task. That's where CRM consulting services come in. CRM consultants have the knowledge and experience to help retailers develop and implement effective CRM strategies. They can also provide ongoing support and advice as needed, ensuring that retailers are able to make the most of their customer data.
As the retail landscape continues to evolve, CRM consulting services will become even more important. By partnering with a qualified consultant, retailers can stay ahead of the competition and build long-lasting relationships with their customers.
D. Startups
Why is CRM solution good for startups? Simply saying, CRM not only helps in building cordial relations with customers but also assists in increasing their business revenue.
Moreover, there is a saying:
'Every startup aims to prosper and thrive, and an effective CRM solution fulfills the given two criteria.'
Let's have a look at some of the crucial benefits that CRM offers for a startup to grow tremendously:
It helps in organizing data in a planned manner to increase efficiency
Also, it persuades more customers to come to the fold of the company and retain them via integrating CRM with social media
It successfully administrates funds by integrating Salesforce with the best accounting platforms such as Xero and QuickBooks
It makes collaboration with different groups easier so to access the latest information with a single click
How do Startups need CRM solutions?
CRM for a startup is an essential aspect as they make the whole procedure streamline and easy to work. Consequently, it effectively identifies the ideal customer base for the retailers and helps them to quickly analyze and organize data.
Likewise, it will offer a platform where entrepreneurs can meet with their clients to discuss an idea that will eventually form the basis of their startup expansion. Thus, startups can maintain their lean efficiency far ahead of their rivals.
It is essential to have CRM Consulting services for Startups
As a startup, you have a lot on your plate. From developing your product to building your team, there are a million things to do and only so many hours in the day. That's why it makes sense to outsource some of your non-core functions, like customer relationship management (CRM). A CRM consultant can help you select and implement the right CRM system for your business, saving you time and money in the long run. Not sure where to start? Here are three reasons to consider CRM consulting services for your startup:
Streamline sales and marketing: A good CRM system can help you keep track of your leads and customers, automate sales and marketing tasks, and intelligently segment your audience. This will free up valuable time for you and your team to focus on other areas of the business.
Improve customer service: A well-designed CRM system can help you deliver outstanding customer service by giving you visibility into every customer touchpoint. This way, you can quickly resolve any issues that come up and deliver a best-in-class experience that will keep customers coming back.
Grow your business: With the right CRM system in place, you'll have the data and insights you need to make informed decisions about where to focus your efforts for maximum growth. By investing in CRM consulting services now, you'll set yourself up for success in the future.
E. Manufacturing Industry
In the current scenario, several manufacturing companies are leveraging CRM solutions. Why?
The reason is that CRM solutions permit companies to get access to a detailed overview of the requirements of the customers. At the same time, it improves the client-customer relationship and thus, helps in making smart decisions.
Nowadays, CRM in the manufacturing industry emphasizes giving a boost to sales to enhance profitability. Likewise, it devises some strategies where dealers can procure their needs online through a sales team via online.
How Manufacturing Industry need a CRM solution?
In recent years, the manufacturing industry is seeing a drastic change. It has become more customer-centric. With the support of CRM consulting services companies, the manufacturing industry is meeting the demand of the customers appropriately.
As of now, several factors demonstrate the importance of CRM in the manufacturing industry:
First, it centralizes sales conversations in a single system so that the sales team can manage their leads and opportunities to close a deal with pomp!
Second, it enhances loyalty and satisfaction rate among the customers by collecting valuable information to have good communication with the customers.
Third, it helps in forecasting future sales growth to successfully close potential deals and offers real-time sales forecasts to offer a better plan and schedule the resources as per the needs of the customers.
Fourth, a manufacturing CRM helps to manage and understand the supply chain by offering enhanced visibility and creating an 'intelligent supply chain.'
In order to remain competitive and keep up with the constantly changing landscape of the manufacturing industry, it is important for businesses to invest in CRM consulting services.
A CRM consultant can help identify areas where the company can improve its customer relations and make recommendations accordingly. Additionally, a CRM consultant can provide valuable insight into the latest industry trends and technologies, helping the company to stay ahead of the curve.
By taking advantage of CRM consulting services, manufacturing businesses can improve their bottom line and better meet the needs of their customers.
Why does Salesforce as a CRM solution help in the transformation of every industry?
In general, companies who are serious about digital transformation shall need to focus on business areas that offer maximum benefits.
Thankfully, Salesforce CRM is there as it is the 'data warehouse' of every industry. Additionally, it is the place where crucial elements are stored that helps in commencing any project successfully.
Moreover, industries have several options to choose from in Salesforce. First is the Salesforce configuration that can be utilized for fast and easy accessibility for timely implementation.
Second is Salesforce integration which helps any industry build a strong foundation to support its customers by offering a unified view of its products.
Third is Salesforce customization which end-users can use to meet their needs in specifying certain functions and budgets.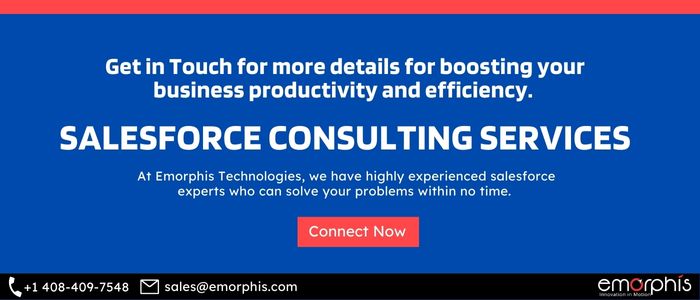 To get the exact picture, let's understand the implementation of Salesforce in several above-given industries:
I. Value of Salesforce CRM in Healthcare Services
Simply speaking, healthcare consumers need personalized services with easy-to-access medical services. It is possible through Salesforce consulting CRM solutions.
In fact, the Salesforce health cloud offers effective healthcare delivery by easy sharing of patient data across the department. Furthermore, sharing of data for patients seeking to shift from public to private healthcare is also possible.
Thus, Salesforce CRM helps in connecting physicians and patients to offer seamless health care. Also, Salesforce consulting services help in getting the most out of the potential of a CRM implementation.
II. Value of Salesforce CRM in FinTech
In current times, only those FinTech companies can survive that can modernize and streamline their whole procedures. With Salesforce integration CRM, FinTech has successfully applied a customer-centric business model to completely automate their business.
Moreover, applying the given approach will help them to get a better understanding of the customers via the journey from prospects to brand ambassadors.
Likewise, Salesforce CRM also helps them to boost sales and lead conversions through this approach by incorporating automation and segmentation to deliver correct information to the customers.
III. Value of Salesforce CRM in Retail
For the retail sector, Salesforce CRM acts as a wonder! It personalizes customer experience by staying connected with customers round the clock. In addition, several other aspects make Salesforce CRM a viable option for retails:
At first, Salesforce customization CRM comes with effective marketing tools that directly access customer data to meet customer requirements easily.
Secondly, it helps in taking data-focused decisions by assisting retailers to visualize customer performance and forecasting future buying trends.
Lastly, it identifies best customer practices and offers discounts and rewards to retail customers, and improves selling opportunities.
IV. Value of Salesforce CRM in Startups
Every startup wants to expand, and Salesforce CRM offers a decent solution. Basically, it is a cost-effective solution that will bring improvement in the interactions with the customers.
Furthermore, startups will be in a better position using Salesforce as it will help in maximizing profit at a minimum loss, personalize service delivery, automate every task, and thus, keeps customers in their fold of them.
V. Value of Salesforce CRM in Manufacturing Industries?
In today's world, the manufacturing sector is changing exponentially by adopting a lean and flexible operational strategy to stay relevant in this competitive business.
One such is the Salesforce CRM solution! To stay ahead, enterprises are adopting Salesforce CRM capabilities to sway the whole manufacturing sector. How?
Firstly, opting for a transparent procedure via Salesforce allows companies to focus on single reliable data so that they can consolidate their business management.
Secondly, Salesforce permits seamless communication and even permits the connection of its software with an order management system for streamlining flow.
Thirdly, it comes with Salesforce lightning services that capture valuable data and offer valuable insights to manufacturers so to boost their sales.
Closing Thoughts
At last, it is clear that CRM solution is proving to be a blessing in disguise for several industries. Such is its power that several industry experts are forecasting its tremendous growth by $49.6 billion in 2024 globally!
Adding to it, CRM does what is best. That is, it helps in maintaining a great relationship with the clients by treating them as individuals and meeting their needs precisely.
Last but not the least, Salesforce CRM is the most popular tool that not only streamlines the marketplace but also sales processes by taking them to a new height.
At Emorphis Technologies, a top CRM consulting agency offers Salesforce CRM experts within your range. Connect to us and kick-start your journey toward a perfect digital transformation.