Salesforce Health Cloud is a market-leading global CRM platform designed specifically for the healthcare industry, providing a 360-degree view with connected and collaborative experiences.
Let's have a look at some of the frequently asked questions on Salesforce Health Cloud.
What is Salesforce health cloud?
Salesforce health cloud is cloud-based technology that aims to keep all the patient information in one place. It allows healthcare professionals to have easy access to medications, appointment history, communication preferences, and many more. With the help of this technology, healthcare professionals can provide more effective treatments. It acts as a bridge between healthcare providers, nurses, doctors, and caregivers. We can say that this technology is all about enhancing patient and health workers' relationships. According to Gartner, emerging technologies such as machine learning applications, chatbots, and mobile messaging will account for 70% of customer interactions by 2022.

What are its benefits?
Salesforce has a wide range of features that can transform the operations of any healthcare organization. If you are still thinking about why you need a salesforce health cloud in your organization then think about the pandemic that we have just experienced. These situations can be handled more efficiently if organizations have technologies such as the salesforce health cloud. Now, it is crucial to understand that the health cloud can help by displaying all relevant patient data from different health systems on a single screen. To get a clearer view, Let's have a look at some of the benefits of the salesforce health cloud:
Complete Patient Overview: Salesforce health cloud store and manage patients' information. This information is related to appointment history, care plans, patient conditions, and many more. With the help of this information, doctors can provide effective consultation within no time. Also, Doctors can review and evaluate everything, from the treatment plan to medication history, to strengthen the process of care.
Enhances patient experience: On a daily basis, healthcare professionals manage everything from performing diagnostic care to documenting a patient's medical history. They find it difficult to meet the demands for extensive communication among care teams, patients, and other facilities while doing so. By using the health cloud healthcare professionals can get 360-degree views of the patients. As a result, they can improve the overall experience in the most effective manner.
Better results with health literacy: Healthcare professionals can now treat patients at an immediate and faster pace. Also, Patients can avoid hospitalization by learning about their symptoms, current situation, and treatment plan. This helps to educate the patients about their overall health and any other symptoms that can be treated with medicine only.
How does the health cloud work?
Salesforce Health Cloud is a cloud-based healthcare CRM and patient engagement solution that allows healthcare providers and patients to work collaboratively. Additionally, the solution leverages Salesforce's CRM platform and is custom so to meet the requirements of the healthcare industry. Health Cloud implementation works by connecting patients and healthcare providers in a single location to collaborate, discuss issues, get answers, and obtain insights. As all information is over the cloud, individuals can access it at any time and from any location. Also, this system benefits not only doctors but also patients, who can easily obtain records that can help in the right treatment.
How does the health cloud assist professionals to increase business profitability?
In today's era patients expect high-quality care from healthcare organizations. To meet higher expectations, it becomes necessary to offer more personalized care more efficiently. It improves patient management with the intent of giving more efficient and reliable care. With the help of the health cloud healthcare professionals can focus on different things including effective engagement with patients, building stronger relationships, and many more. All these things ultimately lead to higher customer satisfaction which in turn increases business profitability.
How does Salesforce health cloud help in effective engagement in healthcare?
Salesforce Health Cloud enables healthcare professionals to provide patients, caregivers, and staff members with more instant and simplified access to vital data. In addition, it gives patients more control over their healthcare journeys. Also, the salesforce health cloud assists caregivers in providing more customized, and excellent care. With Health Cloud implementation services, some of the effective features which can be leveraged are responsible for increasing the patient's engagement. Salesforce organizes tasks according to the requirements of patients. It also segments patients and assigns tasks to different caregivers as per the priority. Another key point is that it focuses on building one-to-one connections between patients and healthcare professionals. We can clearly say that the health cloud has the ability to improve engagement in healthcare.
How does the health cloud manage patients in the health cloud?
To begin using the Health Cloud to manage your patients, first create patients using data imported from integration with the electronic medical record. During that time, you can designate yourself as the caregiver so that your patients are available for you to supervise. Then you add clinicians, close relatives, and other healthcare workers to the care team. And you develop a treatment plan that is specifically custom to the patient's specific condition. When you choose the patient's name from EHR (electronic health record), Salesforce generates all the records so that you can handle the patient most effectively.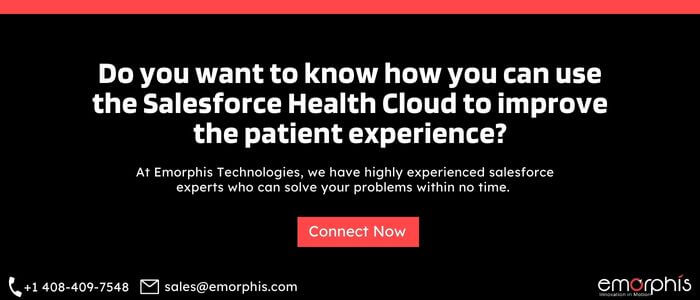 How the health cloud is transforming the patient's experience?
Salesforce health cloud offers a comprehensive view of a patient's health. It shows individual patients' profiles by integrating the data from the electronic health record. With the help of the health cloud, healthcare organizations can evaluate patients' conditions, review medications, and supervise appointments without any trouble. It has also become possible to provide high-quality care to remote patients. Also, the health cloud sends necessary alerts at the right time for any medical intervention. Also, organizations can go with custom salesforce app development for more specific needs. All these functions ensure that healthcare organizations can offer high-quality care which can ultimately improve a patient's experience.
Will my patient data be safe and private on this cloud platform?
Safeguarding patients' data is one of the major concerns of healthcare organizations. Patient information and privacy are critical, and the health cloud takes them seriously. To protect patients' data salesforce, and health cloud has set the following rules that help to protect patients' data most efficiently. It is well-known for its strong cloud security infrastructure and data encryption. Also, administrators can set different user access levels, which increases data security. Furthermore, Doctors can even interact with their patients via private messages.
Does Salesforce health cloud follow compliances? What are they?
Yes, salesforce health cloud follows compliances. Salesforce health cloud has a built-in HIPAA (health insurance portability and accountability act) compliance. As per the US department of health and human service the HIPAA act is designed to protect certain health-related information. Also, the organization offering health services related to the operation, payment, and treatment must follow this compliance.
Do hospitals use Salesforce?
Yes, a large number of healthcare organizations are using the salesforce health cloud. You can check with a complete guide on Salesforce health cloud with the following article.
Furthermore, organizations like cancer treatment center of America and piedmont healthcare have been relying heavily on the health cloud to offer high-quality services. Many healthcare organizations also prefer to have salesforce integration services with various trending or legacy healthcare solutions.
What help is available to me to get the health cloud up and running?
Salesforce health cloud utilizes the potential of cloud, social, and mobile technologies. It establishes a setting in which anyone, including administrators, patients as well as professionals, can access the information they require at any moment and on any device. If you're facing difficulties in understanding why and how you can use health clouds then it's time to hire a trusted salesforce consultancy company.
Is Salesforce health cloud an EHR?
There has been some debate about whether Health Cloud can substitute EHR. Instead of replacing it, Health Cloud was created to integrate with and broaden the functionality of your EHR. Also, it fulfills your specific requirements while trying to retain the basic functionalities of the EHR. In short, the health cloud focuses more on relationships rather than records.
Can Salesforce be used as an EMR?
Salesforce health cloud is an advanced healthcare CRM platform that focuses on integrating useful data from different sources like EMR. It also helps to boost visibility across the whole health care journey of a patient. Additionally, it is crucial to understand that the health cloud can solve the existing electronic medical record issues in your organization. When the organization requires an EMR, Health Cloud can integrate with it. This integration resolves the existing issues in a modern organization that was operating with just an EMR and an accounting system.
How can my organization connect EHRs and other clinical systems to the health cloud?
Clinical data can be combined with Salesforce by using standard APIs that map messages from EHRs into Health Cloud. Health Cloud has two data models for storing clinical data including a clinical data model and packaged EHR data model. These two specific models have been designed to line up with FHIR (fast healthcare interoperability resources) guidelines. The main objective of creating these data models is that it helps in more smooth and simple clinical data integration from other useful sources.
What is the difference between the Salesforce Health cloud and the Service cloud?
Salesforce health cloud is the healthcare CRM software that offers effective partnerships between healthcare professionals, payers, and patients. In addition, its ultimate aim is to provide the right care at the right time. On the other hand, the salesforce service cloud gives you a complete view of the consumer, allowing you to provide intelligent, efficient, and more customized service. The platform is specifically developed to help you handle past, present, and prospective clients' requests related to a product, service, billing, and so on.
Click the link and check the complete differences between Service Cloud Vs Health Cloud
What are possible alternatives to the health cloud?
If you're thinking about Salesforce Health Cloud, you should look into similar alternatives to determine what's best for you. According to Salesforce data, Weave, Solutionreach, MyChart, NextGen Healthcare EHR, WebPT, and eClinicalWorks are some of the alternatives to salesforce. Many healthcare organizations are looking for fast, high-quality software solutions that include patient feedback management, remote monitoring, easy integration, and many more. Hence, you should research to understand which alternative will be best for your organization.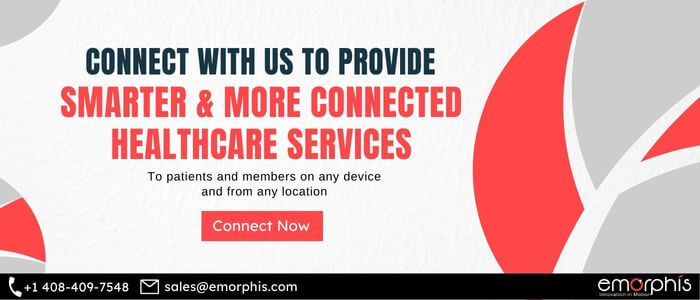 Why hire Emorphis Technologies as your Salesforce partner?
At Emorphis Technologies, our Salesforce health cloud consultants provide full assistance in a timely manner. We provide an understanding of standard Salesforce features and functionality, evaluate the needs, and set priorities. Our company has a reputation for providing customized salesforce solutions that are suitable for all types of business needs. With us, your can will get the following:
Highly experienced professionals who follow every standard and compliance.
Complete support and guidance at each step.
Customized Salesforce solutions.
Expertise in various domains including Healthcare.
The implementation of Salesforce can be a difficult task because it requires some expertise to achieve the desired results. We are the best salesforce health cloud consulting and salesforce CRM implementation service, provider.
Emorphis Technologies specialize in salesforce customization services to assist businesses in overcoming sales, marketing, and support challenges. We help you identify which Salesforce customizations that will have the greatest impact on your organization.
If you have any further questions, please don't hesitate to contact us through email at sales@emorphis.com.